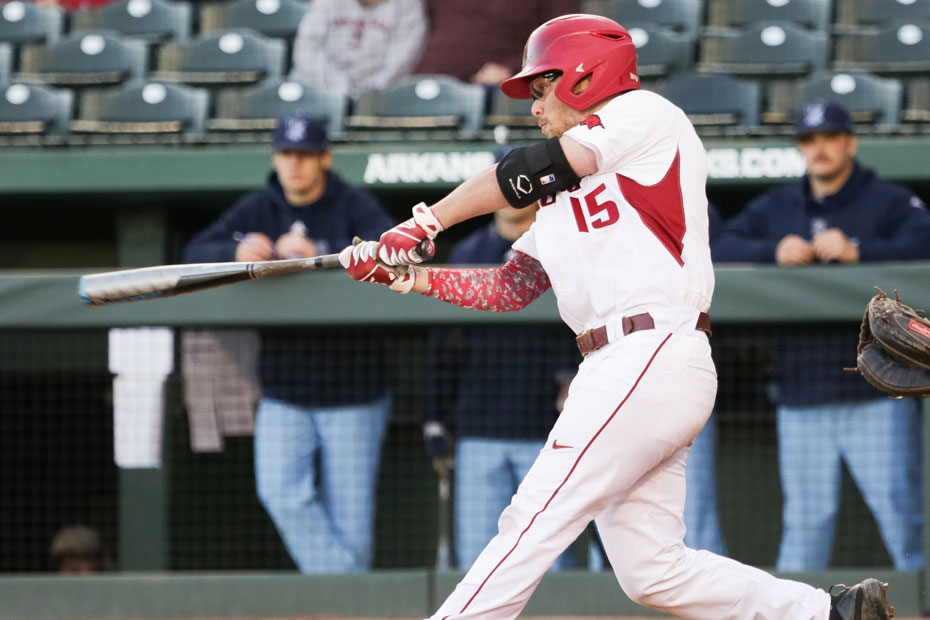 Alcorn State Comes To Baum For Midweek Series
FAYETTEVILLE, Ark. – The Razorbacks will continue their longest homestand of the season on Tuesday when Alcorn State visits Baum Stadium for a two-game midweek series. The Razorback and Braves will face off for game one of their series on Tuesday at 3 p.m. Game two will follow on Wednesday, also at 3 p.m.
Follow Live
Both games will be available on SEC Network+ with Alex Perlman (PXP) and Troy Eklund (Analyst) on the call. Phil Elson (PXP) and Rick Schaeffer (Analyst) will call both games for the Razorback Sports Network on the radio.
Probable Starters
Tue. | 3 p.m. | (ARK) RHP Dominic Taccolini (3-0, 7.50 ERA, 12.0 IP, 16 K, 8 BB) vs. (ASU) RHP Daniel Belmont (1-0, 2.04 ERA, 17.2 IP, 7 K, 7 BB)
Wed. | 3 p.m. | (ARK) TBA vs. (ASU) TBA
Taccolini To Make Second Start Of Season Tuesday
Arkansas may have found its third starter after the performance Dominic Taccolini showed last week against ULM. The senior right-hander threw six strong innings, striking out 10 batters to match a career-high. It was the second performance in four games that a Razorback pitcher recorded 10 strikeouts in a game after Blaine Knight achieved the feat against No. 5 Arizona last week at the Frisco Classic. Taccolini now has three wins on the year which is tied with Trevor Stephan for the most on the team. The 10 strikeouts matches his previous high from last season when he struck out 10 at No. 15 Kentucky in a complete-game 10-inning shutout.
Wilson's Bat Begins To Come Around
Before the midweek series with ULM, sophomore Hunter Wilson was only hitting .111 in nine games with two singles and four RBIs. Last week against ULM and Rhode Island, Wilson's bat heated up big time. The Spiro, Oklahoma native hit .700 over four games with two RBIs and two runs scored. At one point, he had a hit in six straight at-bats in the nine hole. In the second game of the Friday double-header with Rhode Island, Wilson went 3-for-3, becoming the sixth different Razorback with three hits or more in a game this year.
Hogs Break Out Bats Against ULM
Winning 12-3 and 11-2 in the midweek series against ULM, Arkansas' offense looked like it could be one of the best in the nation. Arkansas has now scored 10 or more runs in eight of 16 games this season, all victories. In just the sereis against the Warhawks, Arkansas hit .405 as a team with eight extra-base hits and 20 RBIs. Luke Bonfield, Jax Biggers, and Dominic Fletcher all slugged 1.000 or higher.
Bonfield Give Hogs Series With Walk-Off Hit
Junior Luke Bonfield came up with the timely single in the bottom of the ninth Friday night to score Hunter Wilson and give Arkansas the 3-2 victory over Rhode Island. The win not only secured the fourth series win for the Razorbacks this year, but it was also Bonfield's second walk-off hit in as many seasons. Last year against Auburn in the first game of the series at Baum Stadium, Bonfield delivered the RBI single in the bottom of the ninth for the 3-2 victory. After a somewhat slow start to the 2017 season, Bonfield's bat has kicked into gear. Over the last five games, the New Jersey native is hitting .421 with one home run and five RBIs. Three of his last five games have been multi-hit games, including a three-hit day against ULM (March 8). Bonfield is currently fourth on the team with a .297 average and is one of six players with 10 or more RBIs this year.
Arledge Quietly Keeps Offense Rolling
As a team over the weekend, Arkansas only managed eight runs on 16 hits against Rhode Island, but four of those hits came from senior Jake Arledge. The California native has kept a hot bat as of late as he hit .444 in the Rhode Island series and is batting a team-leading .538 in the last five games, which included a home run and five RBIs. With now three home runs on the year, Arledge has already passed his 2016 home run total in the first 16 games of the season and he has matched his RBI total from a year ago with 11. Arledge currently leads all Razorbacks with a .367 average and has four multi-hit games. Arledge and Hunter Wilson were the only players to record at least one hit in all three games of the Rhode Island series.
For more information on Razorback Baseball, follow @RazorbackBSB on Twitter.