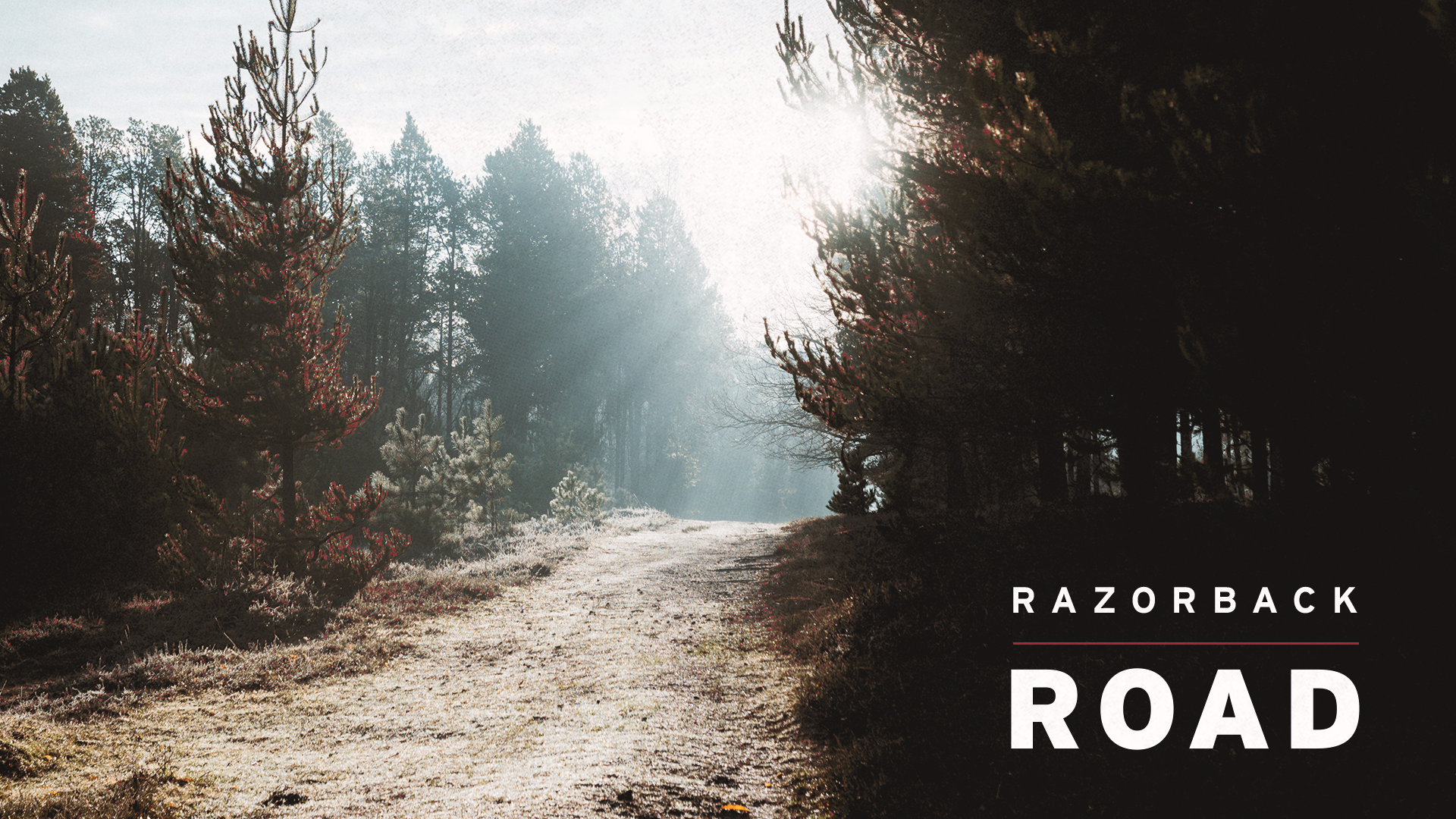 An Enduring Razorback Baseball Legacy
Few fan bases are as loyal as Razorback Baseball fans. An annual check of the attendance leaders provides some perspective, but even that doesn't capture the full passion of this devout following. In 2018, when Arkansas advanced to the College World Series National Championship Series, TD Ameritrade Park was transformed into Baum Stadium North. Fans who have crowded into a sold out game on campus recently, may find it hard to understand that things haven't always been this way at the University of Arkansas.
Constructing a historical timeline from Norm DeBriyn to Dave Van Horn, would certainly feature names that almost any Razorback fans would recognize – Kevin McReynolds, Johnny Ray, Zach Cox, Andrew Benintendi, Blaine Knight, Isaiah Campbell and Heston Kjerstad just to name a few. However, when it comes to building a passionate following, a compelling argument could be made that, minus DeBriyn and Van Horn, no one has contributed more to that effort than Larry Shank.
Larry Shank was not a hitter, a pitcher, a coach or even a major benefactor. In fact, he only stepped on the field once a weekend and it was for a brief pre-game appearance. So how could a man that never delivered a pitch or a base hit make such a dramatic impact?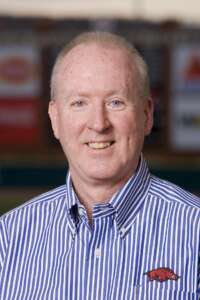 The answer lies in part defined by a dividing line in Razorback Baseball fan history between those who saw Shank in action and those who didn't get the pleasure. But, before those of you who didn't experience that era begin to tune me out like your parents or grandparents when they drone on about the good old days, please hear me out.  
Even, if you are one of those who don't immediately recognize the name, chances are you know more about Larry Shank than you realize. Shank was a local, a graduate of the University of Arkansas, a dedicated contributor to his church and his community. However, it was when he got behind a microphone that Larry Shank became a Razorback legend.
Recommended to then Coach Norm DeBriyn by assistant coach Dave Jorn, Shank became the public address announcer at George Cole Field in 1990. Working out of booth smaller than an expanded strike zone, Shank shuffled cassette tapes, a mini-Casio keyboard and a few sound effects reflective of a bygone radio era.
Larry was so much more than that guy announcing the current batter, a new pitcher or the score after five innings complete, he was the infectious baseball host to an unforgettable experience. In 1996, when Razorback Baseball moved further south on Razorback Road to Baum Stadium, Shank was united with a stage that would ensure his place in Razorback history. 
From his opening "Hello Sports Fans, It's 65 Razorback Baseball Degrees," to his "Whoa Did You See That?" when a Razorback hit a home run, dozens of his catch phrases are part of the Razorback Baseball vocabulary. As foul balls careened out of play, his homegrown sound effects of breaking glass or a cow mooing would soon follow.
The irony was that Shank was not necessarily a traditional baseball guy. One example is that he would often read out of town scores with the losing team's score first and the winning team's score following. I admit, I would cringe each time he uttered something like in the top of the 5th, Alabama 3 and LSU 5. Moments later, I would find myself forgiving Larry his "baseball sin" when he belted out another one of his memorable lines or broke out a new sound effect.
When it came to the PA booth, Shank's baseball outsider status helped him. It would have been highlight unlikely that traditional baseball people would have come up with his ideas. Larry was about making it an enjoyable experience for fans and for the people at the ballgame. Baseball has a lot of downtime as a game and what he could do was keep people engaged and entertained in a way that made them better fans. In the end, it is safe to say his unconventional approach to a largely conventional game changed Razorback Baseball immeasurably.
A many of many talents, Shank would culminate a weekend by singing the national anthem from the field before the game on Sunday. It was a highlight for players, coaches and fans, alike. But it was the Seventh Inning Stretch where he would cement his lasting legacy.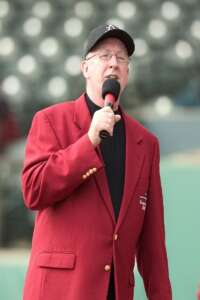 Larry Shank Singing the National Anthem
"All right Razorback Fans, Off Your Seats and On Your Feet, it is time for the famed Seventh-Inning Stretch!" he would bellow from the front deck of the press box. Like a classical music conductor, Larry would lead the assembled Razorback choir with a mini-baseball bat in a rendition of Take Me Out to the Ballgame began. His enthusiasm encouraged everyone in the ballpark to join in, regardless of affiliation. As fans followed the bouncing bat for direction, they sang loudly and promised to "Root, Root, Root for the Hog Team!"
As the song concluded, a Hog Call would ensue before one final directive from his perch above the adoring throng – "Fans say it with me – This is Baseball!!"
Larry Shank Seventh-Inning Stretch – Take Me Out to the Ballgame
Shank passed away in August 2007 after waging a courageous battle against cancer. His loss was felt deeply in his hometown of Springdale and within his Razorback Baseball community. In the following baseball season, the public address booth at Baum-Walker Stadium was officially named in his honor. A small memento box tribute still adorns a wall on the press box level of the stadium, a continuing reminder of his many contributions.
However, a far more compelling testament to his lasting impact is on display at each and every home game and anywhere the Hogs play baseball. As we prepare for the 25th season of Baum-Walker Stadium in 2021, Larry Shank's influence is still readily apparent. From his seventh-inning stretch to his signature "This is Baseball" catchphrase, his legacy remains one of the defining characteristics of Razorback Baseball.
As we become seasoned Razorbacks, we find ourselves reminiscing about days gone by much more often. The unforgettable games, moments and experiences. The truth is a remembrance of the past often comes with a realization that perhaps we didn't savor those moments as much as we could have back then.
Like with any aspect of life, what we enjoy today is in direct proportion to the contributions of those who have come before. And, so it goes for Razorback Baseball. From Coach DeBriyn to Coach Van Horn, from Larry Shank to Jon Williams and all of us in the Razorback Baseball faithful, the torch has been passed. It is ours to carry on together.
So, when the time comes to return to Baum-Walker Stadium, the best collegiate ballpark in America, let's collectively resolve to fully soak in those special moments. My late friend Larry Shank would be grateful and would undoubtedly respond with one of his signature acknowledgements "And, the Razorbacks say Thank You, Thank You, Thank You!"
Razorback Road is a column written by Senior Associate Athletic Director for Public Relations and Former Student-Athlete Engagement Kevin Trainor (@KTHogs). Trainor is a graduate of the University of Arkansas and has worked for Razorback Athletics for more than 25 years.
However, when it comes to building a passionate following, a compelling argument could be made that, minus DeBriyn and Van Horn, no one has contributed more to that effort than Larry Shank.