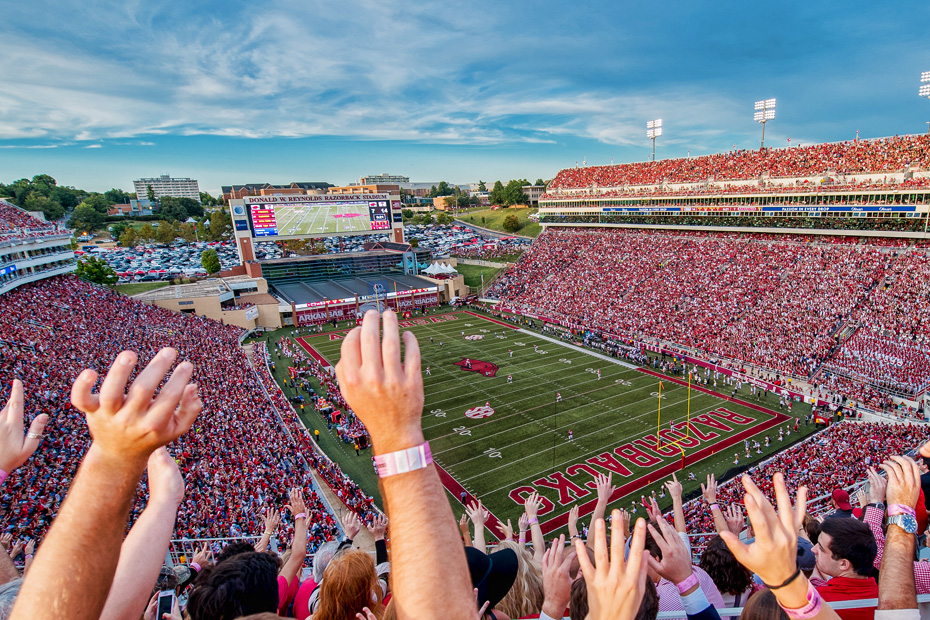 An Open Letter From Jeff Long
As we continue to celebrate our recent victory over Kansas State in the AutoZone Liberty Bowl, we have already turned our attention to the 2016 football season. Coach Bret Bielema and his staff are busy on the recruiting trail and preparing for yet another step forward in the building of our football program.
Most assuredly, it is your passionate support that not only provides our football team a tremendous home field advantage, but most importantly enables us to invest in the lives of our more than 460 student-athletes, developing them to their fullest potential through intercollegiate athletics. It is an investment that is making a measurable impact on and off the field. Last fall, Razorback student-athletes recorded a record 3.25 GPA and Arkansas ranked first in the Southeastern Conference in football student-athletes on the league's academic honor roll.
As part of the growing costs associated with meeting our commitment to our more than 460 student-athletes, competing in the Southeastern Conference, continuing to enhance our facilities, increasing expenses related to the maintenance and upkeep of facilities, rising scholarship costs in conjunction with providing cost of attendance and escalating expenses of feeding and fueling our student-athletes, we have initiated price adjustments for many of the season tickets within Donald W. Reynolds Razorback Stadium primarily in the lower levels, clubs and suites.  We are pleased to announce that, for the first time in decades, prices for some seating in the upper deck will be reduced. Student ticket prices for both stadiums will not be increased and remain low among institutions that do not charge a mandatory student athletics fee.
Our new ticket pricing structure did not simply increase across all of our seats.  We evaluated the demand and history of increases before considering any potential price alterations. It is important to note that this will mark the first time since 2010 that bench seating season tickets in the lower bowl have seen an (per game) increase. Since the stadium renovation and expansion in 2001, there has NOT been an increase in per game cost of East Indoor Club, East Outdoor Club, and South Indoor Club and only one increase in the South Outdoor Club. Again, it is important to mention that even with these adjustments, our standard ticket prices remain below the SEC average and lower than other peer programs throughout our region.
| Section | 2015 Price | 2016 Price |
| --- | --- | --- |
| 100 Stadium | $300 | $360 |
| 500 Stadium | $300 | $250 |
| Pig Heaven | $300 | $300 |
| Red Zone | $360 | $420 |
| South Outdoor Club | $600 | $850 |
| South Indoor Club | $600 | $800 |
| East Outdoor Club | $750 | $750 |
| East Indoor Club | $900 | $1,000 - $1,100 |
| West Suite | $2,100 | $2,400 |
| East Suite | $2,100 | $2,400 |
| South Suite | $1,800 | $2,100 |
| War Memorial Sideline | $55 | $45 |
| War Memorial End Zone | $55 | $35 |
We have also lowered prices for ALL tickets at War Memorial Stadium in Little Rock in 2016. Tickets on the sidelines (sections 2-10 & 22-30) will be reduced from $55 to $45 while tickets in the end zones will be reduced from $55 to $35.
We are extremely grateful for your support and wanted to share these changes with you in advance so you can make decisions accordingly during the renewal process. We hope that you will join us at Donald W. Reynolds Razorback Stadium and War Memorial Stadium again next season for the strongest home schedule in our history.
In our continued efforts to make the game day experience better for all Razorback fans, we are working diligently to make several significant enhancements, including the installation a second video board in the south end zone of Donald W. Reynolds Razorback Stadium during the 2016 season.
In response to feedback from our season ticket holders, we are also introducing a new auto-renew option, which allows season ticket holders the opportunity to forgo the multiple rounds of notices and reminders associated with the annual renewal process. No hassles in remembering to order your season tickets again next year. Choose the auto-renew option and your account will be billed in February for the upcoming football season.
So whether you decide to renew annually or choose to take advantage of the auto-renew program, we thank you for your continued loyal support. We remain excited about the future of our football program and the continued enhancement of the game day experience at Donald W. Reynolds Razorback Stadium and War Memorial Stadium. Thank you for investing in the lives of our student-athletes and in the future success of the Razorback program.
Go Hogs! Never Yield!
Jeff Long
Vice Chancellor
Director of Athletics