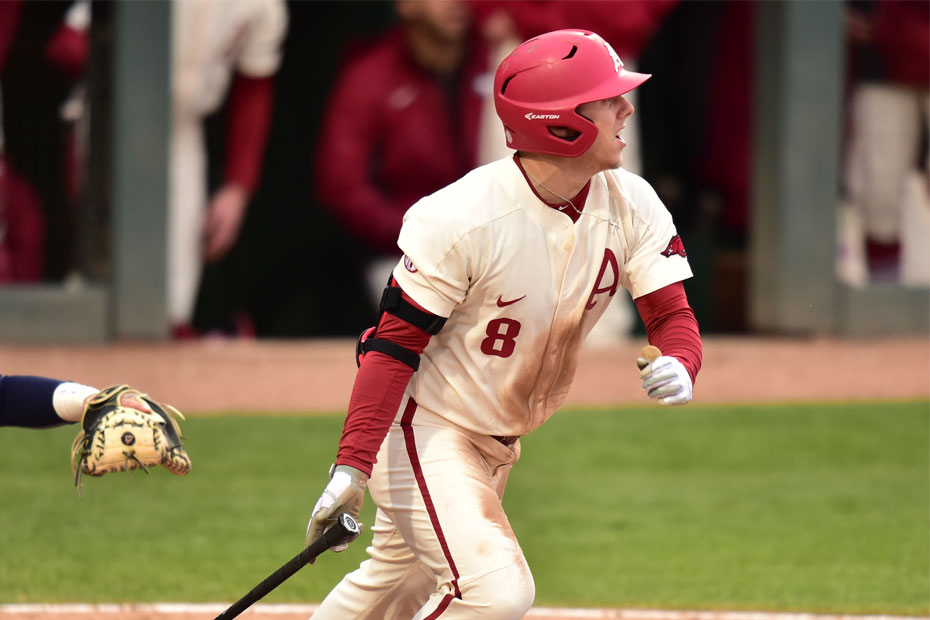 Annual Game In North Little Rock Up Next For Razorbacks
NORTH LITTLE ROCK, Ark. – Riding a five-game winning streak, including a sweep of No. 13 Auburn, the third-ranked Arkansas baseball team will look to stay hot as they take on Grambling State for a single midweek game in North Little Rock, Arkansas at Dickey-Stephens Park Tuesday night. First pitch with the Tigers is set for 6:30 p.m.
This is the ninth-consecutive year that the Hogs have played a game in North Little Rock at the home of the Double-A affiliate Arkansas Travelers. Arkansas has won two straight at Dickey-Stephens Park going back to 2015.
Caleb Bolden will be taking the mound Tuesday night, for his third mid-week start of the year. In his previous two starts, Bolden has thrown at least six innings without giving up a run and has struck out 11 combined. Last week against ULM, Bolden earned his third win of the year after throwing seven scoreless innings, a career-long outing, and didn't walk a batter for the second time in six appearances.
Offensively, the Hogs continue to mash as they have a combined .311 average through 33 games with 263 runs scored and 56 home runs. The runs are the second most in the SEC, while the home run total is best in the league and second in the nation.
Junior Eric Cole is coming off a strong week where he hit .348 with a team-leading eight hits over five games, including two doubles, and four RBIs. Cole has started all 33 games in the outfield this year and is hitting .348 out of the two hole with seven home runs and 24 RBIs. His .348 average is 11th-highest in the SEC and his RBI total is just one less than Cole had all last year.
FOLLOW LIVE
Tuesday's game will not have a video stream of any kind, but Phil Elson and Bubba Carpenter will be bringing you the gave via radio on the Razorback Sports Network from IMG. The radio stream can also be found on the Razorback Gameday app.
IMPORTANT LINKS (ALL TIMES CENTRAL)
Tue, April 9 – Arkansas vs. Grambling State – 6:30 p.m. – LIVE STATS
PROBABLE STARTERS
TUE: ARK RHP Caleb Bolden (2.61 ERA, 3-0, 15 K, 8 BB) vs. GRAM RHP Elijah Saunders (8.41 ERA, 0-3, 11 K, 16 BB)
RAZORBACK PRIME 9
>>Freshman Caleb Bolden will be making his second start in as many weeks on Tuesday against Grambling. Last week, he threw seven scoreless innings, striking out five and not allowing a walk.
>> Kjerstad's second-inning home run Wednesday against ULM was a tape-measure shot, traveling 430 feet well over the right-centerfield scoreboard at Baum Stadium. He leads the team with eight homers.
>> Arkansas still leads the SEC and ranks second in the nation with 56 home runs, 16 ahead of its SEC-leading pace last year.
>> The Razorbacks have played eleven one-run games this season, winning six of them. Most recently, Arkansas won in the bottom of the ninth against No. 13 Auburn thanks to a walk-off single from Heston Kjerstad. It's the third walk-off win for the Razorbacks this year.
>> Blaine Knight won his third-consecutive start last week against No. 13 Auburn, moving to 6-0. In six of his eight starts, Knight has thrown six or more innings and struck out four or more.
>> In 19 games this year, Arkansas has totaled 10 or more hits. In those games, the Hogs are 16-3 with 14 of those wins coming at Baum Stadium.
>> Heston Kjerstad leads SEC freshmen in hits (46), home runs (8), runs batted in (32), slugging percentage (.642) and total bases (79).
>> Sophmore Matt Cronin picked up his sixth save of the season against Auburn on Friday, moving him to a tie for second in the SEC. Cronin also leads all SEC pitchers with a .160 opponents' batting average in league play.
>> Arkansas will be playing in North Little Rock at Dickey-Stephens Park for the ninth-consecutive season. The Hogs are 7-1 in games played at DSP, including winning two-straight.