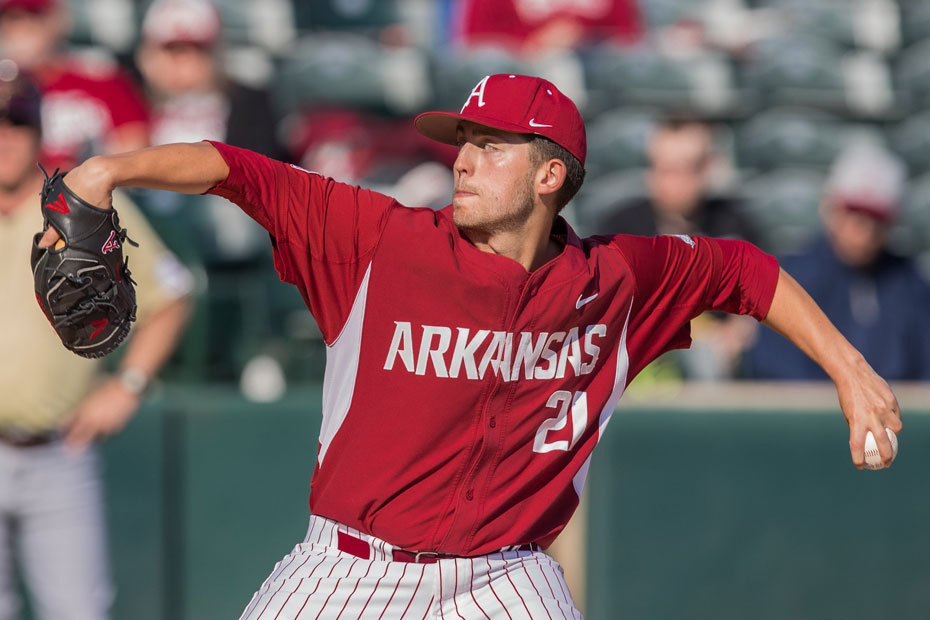 Another Complete Performance Leads Hogs To Midweek Sweep
FAYETTEVILLE, Ark. – It was another strong offensive day for Arkansas on Wednesday against ULM. The Hogs recorded 11 runs on 14 hits and had five players record multi-hit games as the Razorbacks cruised to an 11-2 victory and a midweek sweep over the Warhawks at Baum Stadium.
Senior Jake Arledge and junior Luke Bonfield led all hitters with three hits each. Arledge scored three times and drove in three runs, while Bonfield was a perfect 3-for-3 at the plate with two RBIs of his own. It was Arledge's second three-hit game of the season, matching a career-high. Bonfield has been one of Arkansas' best hitters as of late. Wednesday's game was his third multi-hit game in his last four appearances and his second three-hit game this year.
Junior Chad Spanberger, freshman Dominic Fletcher, and shortstop Jax Biggers all turned in two-hit games Wednesday. Fletcher's three-run home run in the first was what got the Razorback offense rolling. As for Biggers, his bat has continued to heat up as he has six hits in his last nine at-bats, including two doubles and two RBIs.
On the mound, sophomore Kacey Murphy made the first start of his career and didn't disappoint, going a career-high five innings and striking out nine batters, also a career-high. The Rogers, Arkansas native only gave up two earned runs and scattered three hits in what ended up being the best performance of his collegiate career.
Murphy's showing follows Dominic Taccolini, who struck out 10 batters in six innings the day before. Over the last five games, Arkansas starting pitchers have struck out 39 batters over 25 innings with all but one pitching through the fifth inning.
Moments That Mattered
Arkansas got the bats going early for the second straight day scoring three times each in the first and second innings. With Arledge and Bonfield both reaching on singles in the first, Fletcher was able to hit his third home run of the year down the right field line bending it just inside the foul pole to make it 3-0 Razorbacks. Arkansas continues to lead the SEC in long balls as it is now at 18 for the year, five more than Mississippi State, which has the second-most at 13.
Three more runs came across in the second, all with two outs, as Arledge and Bonfield came up big again with an RBI single and a two RBI double, respectively. Bonfield now has four doubles for the year, while Arledge has driven in nine runs with 14 hits.
Murphy had all of his pitches working in Wednesday's game. Only one baserunner reached through the first four innings. By the fifth, he had already recorded seven strikeouts, including four straight through the second inning and into the third. In the fifth, he ran into a little trouble, walking Chad Bell with one out and then giving up the RBI double to Blake Buckman. However, he was able to settle back in and finish the inning with minimal damage.
Razorback Quotables
"You never know how you're going to play after you put together a pretty good game in the midweek. We played a good game yesterday. We really took care of business today. We came out and played solid baseball. It all started with Kacey Murphy giving us a great outing. He gave us four really strong innings. He struggled a little bit in a fifth inning. His pitch count started to get up there for him. He finished with nine strikeouts and he had four in a row at one time."   – Head coach Dave Van Horn on his team's performance Wednesday
"He had three pitches working. He was ahead in the count. He was throwing his fastball to both sides of the plate. I felt like their hitters couldn't just sit on fastball. They were looking fastball a lot of times, and he threw the change-up, and they were out in front and over the top of it. And then he would drop some pretty good breaking balls down in there and get some guys to go out of the zone with it. The way you get strikeouts is you throw strike one, and they get on the defensive side of it, and he did a great job of it." – Head coach Dave Van Horn on Kacey Murphy's outing
"It really helps the offense when you get back into the dugout really quick. Especially on defense, too, if you're sitting out there forever, it's hard to stay into every pitch and stay focused, but when the pitcher is working quick and getting quick outs, it helps everyone."– Dominic Fletcher on how good pitching helps on defense
"Right before the pitch actually, coach (Van Horn) was giving the sign to watch for the blooper, so I played in a little closer, and sure enough, a blooper came in foul territory. The wind was pushing it down. With no wind, that ball probably goes into the seats but it came down. You're taught to slide feet first into the wall so you don't hit your head, but of course, I hit my head regardless. Luckily, I didn't break anything so it was pretty cool." – Jake Arledge on his sliding catch in foul territory
"I just want to try to prove my spot and I can work from there. I can start now. I can be short relief. I can be a situation guy. Whatever the coach tells me to do, I'll just do it, and hopefully get the same results."– Kacey Murphy on how his outing builds confidence
Up Next
Arkansas remains at home this weekend as it hosts Rhode Island for a three-game series starting on Friday at Baum Stadium. First pitch is set for 3 p.m. Saturday's game two will be at 2 p.m., followed by the finale on Sunday at 1 p.m. All games will be televised on SEC Network+ on the WatchESPN app.
For more information on Razorback Baseball, follow @RazorbackBSB on Twitter.