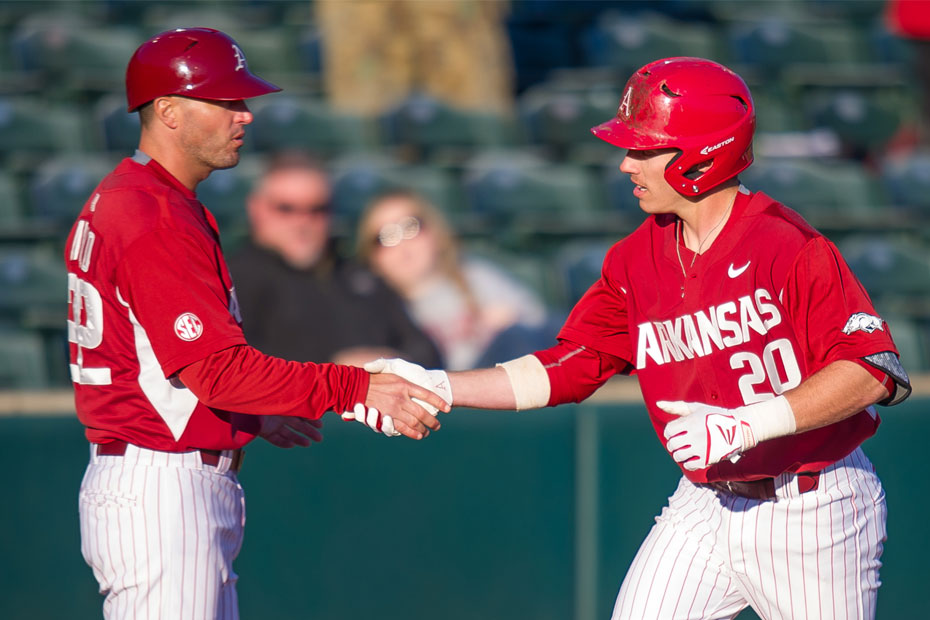 Another Offensive Surge Help Hogs To Series Win Over MVSU
Box Score | DVH Press Conference | Players Press Conference
FAYETTEVILLE, Ark. – For the second-straight day, the 18th-ranked Razorback baseball team put up a double-digit run total, taking the series victory over Mississippi Valley State with a 20-0 win Wednesday afternoon at Baum Stadium.
Six different Razorbacks recorded multi-hit games, while lefty Weston Rogers earned his first victory of the year, going 2.0 innings, allowing only one hit and striking out four.
Six more pitchers saw action on the mound today, totaling 12 pitchers with at least one inning pitched over the previous two games. On Wednesday, the staff combined to allow just four hits without walking any batters. The last time an Arkansas pitching staff didn't walk a single batter came last season against Tennessee (May 19, 2015) in the team's first game of the 2015 SEC Tournament.
Sophomore Carson Shaddy hit two home runs off the bench after replacing senior Michael Bernal in the sixth. Bernal provided the game's first homer back in the fifth, finishing the game 2-for-3 with a double and two RBI.
Jake Arledge ended with a team-high three hits, followed by Clark Eagan, Cody Scroggins and Tucker Pennell, who all had two hits in the ball game as well. For Arledge, it was his first multi-hit game of the season.
Eagan finished the contest 2-for-4 with five RBI and one run scored. The five RBI is a new career-high for the junior, besting his four RBI in last year's NCAA Super Regionals against Missouri State (June 6, 2015).
Arkansas picked up where it left off from Tuesday scoring twice in each of the first two innings, but didn't really break the game open until the fourth when it plated four.
After an RBI single by Eagan made it 5-0, the Hogs scored two more on a deep sacrifice fly by Luke Bonfield. With runners on second and third, Bonfield's fly ball was so deep to centerfield that not only was Arledge able to score from third, but Eagan raced home from second with the throw coming nowhere close.
The Hogs scored six more runs combined over the fifth and sixth innings before having the big seven-run eighth inning. Shaddy, who already had a home run from the sixth inning, came back and hit a lead-off homer in the eighth for his second home run in as many at-bats. It's his first career multi-home run game.
Arkansas was able to bat around in the eighth frame, allowing Shaddy to come to the plate again. Unfortunately, Shaddy did not get his third home run, but instead, reached on an error, finishing 2-for-3 with three RBI and two runs scored.
All seven of the Razorbacks runs in the eighth came off of just four hits as the Delta Devils committed two errors in the inning and six throughout the entire game.
Arkansas (4-0) goes on the road for the first time this weekend when it takes part in the Houston Shriners Hospitals for Children Classic at the Houston Astros' Minute Maid Park. The Hogs will face No. 25 Rice on Friday at 7 p.m., then No. 9 Houston on Saturday at 3:30 p.m. Arkansas will finish the Classic on Sunday with No. 23 Texas Tech at 11 a.m.
All games this weekend can be seen on Root Sports in Arkansas and on Cox Sports for Cox Television subscribers. For any viewers outside of the Root Sports footprint, all games will be broadcast on the MLB Network.
Quotables
"I am really proud of our pitchers.  They came out and filled up the zone.  Today we got to see a little bit of everybody.  After today I think that we have thrown everyone now and I told them after the game from what I've seen in the first five games I don't have any trouble putting any of those pitchers in the game.  They brought some good velocities, breaking balls, and the guys competed very well.  We've got a good group of freshmen that bring a lot of different styles to the mound." – Head coach Dave Van Horn on being able to throw a lot of pitchers Tuesday and Wednesday.
"A weekend like this prepares you if you get to a regional.  I enjoy a weekend like this.  Our players are looking forward to playing in big league ball park as well as playing three different quality teams from three different leagues." – Head coach Dave Van Horn on this weekend's three games against Rice, Houston and Texas Tech.
"I think it comes down to respecting the game. we have a lot of guys who are a bunch of grinders, not too many guys who are very flashy or don't go about the game the right way and I think that's where it comes down to. If you don't respect the game, it will come back and haunt you some time or another. That is where that comes from." – Senior Michael Bernal on staying focused.
"I have definitely been looking forward to this for a couple years. Coach Van Horn actually saw me pitch the last time they were there. He came and watched me pitch so it came full circle. I grew up an Astros fan, only like 25 minutes from my house. Just to pitch on that mound will be a great experience for sure." – Junior Dominic Taccolini on pitching in his hometown this weekend.