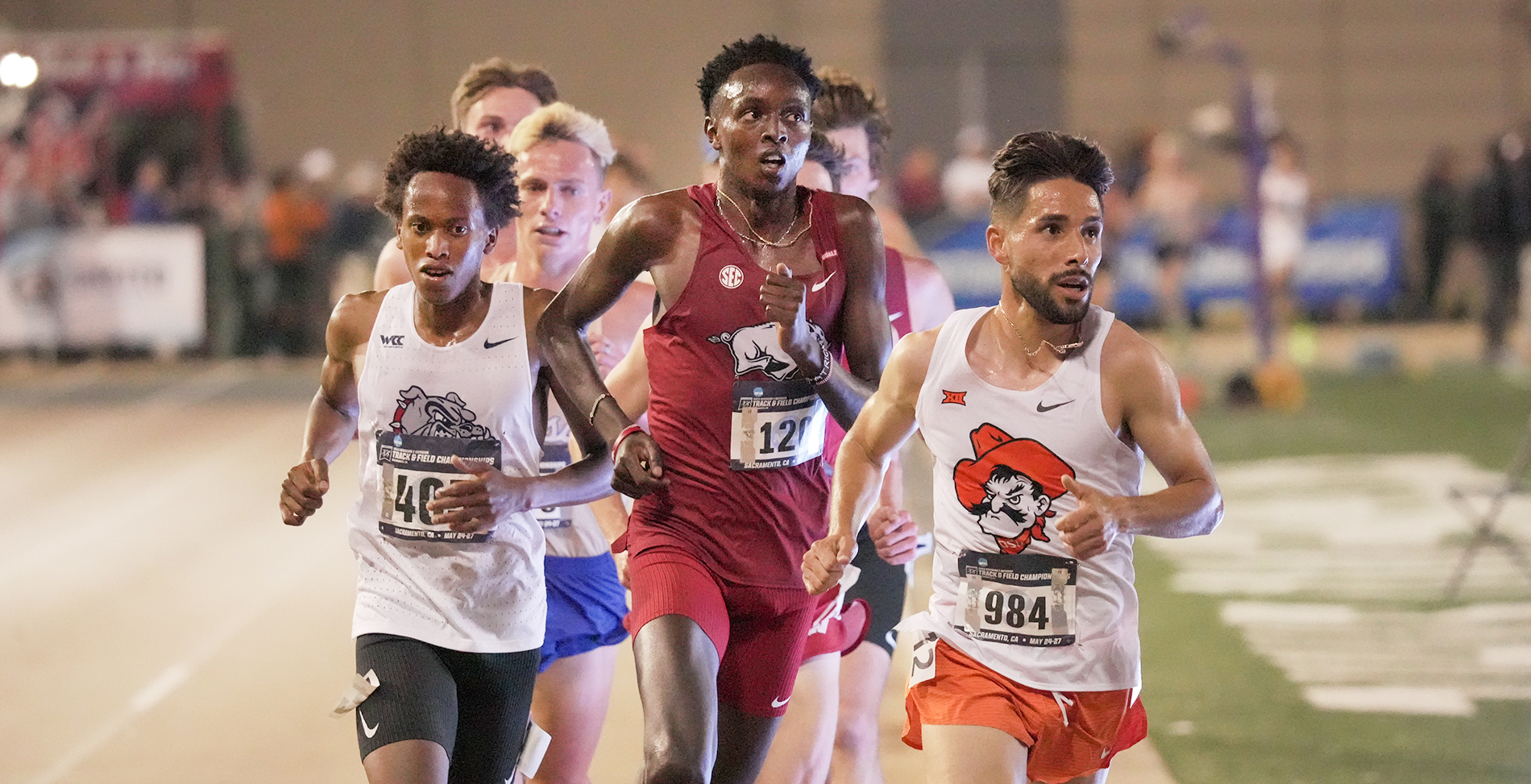 Arkansas advances five in three events on NCAA West first day
SACRAMENTO – Five Razorbacks advanced in three events to the NCAA Championships in Austin during the first day of action in the NCAA West Preliminary round hosted by Sacramento State. In addition, Arkansas had nine entries advance to Friday's quarterfinals in six events.
Wayne Pinnock led the long jump field with a mark of 26-5 (8.05) which equaled the NCAA West meet record set by Marquise Goodwin of Texas in 2010. Carey McLeod finished third best at 25-7.25 (7.80). The pair of Razorbacks will also contest the triple jump on Friday.
The day started with Jordan West and Rojé Stona advancing in the shot put. West finished third best in the field with a mark of 66-5.75 (20.26) while Stona placed fifth at 65-3.25 (19.89).
Completing the first day with the 10,000m, Patrick Kiprop finished second in the race with a time of 28:19.23 to earn advancement to Austin. Teammate Jacob McLeod ran 29:42:33 in placing 36th.
Connor Washington advanced in the 100m and 200m as he produced collegiate best times in winning his heat in both sprints. A 10.35 wind-legal collegiate best in the 100 was followed by a 20.52 in the 200m as he bettered his previous bests of 10.41 and 20.60 as a Razorback.
Joining Washington in the 200m quarterfinals is Lance Lang, who posted a 20.73 after a 10.53 non-qualifier in the 100m.
Additional heat winners for Arkansas included Ayden Owens-Delerme in the 400m hurdles as well as Chris Bailey in the 400m.
Owens-Delerme clocked 50.13 from lane two and posted the third best time among the field. Devontie Archer placed 17th overall to advance with a collegiate best of 51.00. Also in the field for the Razorbacks were Jeremy Farr (51.97, 26th) and Brevin Sims (52.17, 30th).
Bailey claimed his heat of the 400m in 46.09 to reach the quarterfinal. James Benson II ran 46.60 to finish 33rd overall.
Elias Schreml placed third in the fastest heat of the 1,500m with a time of 3:40.57, just off his career best of 3:39.05. Schreml finished behind a pair of runners from Washington, Joe Waskom (3:39.98) and Luke Houser (3:40.42). Ben Shearer posted a time of 3:50.92 to place 45th overall.
Arkansas had mixed results from the four Razorbacks entered in the 110m hurdles. Phillip Lemonious won his heat in 13.65 to place fifth overall. Earning the 24th and final spot in the quarterfinals was Matthew Lewis-Banks, by 0.002 of second, with a 13.99.
Sims ran 14.04, finishing 31st, while Tre'Bien Gilbert false started.
The lone event on the day in which Arkansas didn't advance an entry was the 800m, where a 1:50.21 placed Leroy Russell II fourth in the prelim heat and 31st overall while teammate Ricardo Banks placed seventh in the same heat with a 1:58.25.
Additional Razorbacks in the long jump included Yariel Soto Torrado placing 15th with a windy mark of 24-9.25 (7.55). Following were Shakwon Coke with a 24-2.25 (7.37) and Ryan Brown with a windy 22-7 (6.88).