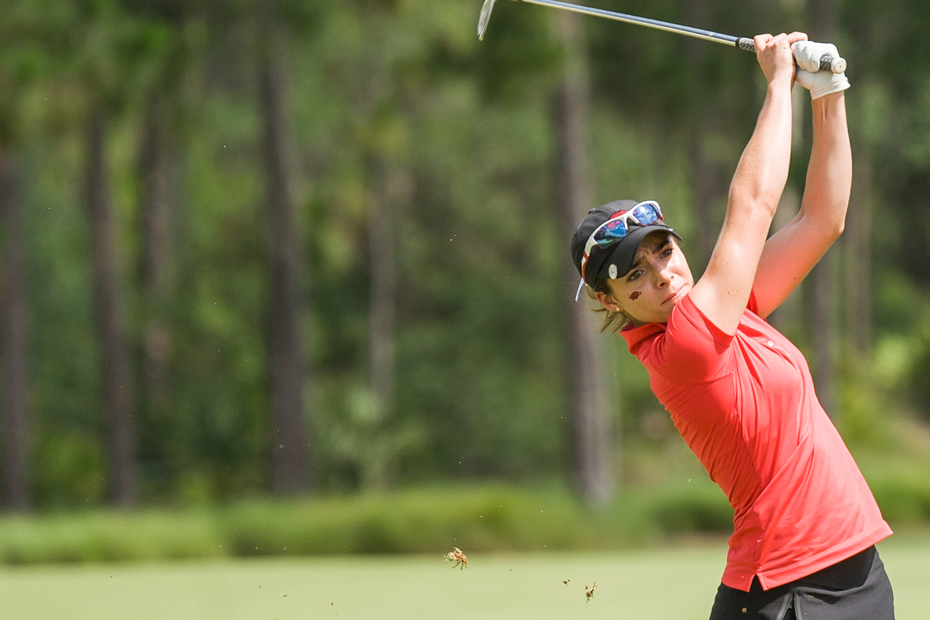 Arkansas Battling, Play Suspended For Weather
RESULTS | PHOTO GALLERY
BRADENTON, Fla. – The eighth-ranked University of Arkansas women's golf team is putting up a fight against a tough golf course, a talented field and Mother Nature and is tied for 13th with two holes to play to complete the second round of the 2015 NCAA Championship in Bradenton, Fla.
Play was suspended at 6:25 p.m. central due to lightening in the area.  Arkansas and the other teams who did not complete their first rounds will do so beginning at 7:30 a.m. local time.  The Razorbacks are fighting to stay in the top 15 and make the cut after round three to move on to round four.
Junior Gabriela Lopez leads Arkansas and is tied for fifth with two holes remaining in round two.  The Mexico City, Mexico, native is four-over for the second round and was facing a birdie putt on No. 17 when play was stopped.  Lopez is currently plus-two for the tournament.
Freshman Alana Uriell is tied for 48th with her final hole of the second round remaining.  Uriell has taken six strokes off of round one's total and is plus two with No. 18 to finish.
Junior Regina Plasencia was on the green on No. 18 when the horn sounded.  Plasencia is tied for 64th and was plus-seven for Saturday's round.
Sophomores Summar Roachell and Samantha Marks were able to complete their rounds before play was halted.  Roachell is tied for 97th overall shooting 83-78 while Marks is tied for 115th with 85-81.
For more information on Arkansas women's golf, follow @RazorbackWGolf on Twitter.