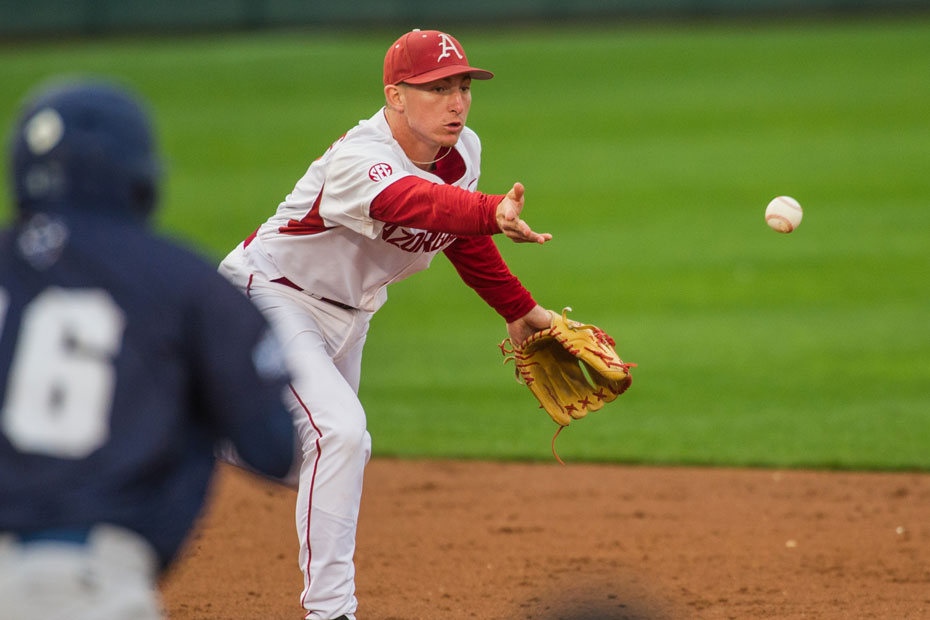 Razorbacks Finish Homestand With Sixth Win In A Row
FAYETTEVILLE, Ark. – Arkansas finished off its 11-game homestand with its sixth straight victory Wednesday night, defeating New Orleans, 5-2, at Baum Stadium. The Hogs got home runs from Grant Koch and Jax Biggers, while the pitching held the Privateers to just two runs in the same inning and scattered five hits.
Coming into Wednesday's contest, the Hogs (18-4, 3-0 SEC) held the Southeastern Conference lead in team home runs. They blasted two more against the Privateers to up their total to 32, giving them 11 long balls in their last five games.
Koch's two-run homer came in the fifth inning, his team-leading seventh of the year, and ended up being the deciding factor after New Orleans scored twice in the seventh. He finished the game 2-for-4 with three RBIs and a double, one of three Razorbacks to record a multi-hit game on Wednesday.
Bigger's launched his second home run of the year in the bottom of the eighth inning, a solo shot, to give the Razorbacks some insurance. He finished his game 2-for-3 with two runs scored, recording his seventh multi-hit game of the season, which ties for second-most on the squad.
Sophomore Barrett Loseke earned the victory out of the bullpen, his third of the year. After starter Kacey Murphy struggled in the third inning, Loseke got the final out of the inning on a strikeout and proceeded to retire eight of the next nine batters, three on strikeouts. The Tulsa, Oklahoma native only allowed two baserunners during his 3.1 innings of, one of which was erased on a double play in the fourth.
Moments That Mattered
Wednesday's game ended up being a low scoring affair, but the Hogs got the runs when it counted starting in the third inning. Koch delivered the first RBI of the evening with a double down the left field line to score Jake Arledge and make it 1-0. Koch's extra-base hits have out-numbered his singles by a large amount this year. With both of his hits tonight going for extra-bases, 17 of Koch's 21 hits this year have gone for a double or more.
Koch padded that lead in the fifth one batter after Bonfield doubled to start the frame with his two-run home run to make it 3-0. Arkansas had already chased New Orleans starting pitcher Christopher DeMayo after three innings and tagged the first reliever, William Griffin, with the home run in the fifth.
New Orleans did score twice in the seventh inning after Arkansas pitchers Matt Cronin and Jake Reindl loaded the bases on two walks and two singles. However, Weston Rogers came in and got the ground out to end the threat. Rogers went on to pitch a 1-2-3 eighth inning, striking out one.
Razorback Quotables
"(Barrett Loseke) was very good. His last outing wasn't very good. He got with Coach  (Wes) Johnson about it and he was kind of babying the ball a little bit, but tonight he got better as the game went on. His third inning, he was throwing the ball 92 to 93 miles per hour, maybe a little more. We would have left him in the game for a couple of more innings if we didn't need him this weekend. We figure by Saturday he'll be good to go again. It was great to see him throw well tonight." – Head coach Dave Van Horn on Barrett Loseke's outing
"It's been a really good homestand. We took that road trip, and the way we played on Sunday against Oklahoma State, we seemed so tired down there in Frisco. We had a lot of energy on that Saturday. I think it got us better. I think it taught us how to play when you're tired, and come home for all of these games. We learned a lot about the team. The pitchers got some confidence and the coaches got confidence in some players in certain roles. Some games were tight, some games we just tore it up, offensively. It's time for us to go on the road again and see how we can do against a team that's won 20 in a row." – Head coach Dave Van Horn on finishing the homestand 10-1
"There's a lot of confidence on the team. I think we're really prepared and I think it doesn't hurt winning a lot of games in a row. I think we're cruising and I'm looking forward to this weekend."– Barrett Loseke on the team's six-game winning streak heading into the Missouri series
"It's definitely important to win at home. It's obviously a little bit easier to play at home, but it's good to be on a roll and beat a good Mississippi State team and beat a good New Orleans team to boost our confidence." – Jax Biggers on the strong play the team has shown during the homstand
Up Next
Arkansas hits the road for the second time this year as it travels to Columbia, Missouri to take on the Missouri Tigers for a three-game set. Missouri has won 20 games in a row heading into this weekend. Friday's game one is set for a 6:30 p.m. CT start on SEC Network+. Saturday's game two will be on the SEC Network and have first pitch at 2 p.m. Sunday's finale will be at 1 p.m. on SEC Network+. All three games can be heard on the radio on the Razorback Sports Network.
For more information on Razorback Baseball, follow @RazorbackBSB on Twitter.