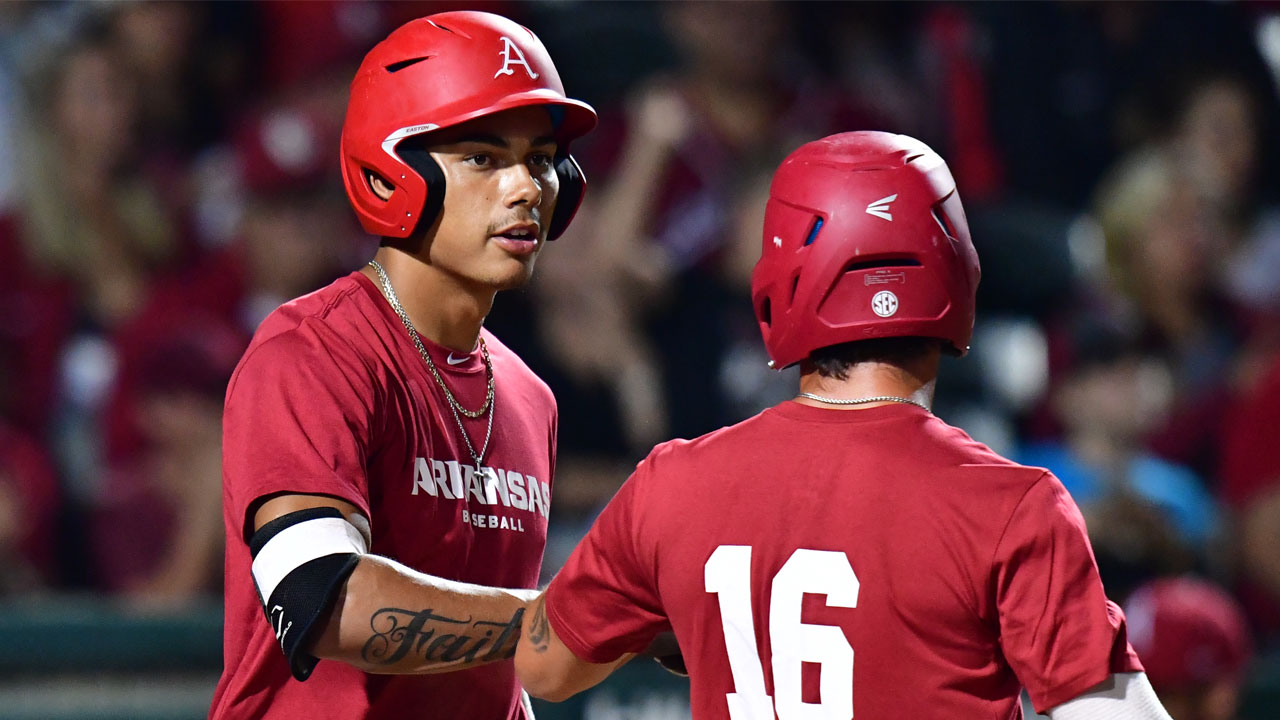 Arkansas Closes In On End Of Fall With Oklahoma St.
STILLWATER, Okla. – The Arkansas baseball team is nearing the end of its 2019 fall season and will play its final of two exhibition games when it travels to Stillwater, Oklahoma on Saturday to take on Oklahoma State in 14 innings at Allie P. Reynolds Stadium. First pitch is scheduled for Noon.
2019 Fall Exhibition Schedule
Sept. 20 – vs. Oklahoma – L, 4-3 (14 inn.)
Oct. 12 – at Oklahoma State (Noon)
Admission to tomorrow's game will be free and seating throughout the stadium will be first-come, first-serve. The exhibition will not be televised in any way, nor have live stats, but Oklahoma State will be providing a Cowboys-centric radio broadcast of the game online via stillwaterradio.net.
Arkansas is coming off, yet, another trip to the College World Series, its 10th in school history and sixth under head coach Dave Van Horn. It was also the first time in school history that the Razorbacks reached the CWS in back-to-back years.
Van Horn enters his 18th season at the helm of the baseball team and heads into the 2020 season with the most CWS appearances than any active head coach in the country.
This year's team returns 21 letterwinners from a year ago, including top hitters, Heston Kjerstad and Casey Martin. Kjerstad is one of the top returning hitters from the 2019 team, hitting .327 with 17 home runs and 51 RBIs. Martin hit 15 home runs of his own and drove in 57 RBIs, good for second most on the team, but will not be available in Saturday's game due to a hand injury he suffered last week.
The Hogs also have 23 newcomers on their squad ahead of the spring season. That class was recently ranked No. 5 in the nation by PerfectGame.org and included grad-transfer from Arizona State, Cole Austin. Austin had the best hitting line among the Razorbacks in their first exhibition against Oklahoma, going 2-for-3 with a run scored and an RBI. He also made a number of web gems at third base and is expected to be a major part of the Arkansas lineup in 2020.
The Razorbacks and Cowboys have been frequent opponents over the last few years, splitting four games over the last five years, dating back to the 2015 NCAA Regional in Stillwater, Oklahoma. Oklahoma State is coached by Josh Holliday, who is entering his eighth season as head coach.
For more information on Razorback Baseball, follow @RazorbackBSB on Twitter.