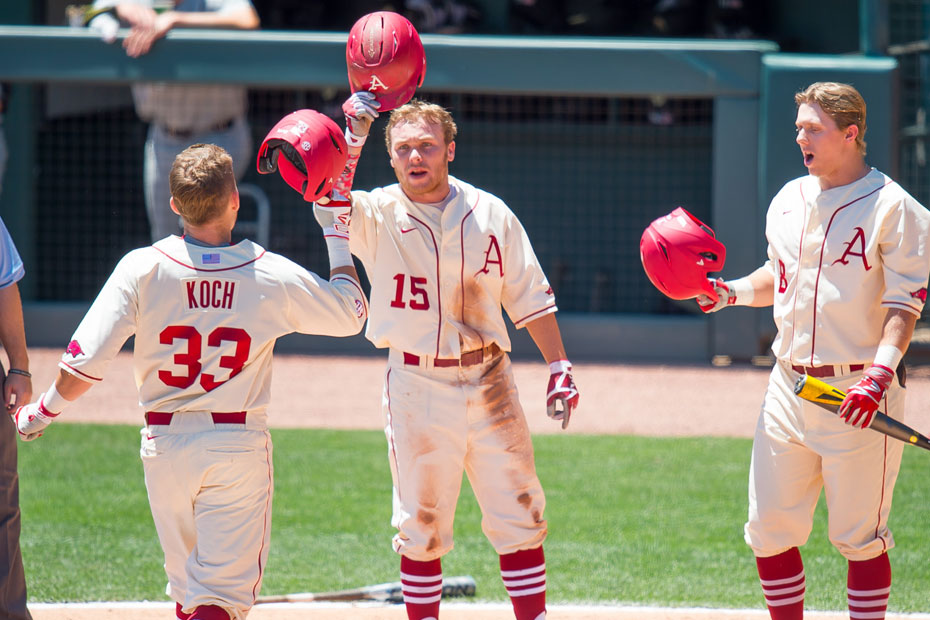 Arkansas Cruises Past Vanderbilt For Series Win
FAYETTEVILLE, Ark. — With the help of three home runs and strong pitching, the 15th-ranked Razorback baseball team cruised past 25th-ranked Vanderbilt Sunday afternoon, winning 7-1 in its regular season home finale.
The win for Arkansas helps claim its 12th series of the year and fifth in conference play. It's the first series win since the Hogs swept Georgia (April 13-15) and moves their overall record to 37-14, 16-10 in SEC play.
Arkansas' 1-6 hitters recorded at least one hit in the game on Sunday, part of a 10-hit outburst that brought home the seven runs. The six-hole hitter Carson Shaddy came away with top marks, going 3-for-3 with an RBI and a run scored, his third three-hit game of the year.
Even with the wide array of hits up and down the lineup, the home run ball was all Arkansas really needed as Grant Koch, Dominic Fletcher, and Chad Spanberger all went deep to up the Hogs' season total to 66 home runs. Koch's two-run blast in the first inning was what got the Hogs off and running. It was his second home run of the series and fourth in the last seven games to give him 13 for the year.
Koch finished the series 4-for-10 (.400) with three RBIs, two home runs and two runs scored. Since the double-header against Ole Miss (April 28), the Fayetteville native is hitting .320 with four of his eight hits in the form of a home run.
On the mound, senior Dominic Taccolini got the start and the victory, his fourth of the year. Taccolini only threw 4.2 innings in his first action in nearly a month, but gave up just one run, a home run to Julian Infante in the second, and three hits with one walk on 72 pitches.
Sophomore Jake Reindl relieved Taccolini in the middle of the fifth with Vanderbilt threatening with two men on base and two outs. Reindl was able to escape the inning on one pitch and then finished the remainder of the game to earn his third save of the year.
Reindl threw 4.1 scoreless innings, allowing just three hits and tied a career-high with six strikeouts in what was a good bounce back performance from his Friday night appearance.
Moments That Mattered
It all started with Koch's two-run home run in the first inning that got the scoring going. Razorback hitters were aggressive at the plate all afternoon as their first four runs came with two outs. Koch continues to lead all Hog hitters with his 13 home runs and it's the second-most by a Razorback in the last seven seasons.
Vanderbilt responded with its solo homer from Infante in the second, but that was all Vandy could muster against Taccolini or Reindl for the rest of the game. Taccolini retired eight of the first nine batters he faced in the game and worked a perfect fourth inning before running into trouble in the fifth.
Arkansas added insurance runs in the fourth and fifth innings on sacrifice flies by Jax Biggers and Carson Shaddy to make it 4-1. In the sixth, the bats broke it open with a solo home run by Fletcher and a two-run homer from Spanberger to add to the final tally.
Both Fletcher and Spanberger's home runs were hit in nearly the same spot as both bounced off the foul pole, giving Arkansas its' biggest cushion of the weekend. Fletcher has continued to hit the ball well as it was his 10th home run of the year and fourth in his last seven games. It's the first time since 2010 that Arkansas has had three or more players with 10 or more home runs in the same season.
Razorback Quotables
"He did a really good job. He really didn't have command of his breaking ball, but his fastball had a lot of sink. They went up there swinging, hit some balls hard and made some nice plays, but Dom just kept battling. He got up to 73-75 pitches, we felt like that was enough. They had been through the lineup twice, so we went and got Jake (Reindl). It was really good for him to go out and give us more than four innings and give us a chance to get us to our next four guys if we need it, we only needed one." – Head coach Dave Van Horn on Dominic Taccolini
"I think it was the biggest swing of the day. It gave us a good feeling. That was the first time we've had the lead this weekend, except when we won the game in the bottom of the ninth. We've either been tied or behind. It gave us some confidence, probably gave Dominic (Taccolini) some confidence. You could tell that when he hit that home run, they were a little on edge over there." – Head coach Dave Van Horn on Grant Koch's first-inning home run
"We came in today with a little more aggressive mindset, overall, not just at the plate. We kind of came out on a mission. You know, Sunday's our day and we've got to win on Sunday to be a good team." – Grant Koch on the team's mindset
"Really, really good stuff today. I mean, I think they are both at their best, especially Dom coming out. He hadn't thrown in a while. I had 100 percent confidence in him in every pitch and in every count. – Grant Koch on Dominic Taccolini and Jake Reindl's performances
Up Next
Arkansas travels to College Station, Texas to face Texas A&M for its final series of the regular season starting on Thursday at Blue Bell Park. First pitch is slated for 6:30 p.m. on SEC Network+. Game two will be on Friday, also at 6:30 p.m. on SEC Network+, while Saturday's finale will be on the SEC Network at 11 a.m.
For more information on Razorback Baseball, follow @RazorbackBSB on Twitter.