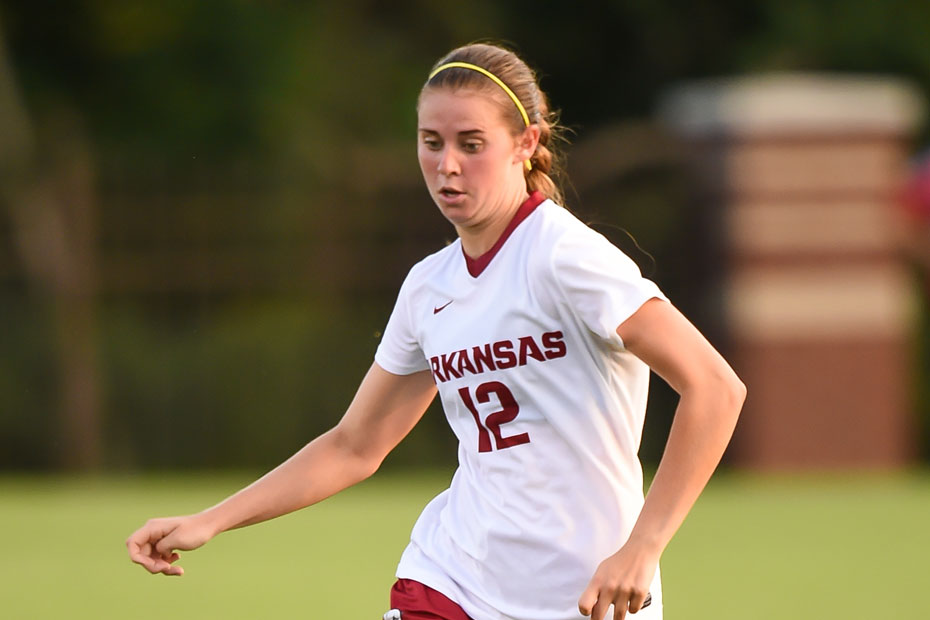 Arkansas Drops 1-0 Decision In Overtime With SMU
DALLAS, Texas – Despite registering six of its eight shots in the second half and just missing a goal in the final seconds of regulation, No. 17 Arkansas fell in its opener to SMU Friday night, 1-0 in overtime.
SMU's Claire Oates headed in a high arching ball into the upper corner in the sixth minute of overtime for the game winner. It was just out of the reach of Arkansas' freshman goalkeeper Rachel Harris, who had made three saves on the night and played the full 96 minutes.
"Congrats to a good SMU team," Arkansas head coach Colby Hale said. "There were a lot of lessons learned today. I was proud of the response in the second half, but we'll let this sting tonight and start prepping for a good North Texas team tomorrow."
Arkansas (0-1-0) controlled much of the possession after halftime, which was the opposite of what it saw in the first 45 minutes. SMU (1-0-0) held the Razorbacks to just two shots in the first half, but Arkansas was able to crank up the pace in the second half, creating multiple chances.
Sophomore midfielder Kayla McKeon paced the Razorbacks with two shots, including one on frame. Six different Arkansas players recorded one shot in the match with the ones from Haley VanFossen, Parker Goins, Nayeli Perez, and Ellie Breden being on goal.
Coming out of the halftime break, Arkansas upped the pace considerably and it showed as the pressure forced SMU back on its heels, keeping possession on the Hogs' end. The Razorbacks best look at the net might have come in the 70th minute when senior Jessi Hartzler got a look at goal from 10 yards out, but the offsides flag went up, stopping the play.
13 minutes later, Goins, who had been finding space behind SMU's back line all night, almost had a window of opportunity on a long ball from the middle of the field, but again the offsides flag prevented a chance for Arkansas.
In the final seconds of regulation with the score still 0-0, senior Katie Kienstra nearly sent the Hogs home happy as she controlled a loose ball in the middle of the box and snuck it past the keeper. However, the ball had not rolled past the goal line before the horn sounded, wiping away what would have been the game winner.
Arkansas returns to the pitch on Sunday when it travels to Denton, Texas to take on North Texas at 1 p.m. at the Mean Green Soccer Stadium. The game will not be televised, but live stats can be found on MeanGreenSports.com.
For more information on Razorback Soccer, follow @RazorbackSoccer on Twitter.