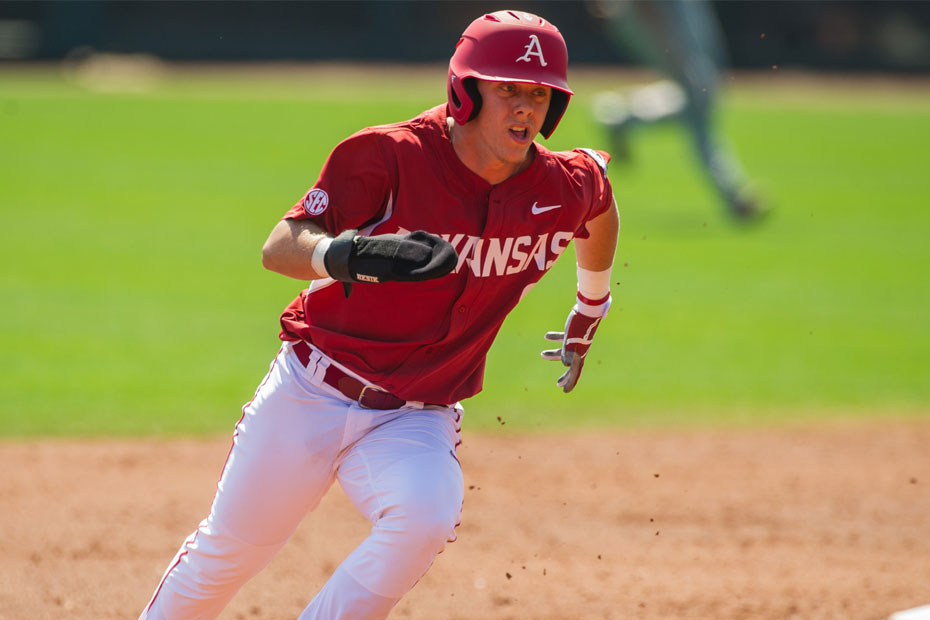 Arkansas Falls To Auburn In Series Opener
AUBURN, Ala. – 10th-ranked Auburn scored five runs in the first inning, eight runs in the third inning, and two more in the fifth inning to run away with the opening game of the  three-game series with 14th-ranked Arkansas Friday night at Plainsman Park, winning 15-2.
Razorback starting pitcher Blaine Knight struggled from the onset allowing five of his career-high eight earned runs in the opening inning. It all started with a Jay Estes RBI double down the left field line and then a two-run home run from Daniel Robert to make it 3-0. Three batters later, Josh Anthony singled to left to score two more for the Tigers.
Knight battled through 2.1 innings, his shortest outing of the season and struck out one, walking four. It's his first loss in six outings and first in conference play. Knight had garnered the win in five-straight outings against SEC teams before Friday's loss snapped that streak.
Before facing Auburn, Knight had five quality starts in a row, while striking out five or more batters each time, and he was one of two starting pitchers with a sub-2.00 ERA against league opponents.
At the plate, Arkansas managed nine hits in the game, four coming in the third inning, which was when the Hogs scored their only runs. Junior Luke Bonfield turned in a 2-for-5 game, his team-leading 17th multi-hit game of the year. Junior Chad Spanberger suffered an 0-for-5 night, snapping his career-long 12-game hitting streak.
Auburn got three more runs off Knight before Arkansas went to the bullpen, bringing in sophomore Weston Rogers. Rogers couldn't do much on the mound, walking two batters in a row, which forced another pitching change.
Freshman Angus Denton entered the game in the middle of the third and finished the final 5.2 innings for the Hogs. Even though the Tigers scored five runs off the righty, Denton was able to save the Hogs bullpen for the remainder of the series, as his outing was his longest of the year and he finished with a season-high five strikeouts.
The Hogs tried to battle back in the third when they scored two runs on Carson Shaddy and Eric Cole singles to make it 5-2. However, the Razorbacks only notched three hits for the remainder of the game.
Auburn starting pitcher Keegan Thompson earned his fifth victory of the year after throwing six innings and striking out seven, while only allowing the two Arkansas runs.
Up Next
Arkansas and Auburn will face off in game two of this series starting at 1 p.m. Saturday at Plainsman Park. The game will be available on SEC Network+ and can be heard on the Razorback Sports Network.
For more information on Razorback Baseball, follow @RazorbackBSB on Twitter.