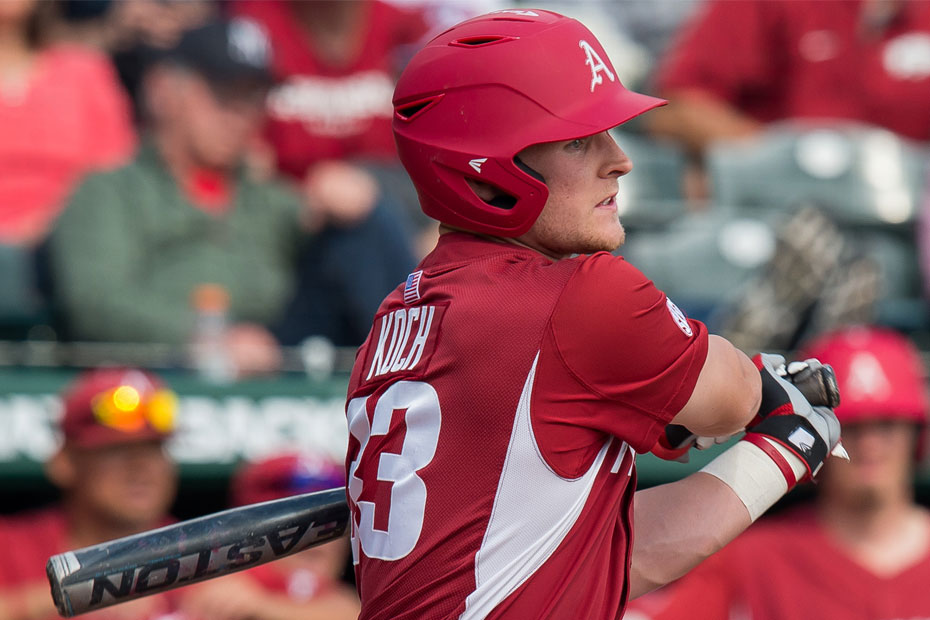 Arkansas Forced To Rubber Match With Alabama
TUSCALOOSA, Ala. – Arkansas' offense struggled to figure out Alabama starting pitcher Dylan Duarte Saturday night at Sewell-Thomas Stadium. With only one run on six hits, the Hogs suffered their second conference loss of the season, 7-1 to the Crimson Tide, setting up the series-deciding third game on Sunday.
The Razorbacks fall to 21-6 on the year and 6-2 in conference play with the loss, but still remain tied at the top of the SEC Western Division with Auburn. Alabama improves to 13-14 overall and 2-6 in conference play.
Sophomore catcher Grant Koch was the only Razorback to record more than one hit Saturday night as he went 2-for-4 with a run scored. He was brought home in the second inning on a Jaxon Williams single for the Hogs only run of the game.
Duarte handcuffed Arkansas hitters all night, going 8.1 innings and scattering six hits with one earned run on 116 pitches, earning his second win of the year.
For Koch, he now has 10 multi-hit games on the year joining teammate Luke Bonfield as the only Razorbacks with 10 or more multi-hit games this year.
Along with Koch, Jake Arledge, Dominic Fletcher, Jordan McFarland, and Williams tallied hits, but Arkansas was not able to get a runner to third after scoring its single run in the second inning.
Starting pitcher Trevor Stephan did not make it out of the second inning as he gave up four earned runs on four hits in 1.1 innings and was saddled with his second straight loss. It was his shortest start of the season and second in a row that he's given up four earned runs.
With Stephan getting pulled early, the Hogs were forced to get a lot of innings out of their relievers starting with redshirt freshman Kevin Kopps. Kopps tried to keep the hot hitting Tide at bay, but he struggled the second time through Alabama's lineup, giving up three runs on three hits in the fifth.
Kopps was strong through the third and fourth innings, striking out four and only allowing one baserunner. It's his second straight outing with four strikeouts and third overall with four or more.
Sophomore Jake Reindl took over for Kopps on the mound in the fifth inning with one out and was lights out. Reindl didn't allow a single Alabama batter to reach base in 2.2 innings, as he struck out a career-high five batters. He's become one of head coach Dave Van Horn's best options out of the bullpen as of late, as Saturday's appearance was fifth scoreless outing of the season and second straight of 2+ innings with no runs allowed.
Up Next
The Razorbacks and Crimson Tide will face off in a rubber match on Sunday at Sewell-Thomas Stadium to conclude the series. First pitch is slated for 3 p.m. and will be broadcast on the SEC Network. Fans can also hear the game on the radio on the Razorback Sports Network with Phil Elson calling the action.
For more information on Razorback Baseball, follow @RazorbackBSB on Twitter.