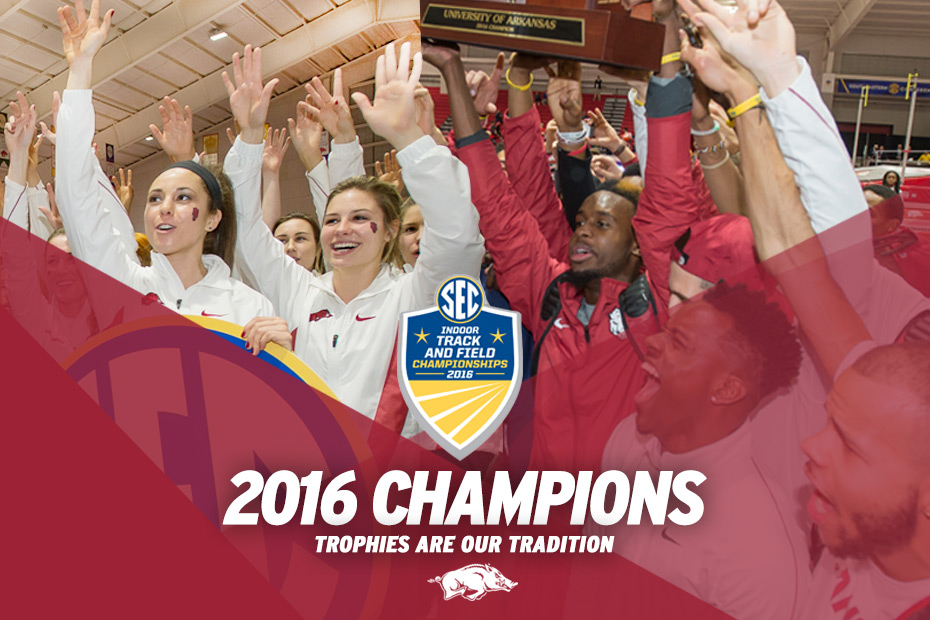 Arkansas: Indoor Track Capital
FAYETTEVILLE, Ark. — Arkansas is the center of the SEC indoor track world … again.
The No. 1-ranked Arkansas men's and No. 4-ranked women's indoor track and field teams continued their dominant indoor heritage at Randal Tyson Track Center as SEC champions.
The indoor titles are the 21st for the men's team and the sixth for the women, and this achievement marks the fifth time each team has won a conference championship together.
Arkansas claimed both the men's and women's indoor titles together in 2000, 2001, 2003, 2013, and 2016:
Men's indoor championships:
| Year | UA Points | Runner-Up Points | Margin | Site |
| --- | --- | --- | --- | --- |
| 2000 | 168 | LSU (84.5) | 85.5 | Fayetteville, Ark. |
| 2001 | 108 | LSU (81) | 27 | Lexington, Ky. |
| 2003 | 120 | Florida (90.5) | 29.5 | Gainesville, Fla. |
| 2013 | 152.5 | Florida (117) | 35.5 | Fayetteville, Ark. |
| 2016 | 109 | Texas A&M (85.83) | 23.17 | Fayetteville, Ark. |
Women's indoor championships:
| Year | UA Points | Runner-Up (Points) | Margin | Site |
| --- | --- | --- | --- | --- |
| 2000 | 140 | Florida (96) | 44 | Fayetteville, Ark. |
| 2001 | 137 | Florida (109) | 28 | Lexington, Ky. |
| 2003 | 129 | South Carolina (108.5) | 20.5 | Gainesville, Fla. |
| 2013 | 114.5 | LSU (109.5) | 5 | Fayetteville, Ark. |
| 2016 | 110 | Georgia (65) | 45 | Fayetteville, Ark. |