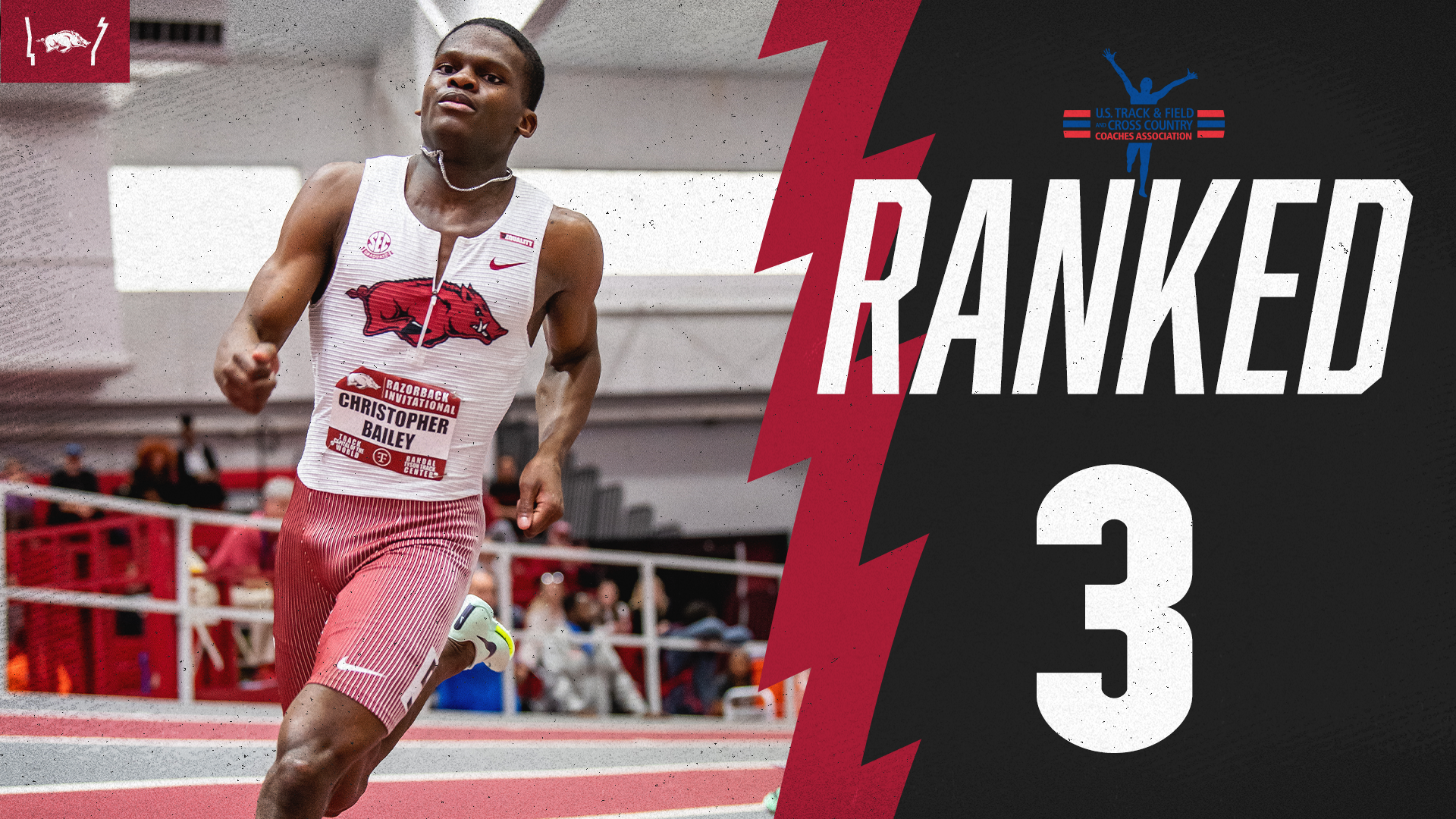 Arkansas No. 3 in national rankings
NEW ORLEANS – Following a big weekend of performances for Arkansas during the Razorback Invitational, the latest national rating index from USTFCCCA has the men's program ranked No. 3 in the nation.
In addition to a world-leading performance of 45.09 in the 400m by Chris Bailey, Razorbacks generated stellar marks among the high caliber meet. Bailey also remains the current world leader in the 600m, an event not contested at the NCAA Championships.
Arkansas ranks third behind Washington and Texas Tech. The rest of the top 10 includes Tennessee, Georgia, Nebraska, Florida, Texas, Oklahoma State, and Alabama.
The Razorbacks rank as the top SEC team this week with five conference schools among the top 10.
In event rankings, which tabulate the average mark from the top four individuals from the same school, the Razorbacks lead a pair of events – 60m hurdles and heptathlon.
Matthew Lewis-Banks leads Arkansas in the 60m hurdles with a career best of 7.74 as the Razorbacks average is 7.82. Following the Razorbacks are Texas Tech (7.83), Nebraska (7.88), Ioa (7.88), and Syracuse (7.98).
Yariel Soto Torrado's career best of 5,889 led the UA multi-event crew as they generated an average score of 5,461 points. That leads the heptathlon over Auburn (5,251) and Wichita State (5,073).
Arkansas is currently among the top five in a trio of over event areas – fourth in the 3,000m and long jump as well as fifth in the 400.
In the 3,000m, the Razorbacks (7:54.11) rank behind Stanford (7:49.99), BYU (7:50.16), and Tulsa (7:53.41). Among the long jump, Florida and Florida State share the lead with an average of 25-2.75 (7.69) and are followed by Texas (25-1.75), Arkansas (24-11.5), and Auburn (24-5.5).
For the 400m, the leading team is Alabama (46.66) followed by USC (46.70), Baylor (46.82), Georgia (46.86) and Arkansas (46.90).
The Razorbacks travel to Albuquerque this week for the New Mexico Collegiate Classic on Friday and Saturday, February 3-4. Coverage from the meet is available via a paid service on FloTrack.com.