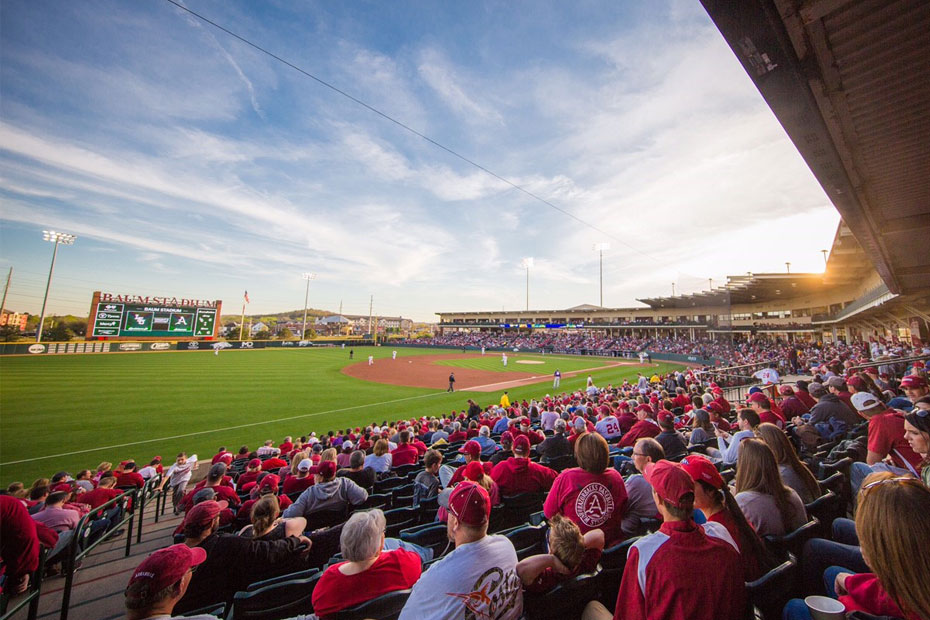 Arkansas-Ole Miss To Play Doubleheader Friday
FAYETTEVILLE, Ark. – Due to the likelihood of heavy rain beginning Friday evening and into Saturday, the series finale between Arkansas and Ole Miss will be moved to Friday and be part of a double-header starting at Noon at Baum Stadium.
Both games will be nine innings long and the second game will start approximately 40 minutes after the conclusion of the first game. This change does not affect tonight's series opener, which is set for 6 p.m.
Fans should use Friday's ticket to gain admission to both games of the doubleheader. All game tickets to Saturday's contest are null and void, but single game Saturday tickets may be exchanged for any future 2017 regular season games by contacting the Razorback Ticket Center at 1-800-982-HOGS (4647), subject to availability. Season tickets, including those for suites, for Saturday, are not valid and may not be exchanged.
First pitch for tonight's game one is still slated for 6 p.m. and will be broadcast on the SEC Network. However, with the schedule change to Friday, both games two and three will be broadcast on SEC Network+ only via the Watch ESPN app and WatchESPN.com.
All games can still be heard on the radio via the Razorback Sports Network with Phil Elson and Rick Schaeffer calling all the action.
Promotions
Fans will also still be able to receive their free Drew Smyly shirseys on Friday prior to the first game of the double-header. The gates will open at 10 a.m. and the shirseys are limited to one per ticketed guest on a first come, first served basis, while supplies last.
The Razorback Baseball pint glass that was scheduled to be given away on Saturday will now be given away on Saturday, May 13 before the Hogs take on the Vanderbilt Commodores.
For more information on Razorback Baseball, follow @RazorbackBSB on Twitter.