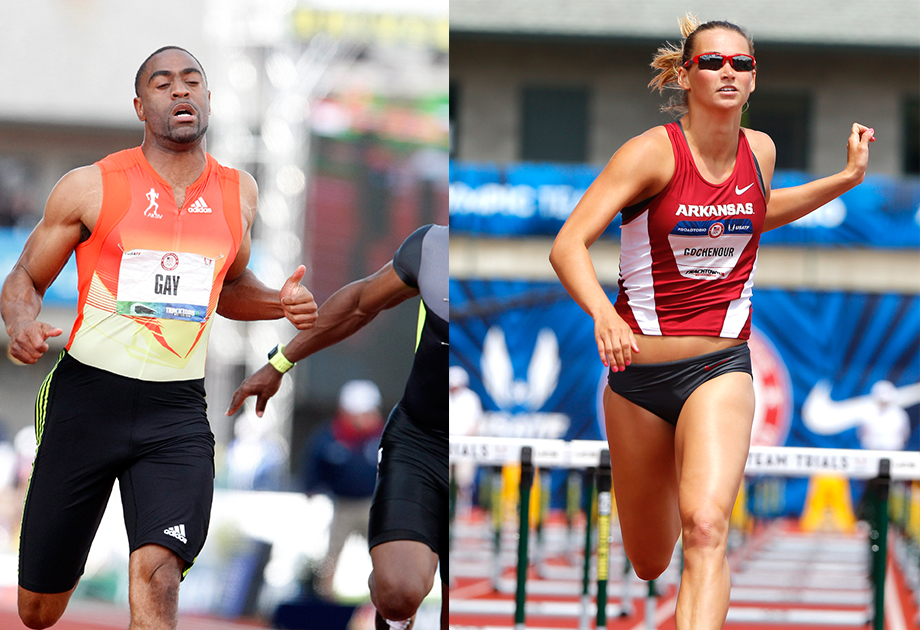 Arkansas Presses Forward Through Trials
MTR Olympic Profiles | WTR Olympic Profiles
EUGENE, Ore. – Day nine of the U.S. Olympic Trials competition featured two Razorback heptathletes and two former Hogs lining up for 200-meter dash races.
Taliyah Brooks and Alex Gochenour were the first Razorbacks at Hayward field kicking of the penultimate day of the trials with the first four events of the heptathlon (100 hurdles, high jump, shot put, 200).
Navigating their way through each competition, Brooks and Gochenour never dropped below the top-10 in the standings, completing the day as the eighth and ninth best performers, respectively. The pair will return to action tomorrow afternoon at 3:00 p.m., opening up with the long jump.
Team USA 4-x-400 relay pool candidate Taylor Ellis-Watson was next on the track, racing in the semifinals of the women's 200. Ellis-Watson closed out her trials debut as one the 20 best American women in the event this season with her time of 23.25 in section two.
Former Razorback Tyson Gay wrapped up the night for Arkansas with a sixth-place finish in the men's 200 finals. Racing out of lane two, Gay worked hard to make up the stagger on the rest of the field, swinging off the curve in contention for a top spot. The two-time Olympian crossed the finish line in 20.38, less than half a second from an individual (non-relay) Olympic berth.
Alex on the Hept.
Taliyah Brooks On Competing In The Heptathlon Since NCAA DNF
"I'm just really excited to be here, the atmosphere and exciting from all of the fans is really amazing. It felt good to get through the hurdles and compete since I haven't really done the event in a while. I was a bit off in the shot put but had a pretty good day in the high jump which I'm happy with. I'm excited for tomorrow's long jump since that's one of my favorite events."
Alex Gochenour On Transition From NCAAs to Olympic Trials
"It's always great competing somewhere where you know you're going to compete in big meets. I'm really familiar with the facilities now so that gave me a little more peace of mind. I started off with a decent time in the hurdles, 13.43 and I tied my season's best in the high jump (5-4 3/4) which wasn't spectacular but I'm still pretty happy with it. Looking back on the US Champs last year I had a torn quad that we found at 2015 SECs and had to try and recover fast for NCAAs and USAs. I don't know if right now I'm necessarily at 100% but I'm a lot better than I was last year physically.
Saturday, July 9 Olympic Trials Results
M 200 meter finals
Tyson Gay (6) – 20.38
W 200 meter semifinals
Taylor Ellis-Watson (19) – 23.25
Heptathlon
Taliyah Brooks (8) – 3,589 pts. | 100H: 13.39, HJ: 1.81m/5-11 1/4, SP: 11.55m/37-10 3/4, 200: 24.85
Alex Gochenour (9) – 3,549 pts. | 100H: 13.43, HJ: 1.72/5-7 3/4, SP: 12.64m/41-5 3/4, 200: 24.79
Sunday, July 10 Olympic Trials Schedule
3:00 p.m. – Heptathlon (Long jump) | Taliyah Brooks, Alex Gochenour
4:00 p.m. – Heptathlon (Javelin) | Taliyah Brooks, Alex Gochenour
4:30 p.m. – W Pole vault (Finals) | April Bennett, Sandi Morris, Lexi Weeks
6:11 p.m. – Heptathlon (800) | Taliyah Brooks, Alex Gochenour
7:00 p.m. – W 1,500 (Finals) | Stephanie Brown
For more information on Arkansas track and field including in-meet updates, follow @RazorbackTF on Twitter.