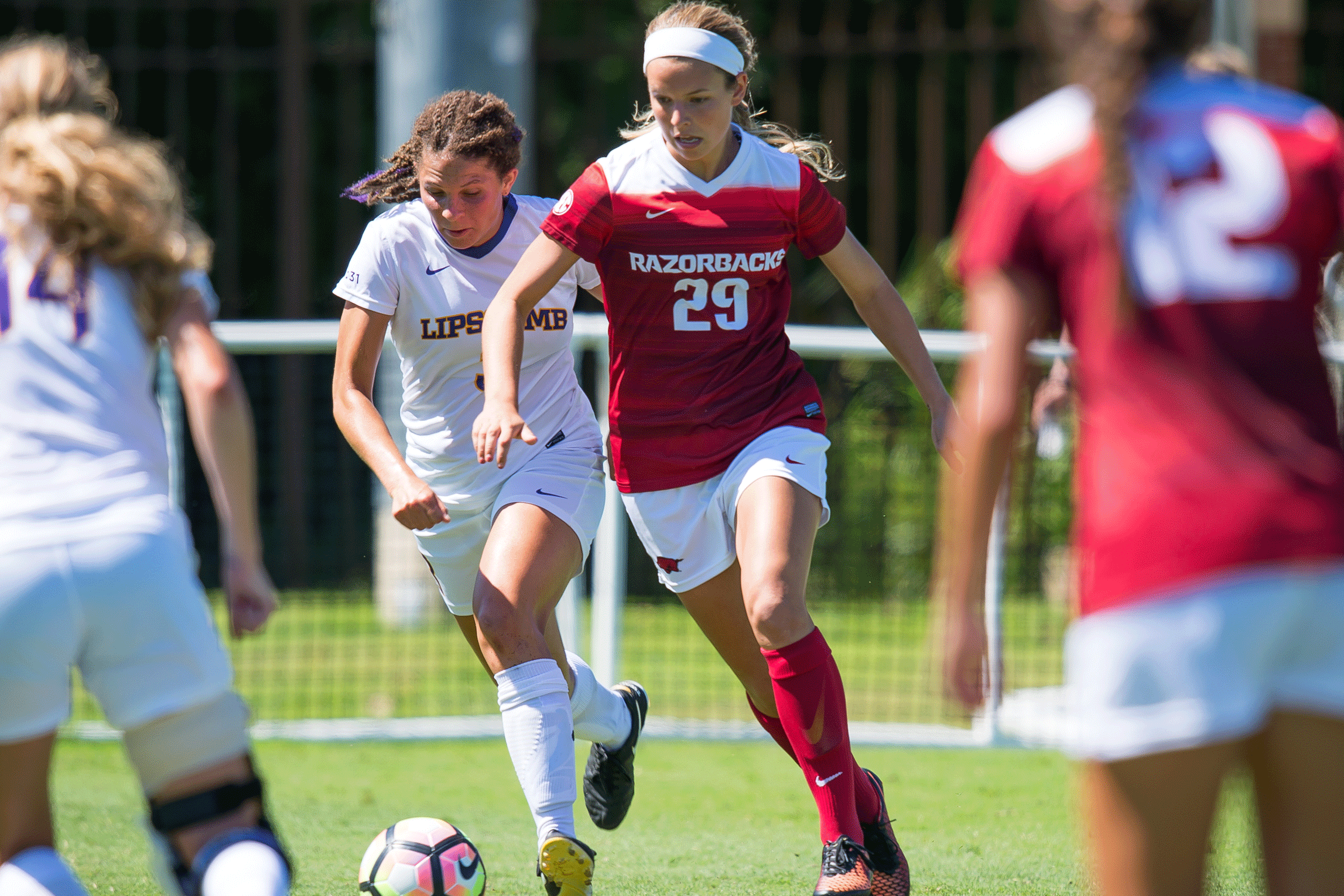 Arkansas Wins Showdown of NCAA Tourney Teams
FAYETTEVILLE, Ark. – Senior-to-be Katie Kienstra's goal in the 87th minute broke a 1-1 tie and completed a second half comeback by Arkansas for a 2-1 win over Kansas on a perfect Saturday afternoon at Razorback Stadium.
The matchup featured a pair of programs that each earned an NCAA Tournament win in 2016. It marked the third straight weekend of spring play for each club, as the Razorbacks remained unbeaten and now own full game victories over the Jayhawks and Missouri State.
"First give credit to Kansas. That was a very physical and competitive spring game," said head coach Colby Hale. "We challenged ourselves at half to not settle for good. I thought we did enough to be a little better, but not enough to be on top in the first half. In moments we are really good. There are a lot of positives to take away from today. I thought our leadership really came through."
Following a scoreless first half, Kansas took a 1-0 lead off a corner kick in the 53 minute. It marked the first goal surrendered by the Razorbacks in the spring after 233 minutes of scoreless action.
Arkansas' first deficit of the spring lasted only 12 minutes, as it also manufactured its first goal off a corner kick. Hannah Neece played the corner kick into the box where it was settled and drilled into the back of the net by senior-to-be Jessi Hartzler in the 76th minute.
The Razorbacks continued to apply pressure and after a pair of shots by Rachel Riggs they regained control of play in Kansas' side of the field. Kayla McKeon worked her way into the middle of the field and found Kienstra streaking down the left side of the box. Kienstra skillfully delivered a perfect touch to get past the charging KU goalie and then found the left side of the open net for the game-winner.
Kansas was able to work its way into another corner kick in the final minute of action. The kick was well-placed into the middle of the box, but Arkansas keeper Jordan Harris broke well on the ball and grabbed it before it could find the head or foot of a KU player.
The game-winner marked Kienstra's second goal of the spring, while Arkansas has out-scored its opponents, 12-1.
Arkansas will travel to Kansas City to take on Kansas State to close out its spring slate on Saturday, April 22.