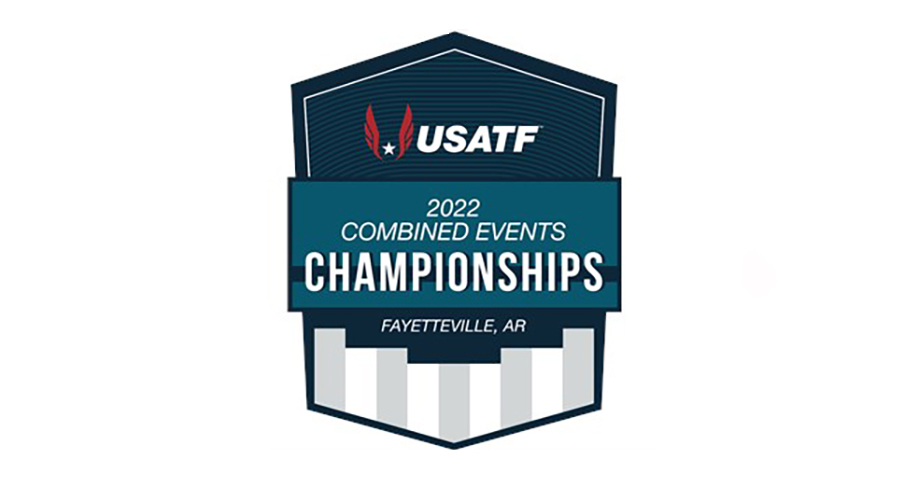 Arkansas selected to host USATF Combined Events Championships
FAYETTEVILLE – The University of Arkansas will serve as host of the 2022 USA Track & Field Combined Events Championships on May 6-7 at John McDonnell Field.
The event serves as the selection meet for Team USA in the heptathlon and decathlon for the 2022 World Athletics Championships, which will be held in Eugene, Oregon, this summer.
"We are thrilled at the opportunity to host the event," said Razorback men's associate head coach Travis Geopfert. "We couldn't be more excited to have the combined events coming to Fayetteville."
Tickets for the USATF Combined Events Championships are available online at ArkansasRazorbacks.com (https://bit.ly/3E3ZQA8) in conjunction with the Arkansas Twilight being held on Friday, May 6. Tickets are $5 for adults. Individuals 17 years of age and younger are admitted free of charge.
Saturday's session is free of charge for all spectators. Meet information is available through USATF.org at this link: https://www.usatf.org/events/2022/2022-usatf-combined-events-championships
While John McDonnell Field and Randal Tyson Track Center have each hosted numerous SEC and NCAA Championships, this will be the first USATF Championship hosted at the University of Arkansas.
In 2016 John McDonnell Field served as host of the Thorpe Cup, an annually held combined events competition between the United States and Germany.
"We've had a history of hosting some elite level combined event competitions at Arkansas," noted Geopfert, who was also part of the Thorpe Cup held in Knoxville in 2018 while an assistant coach at Tennessee.
"That definitely helped in bringing the event here. Even though it will be the first time to host the U.S. Championships, we do know how to host a great heptathlon and decathlon. It means a lot to have USA Track & Field trust us with that and help make it all come about to create a great opportunity for these athletes."
With the USATF Championships scheduled for June 23-26 and the World Championships set for July 15-24, both being held at Hayward Field in Eugene, it was determined that a couple of events would be held earlier than the scheduled USATF Championship date to enable more preparation time for those making Team USA.
In addition to the combined events being held in early May, the 10,000m will be contested on May 27 in Eugene the same weekend the Prefontaine Classic, a Diamond League meeting, is held at Hayward Field. The 20km Race Walk Championships will be contested on April 24 in Hauppage, New York.
Standards to qualify for the USATF Championships in combined events includes 7,900 points in the decathlon and 6,000 points in the heptathlon. The field size for both disciplines will be 16 athletes in each event.
An Arkansas alum eager to have the USATF Championships in the combined events on her home collegiate facility is Taliyah Brooks, who holds the Razorback school record in the heptathlon.
"It's really exciting, since there has never been a U.S. Championships in Arkansas," said Brooks. "So, to feel like I'm competing at my home track, a place where I train at every day, is super exciting. There's nothing like competing at home.
"The competition is always very high level, so I know I'll need to be prepared for that. Luckily, for the heptathlon, Kendell Williams has the automatic qualifier for the World Championships, so the United States will have four athletes in the heptathlon this year."
The top three finishers in the heptathlon and decathlon, who have met the World Athletics standards of 6,420 (heptathlon) and 8,350 (decathlon) points, will represent Team USA in the World Championships.
Williams secured a wildcard entry to the 2022 World Championships in the heptathlon by claiming the top position among the 2021 World Athletics Challenge in combined events.
"I've never done a heptathlon at John McDonnell Field," noted Brooks. "So, I'm excited to compete in my primary event here in front of the home crowd. Being at home I feel like I'll have an advantage. It's kind of like being back in college, you like competing at home.
"Having a World Championships in the United States is exciting and it's a unique opportunity. Everybody gets to come to the United States for the first time. U.S. athletes are used to traveling a long distance to get to championship meets. It will be good for us to have that edge finally."