Arkansas Signs Impressive Jumps Duo
FAYETTEVILLE, Ark – Arkansas men's track & field looks to continue their tradition of excellence in jumps with the early signing of Harrison Schrage and Andreas Trajkovski.
Highly recruited for his natural ability in the jumps, Schrage will be coming to Fayetteville from Portland, Ore. A state champion in his first year of high school, his accolades continued to stack up through the years breaking the sophomore long jump state record as well as going on to be a two-time national runner-up in the event.
A native of Denmark, Trajkovski first emerged on the international track season in 2009 finishing first at the European Youth Championships in the long jump qualifying him for the World Youth Championships where he finished ninth. Trajkovski has since saw continued success on the international and junior college circuit most recently sweeping the long jump at the 2015 NJCAA indoor and outdoor championships and following that up with a sixth place performance at the 2015 European U23 Championships this past summer.
Assistant coach and recruiting coordinator, Travis Geopfert has a sharp eye for talent and is responsible for the successes of several athletes on the well-developed Razorback roster. The 2013 and 2014 National Indoor Assistant Coach of the Year, Geopfert has an enviable resume riddled with achievements including five NCAA champions from jumpers and multis across multiple divisions. Last season saw three of his jumpers bring home five All-American honors through both seasons led by Jarrion Lawson who finished as the national indoor and outdoor silver medalist in the long jump.
"We are very pleased with signing these two young men," said head Coach Chris Bucknam. "It's a great start to our recruiting campaign with some more great signees on the horizon.  Success breeds success and one would be hard pressed to find a more impressive list of long jumpers than what we've had here at Arkansas.  There is a lot of history and tradition here in Fayetteville. These are two quality young men that are excited to add to the legacy of Arkansas Track and Field."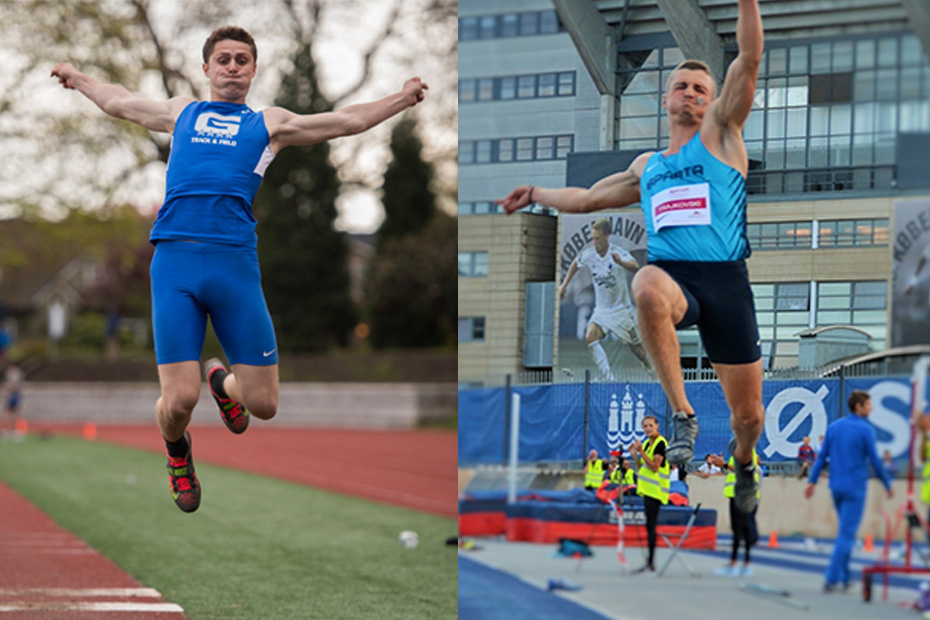 Harrison Schrage || Jumps || US Grant High School (Portland, Ore.)

Personal Bests:
60m – 6.86
Long Jump – 24'3"
Triple Jump – 47'7.75"
Notes on Schrage: Three-time 6A OSAA long jump state champion. First freshman to ever win Oregon state long jump in the largest classification. Five-time All-American. Two-time national runner up in the long jump. USATF Oregon Youth field athlete of the year. State runner up in the triple jump sophomore year. Oregon sophomore state long jump record holder. Coached by Adam Schrage and Hashim Hall. Son of Adam Schrage and Kimberly Bauman.
On why he chose Arkansas: "I loved my visit. The campus was beautiful and amazing, and the team felt like a family. Nobody in Arkansas could stop raving about how much they loved the entire atmosphere and environment, regardless of their background. I met people from all over the country and even from countries across the world and the one thing that everybody could agree on is how great the university was. Another thing I was impressed by was the brand new student-academic center. That paired with the five year business MBA program at the Walton school of business was very attractive to me. Last but not least, the athletic facilities are second to none. On my visit to Arkansas, I felt that it was literally the perfect environment for me to flourish."
What Coach Geopfert says about Schrage: "Harrison is a big strong fast kid that has all the intangibles it takes to be a great SEC and NCAA competitor.  He's a highly motivated young man both on and off the track. Talent along with a great attitude and great effort are going to make Harrison Schrage a force to be reckoned with as a Razorback!"
Andreas Trajkovski || Jumps || Iowa Western CC (Copenhagen, Denmark)
Personal Bests:
100m – 10.60
200m – 21.51
Long Jump – 7.82m
Notes on Trajkovski: 2015 NJCAA Indoor and Outdoor long jump champion. Finished in sixth place at the 2015 European U23 Championships in the long jump. Won the long jump at the 2014 Denmark Senior Championships. Earned a silver medal at the 2012 World Junior Championships in the long jump to become the first ever in Danish history to medal at the event. National senior champion in the 100-meter dash in 2011. Coached by Christian Srgjan Trajkovski, Dave Craven and Steve Gordon. Son of Christian Srgjan Trajkovski and Helle Tauby Soerensen.
On why he chose Arkansas: "I heard a lot of good things about the Track and Field Program at The University of Arkansas and how they have produced so many phenomenal athletes over the years. Ever since I came on a visit there was no doubt that I would be a 'Razorback' Athlete."
What Coach Geopfert says about Trajkovski: "Andreas is a big time long jumper that has already proven himself on the junior college and international level. He has terrific foot speed and simply wants to be great. I'm very excited to work with such a talented and motivated young man. He's going to make an immediate impact in our program and we are thrilled to have him join us here in Fayetteville."
For more information on Arkansas track and field including in-meet updates, follow @RazorbackTF on Twitter.