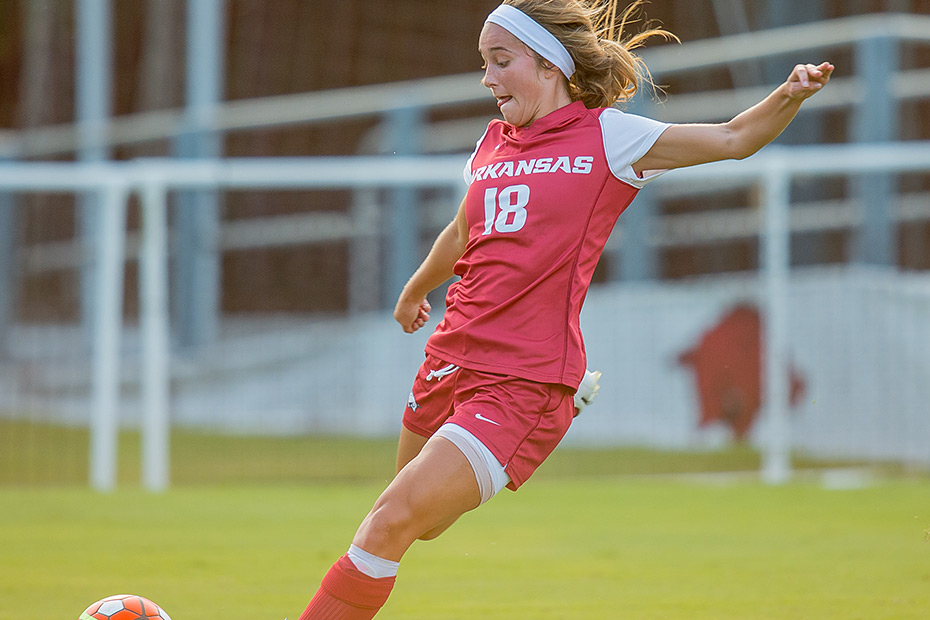 Arkansas Soccer Drops Match Against Florida 4-0
GAINESVILLE, Fla. — Arkansas dropped their match 4-0 against the No. 8 Florida Gators Sunday evening at James G. Pressly Stadium, capping a two-game road trip.
The Razorbacks played the Gators tough in the first half, forcing a 0-0 tie heading toward half time, setting the team up for a potential upset win in the second period. The Hogs have dominated opponents after the half this season, outshooting and outscoring opponents 124-88 and 13-12, respectively.
But an early second period goal by Florida forward Brooke Sharp changed the course of the game. The Gators would score a total of four goals in the second period, including a pair of goals within a 30-second span late in the 71st minute. The Hogs have only lost a game by more than one goal only twice this season, both against top-10 ranked teams and on the road: Then-No. 6 Penn State topped Arkansas 4-1 on Aug. 28.
"Tough one," said Arkansas soccer head coach Colby Hale. "We fought to the end. We just ran out of gas. There were some heroic efforts."
Despite the large lead built up by the Gators late in the second period, the Razorbacks kept up the pressure, and had a few good scoring opportunities. Hannah Neece, Abby Sieperda, Alexandra "Sparky" Fischer, and Sarah Price all had shots on goal late in the game.
"We're never happy with a loss, but you can't fault the effort today," Hale said. "We gave up a fluke goal to start the second [period], and that affected the game. It will be good to get back home and play a good Alabama team."
With the loss, Arkansas falls to 5-11-1 overall and 1-8-1 in SEC play. Florida improves to 13-3-1 and 7-2-1 within the conference.
Arkansas wraps up their season this week against Alabama on Oct. 29 at Razorback Field. Kickoff is at 7 p.m. and the game will be broadcasted live on SEC Network+.
For more information about Arkansas soccer during the season, follow Razorback Soccer on Twitter, Facebook, and Instagram.