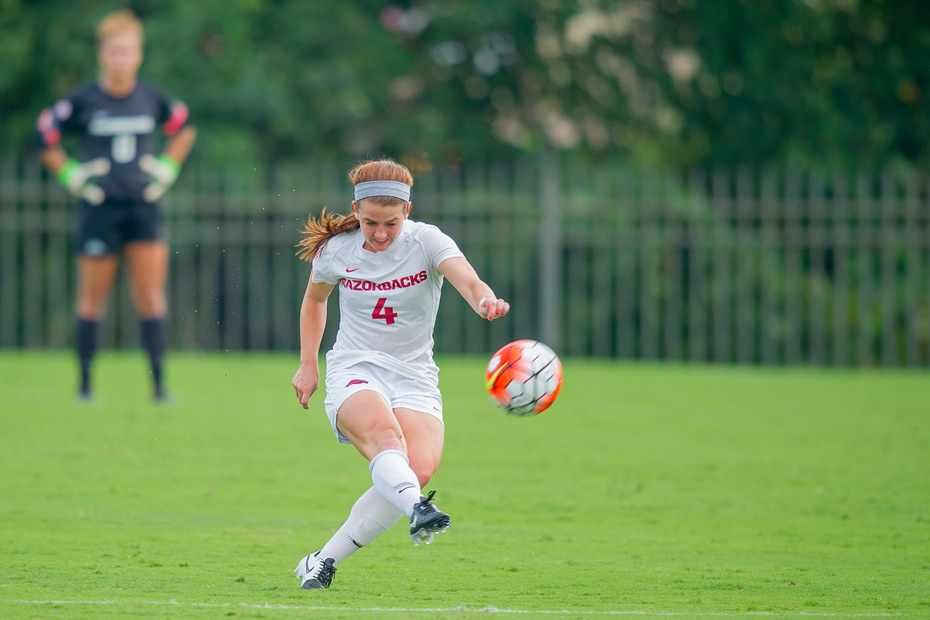 Arkansas Soccer Falls 1-0 To No. 23 Texas A&M
COLLEGE STATION, Texas — Arkansas soccer fell 1-0 to No. 23-ranked Texas A&M Friday night at Ellis Field in another tightly contested match.
Aggie sophomore midfielder Mikaela Harvey notched the winning goal in the fourth minute of the match, scoring from eight yards out, getting by the Razorbacks' freshman keeper Jordan Harris near the right-hand post. It was the only goal allowed by Harris, who defended 20 shots — seven of which were on goal — and tallying six saves.
Despite being outshot 2:1, and ceding to the Aggies a 9-2 corner kick advantage, Arkansas played scrappy defense throughout the match and often stymied several A&M scoring opportunities.
Arkansas appeared to score an equalizing goal in the 31st minute of the game only to have it overturned by an offside call from the referees.
"No excuses," said Arkansas soccer head coach Colby Hale. "We're good enough to get results. We're close, but close isn't good enough. We were better in the second [half], but we need every player at their best for 90 minutes. We commit to that, and we will get the result we want."
The loss, Arkansas' third straight scoreless setback, dropped the team to 5-10-1 for the season, and 1-7-1 in SEC play. Texas A&M improved to 13-4-0, and 6-3-0 in conference matchups.
The Razorbacks stay on the road, heading to Gainesville, Fla. Sunday afternoon for a 5 p.m. game against the No. 8-ranked Gators. The match will be broadcasted live on SEC Network+.
For more information about Arkansas soccer during the season, follow Razorback Soccer on Twitter, Facebook, and Instagram.