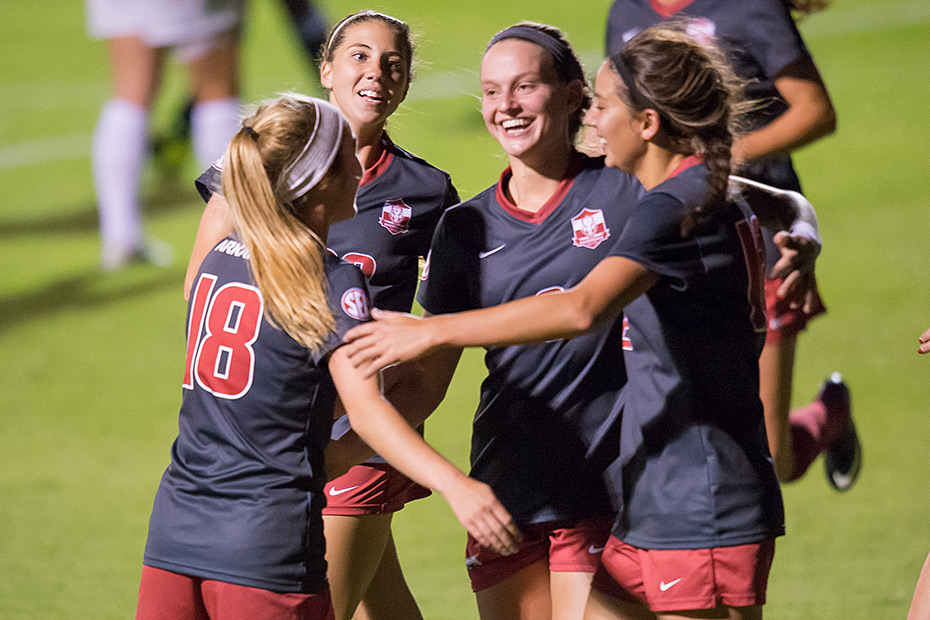 Arkansas Soccer Wins Big In Season Finale
FAYETTEVILLE, Ark. — Arkansas soccer capped their 2015 season on a high note by beating the Alabama Crimson Tide 3-1 Thursday night at Razorback Field.
"Good performance," said Arkansas soccer head coach Colby Hale. "We had quite a few good performances recently. It was a good way to end. Tonight, our finishing was spot on. We gained valuable experience this year. Winning isn't easy and this group has some special days ahead."
Junior forward Katie Moore struck the first blow for the Hogs by scoring in the ninth minute, assisted by freshman midfielder Reece Christopherson. The goal was the Hogs' first score in more than 369 minutes of play, and it set the tone for the rest of the game.
Arkansas won on both sides of the pitch throughout the match, outshooting Alabama 14-10 and tallying 10 corners vs. Alabama's six. Defensively, Cameron Carter notched one save in the first period and Jordan Harris recorded two in the second. Christopherson would have a total of two helpers in the match, with her second leading to sophomore defender Hannah Neece scoring her first goal of the season in the 20th minute.
Alabama's Alexis Mouton would score a goal late in the first period with less than a minute left before the half to keep the game within reach for the Crimson Tide. But Arkansas entered half time in a very favorable position; the Razorbacks were 4-0-1 this season when leading at the half, and 5-2-1 when scoring first.
Junior midfielder Claire Kelley would seal the game for the Hogs with her team-leading seventh goal in the 59th minute to extend Arkansas' lead 3-1.
With the win, Arkansas improved to 6-11-1 overall, and 2-8-1 in SEC play. Alabama drops to 5-12-2 for the season, and 2-9-0 within the conference.
"What a special senior class," Hale said. "Program changing. I can't thank them enough for taking a risk on us and me. They have left a legacy that will be felt for years. What a special, special group."
The end of another chapter in Razorback soccer history spells the arrival of the upcoming season in 2016, and all of the new challenges, hopes, and goals associated with a fresh, new start.
"We'll get a ton of players back from injury, and we've got a big class coming in," Hale said. "What a core. I thought the kids that played tonight did a tremendous job on staying focused all season and I think the future is really bright."
For more information about Arkansas soccer during the season, follow Razorback Soccer on Twitter, Facebook, and Instagram.