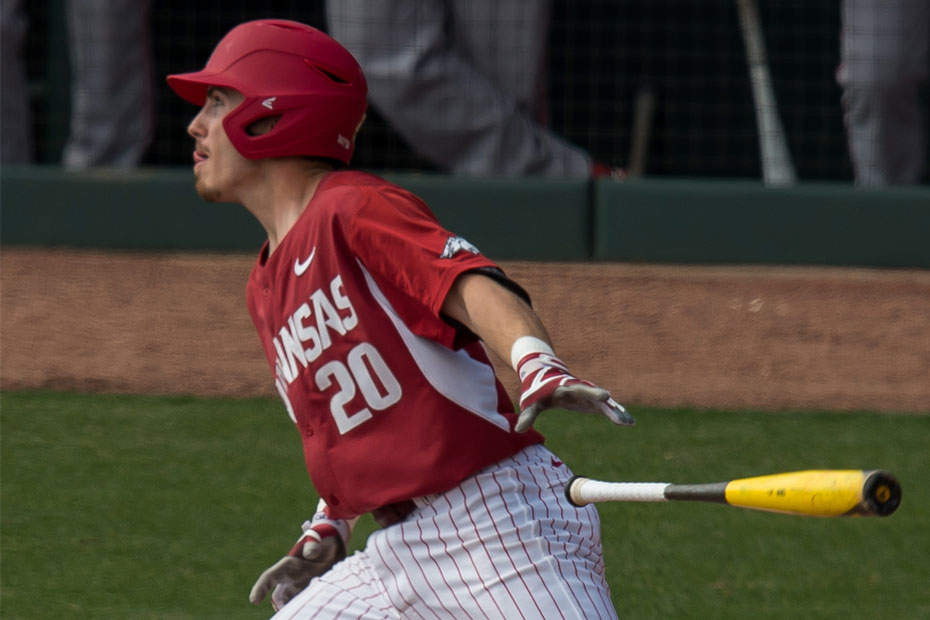 Arkansas Suffers First Loss At Louisiana Tech
RUSTON, La. – The Razorbacks got a great start by redshirt senior pitcher Josh Alberius, but a four-run sixth inning by Louisiana Tech proved to be the difference Tuesday night, as the Bulldogs handed the 20th-ranked Razorbacks their first loss of the year, 4-3, at Pat Patterson Park.
Arkansas (6-1) looked to be well on its way to its seventh straight victory after taking an early lead in the second inning and getting a strong five innings from Alberius on the mound. However, well into his sixth inning of work, which was already a career-high, Alberius had to be relieved after a walk and a Hog error loaded the bases with only one out.
Louisiana Tech capitalized on the error with a four-run sixth inning, getting multi-RBI doubles from Chase Lunceford and Jonathan Washam and never relinquished the lead from there.
Making his first career start, Alberius looked good through five innings, holding the Bulldogs scoreless with a career-high seven strikeouts, but only one of the three runs he eventually gave up were earned as a Carson Shaddy error at third gave Louisiana Tech life in the late innings.
Freshman Dominic Fletcher led all Razorback hitters going 2-for-3 at the plate with two runs scored. It's his third multi-hit game of the year, tying with Eric Cole and Grant Koch for the most multi-hit games on the team.
Shaddy tried to bring the Hogs back in the ninth when he delivered one of the biggest hits in the game, a two-run homer, his second of the year, to pull the Hogs within one. However, it wasn't enough as the hitters behind him could not get on base, allowing La. Tech to take the victory.
Moments That Mattered
Freshman Jaxon Williams, making his second start of the year, continued his torrid start at the plate as he got Arkansas on the board in the second inning with a two-out bloop double down the right field line. Fletcher, who reached earlier in the inning, was able to score all the way from first, giving the Razorbacks a 1-0 lead.
Williams finished the game 1-for-3 with one RBI. He has 10 RBIs through the first seven games, which is now good for the team lead.
Alberius was the story early on in Tuesday's game as he threw a near masterful 5.1 innings, allowing only two hits. By the fourth inning, the redshirt senior already surpassed his previous career-high of five strikeouts. He finished the night with seven strikeouts before being pulled in the sixth.
Up Next
Arkansas will finish off its two-game series with Louisiana Tech on Wednesday at Pat Patterson Park. First pitch is scheduled for 3 p.m. and will be televised on CST.
For more information on Razorback Baseball, follow @RazorbackBSB on Twitter.