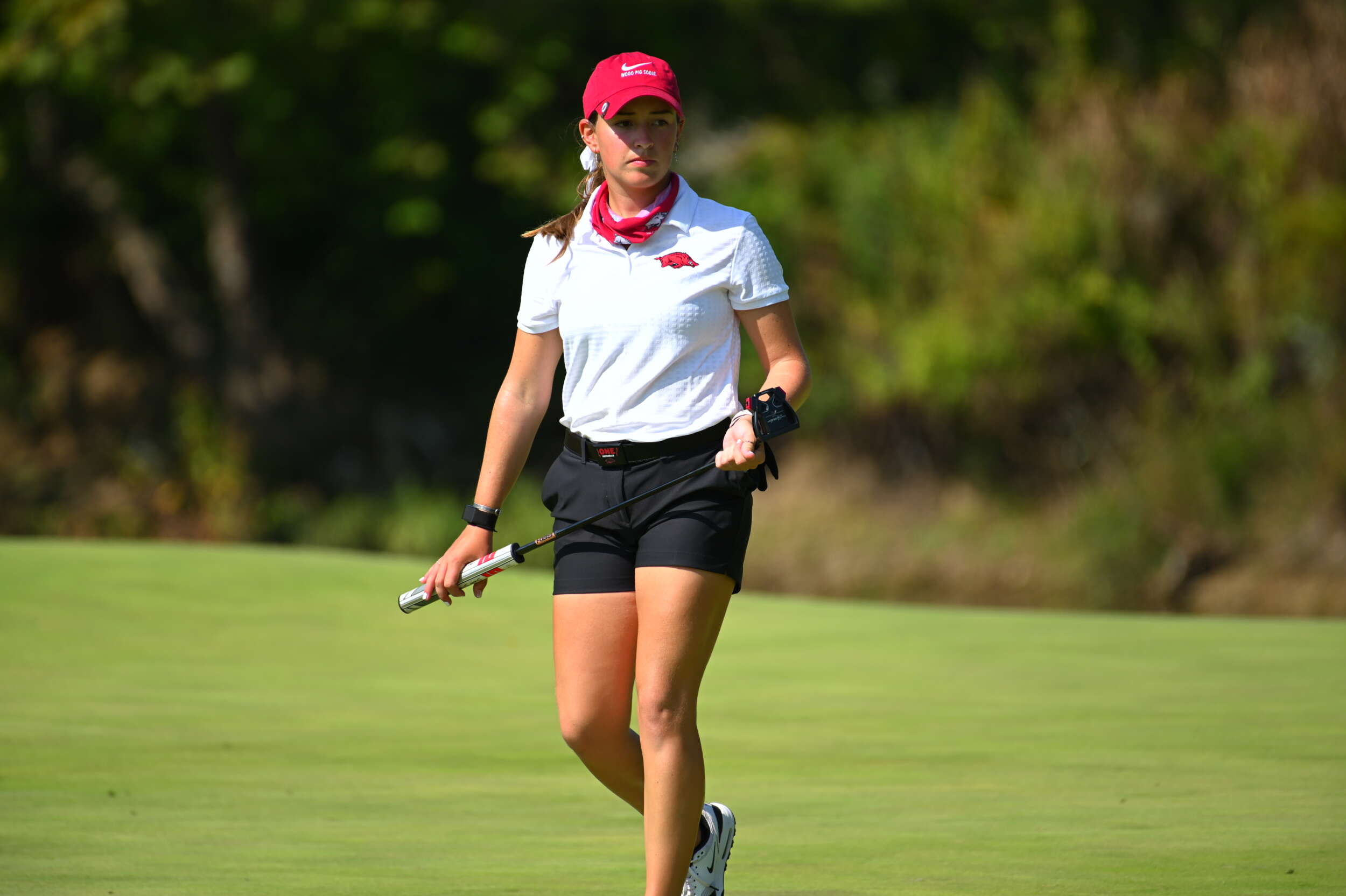 Arkansas Tied For 12th After Round One
COLUMBIA, S.C. – No. 13 Arkansas Women's Golf finished the first round at the Gamecock Intercollegiate at 299 (+11), good for a share of 12th  place. Duke currently leads the event at six-under, while six players are tied atop the individual leaderboard, all of whom shot 69 (-3) in round one.
The duo of Kajal Mistry and Cory Lopez led the Hogs on day one, as both fired rounds of 74 (+2), placing them tied for 35th on the leaderboard. Lopez carded a team-high four birdies, but shot four bogeys along with a double on 17 to finish at two-over in the round. Mistry, meanwhile, played at even par on holes one through nine, but bogeyed hole 11 and hole 14 on the back.
Sophomore Julia Gregg is tied for 47th after day one, shooting a first round 75 (+3). While she was three-over on the back nine of the course, Gregg was one-under on the front nine, firing a birdie on hole one and paring holes two through nine to close out her round.
Finishing fourth in the Hog lineup was redshirt junior Brooke Matthews, who currently sits at four-over, good for a share of 61st place. Like Gregg, Matthews played much better on the front of the course, recording three birdies and two bogeys on her way to a one-under score over those nine holes. On the back, though, Matthews was +5, including back-to-back doubles on 13 and 14.
Sophomore Ela Anacona rounded out the lineup on day one, shooting a first round 78 (+6). She's tied for 79th place headed into day two.
More Information
Keep up with all of the latest news and information and get behind the scenes looks into our program on our social media accounts. Follow us on Twitter at @RazorbackWGolf and check out our Facebook page "Razorback Women's Golf." Stats, news and player information can be found at ArkansasRazorbacks.com.