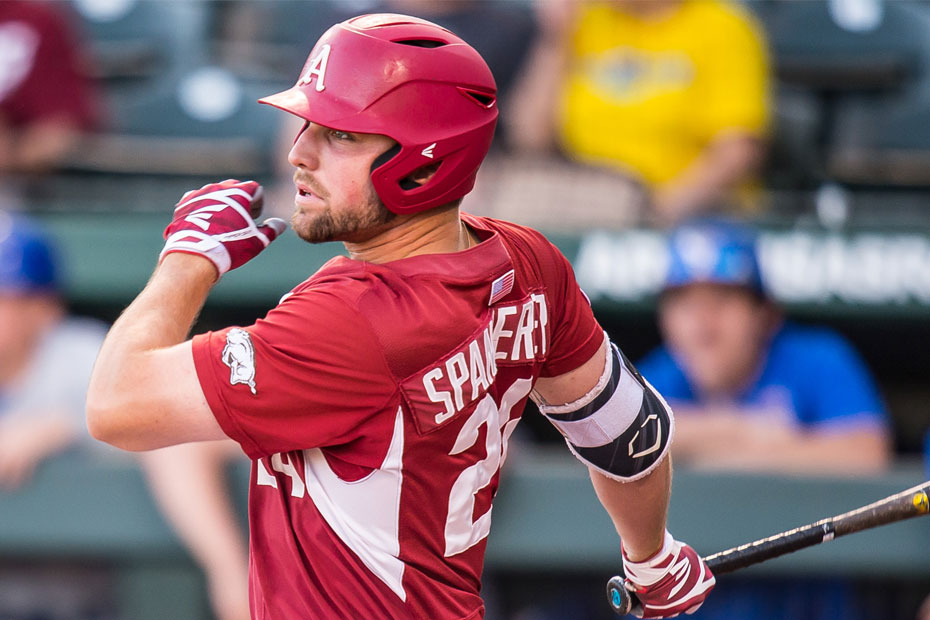 Arkansas To Battle Auburn For Division Lead
AUBURN, Ala. – Holding the best record in the Southeastern Conference, the 14th-ranked Razorbacks will head to No. 10 Auburn for a three-game road series this weekend with a chance to build a lead in the SEC Western Division. The series is set to start Friday and run through Sunday, First pitch on Friday is scheduled for 6 p.m.
Arkansas is coming off a series sweep against Georgia that moves its conference record to 11-4, its best start to conference play since 2010 and is the first team in the league to reach the 30-win mark. The Hogs are 2-0 in conference road series this year with wins at Alabama and Missouri.
Auburn enters the series trailing Arkansas by one game in conference play with a 10-5 record. It has been winners of four of its last five including a series win at Tennessee last week. Overall, the Tigers are 28-11 this season.
Follow Live
Friday and Saturday's game will be available for viewing on SEC Network+ via the Watch ESPN app and WatchESPN.com. Andy Burcham (PXP) and Mark Fuller (Analyst) will be calling both games. Sunday's finale will be featured on the SEC Network with first pitch slated for 3 p.m. Taylor Zarzour (PXP) and Gabe Gross (Analyst) will be calling that game. Phil Elson will be calling all three games on the radio for the Razorback Sports Network.
Game 1 – 6 p.m.; SECN+ – WATCH
Game 2 – 1 p.m.; SECN+ – WATCH
Game 3 – 3 p.m.; SEC Network – WATCH
Probable Starters
Fri. | 6 p.m. | (ARK) RHP Blaine Knight (6-1, 1.89 ERA, 59/6 K/BB) vs. (AU) RHP Keegan Thompson (4-1, 1.29 ERA, 37/8 K/BB)
Sat. | 1 p.m. | (ARK) RHP Trevor Stephan (4-2, 2.96 ERA, 63/10 K/BB) vs. (AU) RHP Davis Daniel (3-2, 4.00 ERA, 39/12 K/BB)
Sun. | 3 p.m. | (ARK) TBA vs. (AU) TBA
Western Division Clash On Tap As Hogs Travel To Auburn
Arkansas will play in one of its most important series of the year starting on Friday when it takes on Auburn in a three-game series. The Hogs have won four straight against the Tigers, including a sweep of last year's series at Baum Stadium. Arkansas won its last series in Auburn, two games to one during the 2015 season, but have only won two of its last seven series dating back to 2010.
A Knight's Tale
Friday night starter Blaine Knight has led the Hogs to a perfect 7-0 record in the opening games of three-game series this season. Arkansas is the only team in the SEC that has yet to lose the first game of a conference series.  After being named to the Golden Spikes Award Watch list last week, Knight has continued his strong play, winning six games, five in conference play and holding a sub-2.00 ERA. The Bryant, Arkansas native has allowed the fewest walks in the SEC, only allowing six free-bases this season, and is tied for first with six wins.
Knight Game-By-Game (2017)

| Opponent | IP | ER | BB | K |
| --- | --- | --- | --- | --- |
| Miami (Ohio) | 4.0 | 0 | 0 | 5 |
| Bryant | 5.0 | 3 | 1 | 4 |
| vs. #5 Arizona | 6.0 | 1 | 0 | 10 |
| Rhode Island | 4.1 | 2 | 0 | 4 |
| Mississippi State | 7.0 | 1 | 0 | 11 |
| at #18 Missouri | 6.0 | 2 | 1 | 7 |
| at Alabama | 8.0 | 1 | 0 | 7 |
| #13 LSU | 6.0 | 0 | 3 | 6 |
| Georgia | 6.0 | 1 | 1 | 5 |

Lethal With Two Outs

Arkansas has been one of the SEC's best hitting teams with outs this year. In just the series against Georgia, Hog hitters hit .409 with two outs and .385 with runners on base. In Friday's 5-4, 10-inning victory, all of the Razorbacks' runs except the winning run were scored with two outs, including Luke Bonfield's go-ahead home run in the seventh. Overall, Arkansas is hitting .291 with two outs as a team and Jake Arledge leads all players with 17 hits in 36 at-bats (.472) with two outs.

Spanberger Keeps Blasting

Junior Chad Spanberger brings a 12 game hit streak into the Auburn series this weekend and has been on a tear since SEC play began. In league play, the first baseman is hitting .354, slugging a team best .677 while hitting six homers with 25 RBIs. He's been even better with two outs, going 10-for-23 (.435) with 12 RBIs. He leads all players with 25 RBIs in conference play and is hitting .308 with 40 RBIs overall. Spanberger was key in Arkansas' 2-0 win over Memphis on Wednesday as he blasted his ninth home run of the year for the only two runs scored in the game.
Bonfield Named SEC Player of the Week
Junior outfielder Luke Bonfield was named the SEC Player of the Week on Monday after hitting .400 over the last week with two home runs and 11 RBIs. The New Jersey native was a tough out over the weekend against Georgia, going 5-for-14 (.357) at the plate with four of those hits coming with runners on base and three with two outs. His two-out home run in the seventh inning of game two against Georgia completed a two-run comeback to give the Hogs their first lead of the game, which they would go on to win, 5-4, in 10 innings.
For more information on Razorback Baseball, follow @RazorbackBSB on Twitter.