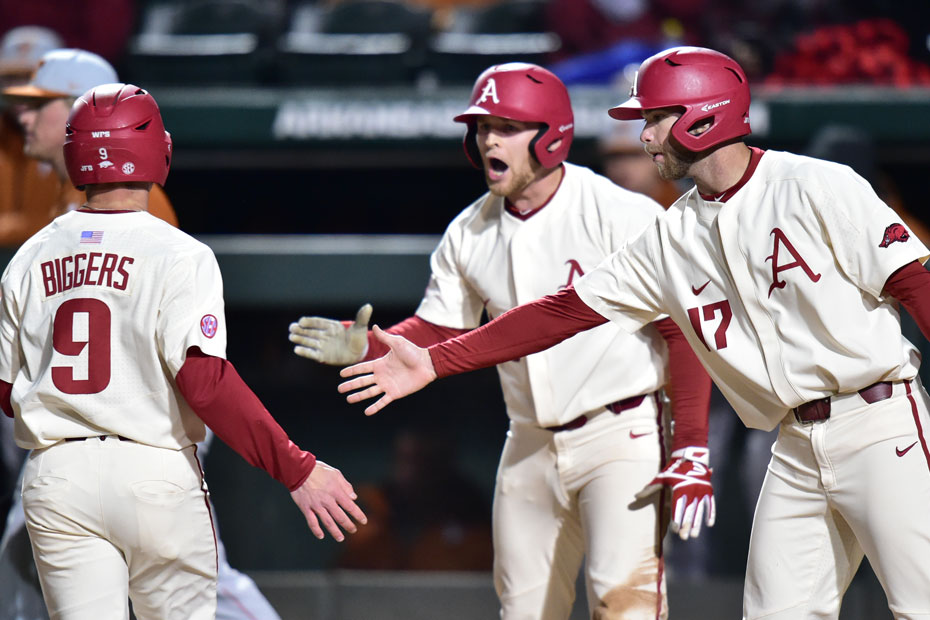 Arkansas Uses Big Innings To Rout Texas
FAYETTEVILLE, Ark. – The fifth-ranked Arkansas baseball team utilized a seven-run third inning Tuesday night to jump way out in front of Texas early before cruising to a 13-4 win at Baum Stadium.
The Razorbacks totaled 13 hits in the game and only left seven men on base, while the Texas pitching staff walked five batters in the first three innings and also committed two costly errors on the same play in the third that helped contribute to the big inning.
Four different Razorbacks recorded multi-hit games on Tuesday with Eric Cole leading all hitters as he went 3-for-5 while tying a career-high three RBIs. Sophomore Jordan McFarland continued to swing the hot bat as he knocked in four RBIs, including a bases-loaded double in the third that contributed to the seven-run frame.
Junior Kacey Murphy picked up his second win of the year, throwing six strong innings and holding Texas to just two earned runs, both being home runs. It's the second outing this year that he's worked six innings and the first time this year he didn't walk a batter.
The win is Arkansas' 10th at home this year and 12th of the year. Offensively, the Hogs have continued to be strong at the plate when playing at Baum Stadium. In 12 home games this season, Arkansas is hitting .342 as a team with Cole leading all Hogs with a .442 average (19-for-43).
The Hitting
The seven-run third inning was really all Arkansas needed as it scored seven runs on four hits, while benefitting from two Texas errors on the same play early in the inning. The Hogs batted around in the frame with McFarland ending up as the first and last baserunner of the inning. He was able to leadoff with a walk and then smack a bases-loaded double through the left side in his second plate appearance, making him responsible for four of the seven runs that were scored that inning.
McFarland is 4-for-7 with nine RBIs and two home runs in his last two games with seven of those RBIs coming with the bases loaded.
The Longhorns were already on their third pitcher of the night when the Razorbacks plated four more runs in the fifth inning. It was McFarland who came through again with the RBI single, then two batters later, and after another Texas pitching change, freshman Casey Martin hit his team-leading fifth home run off the foul pole in left field to make it 11-2 Arkansas.
It was the only hit of the night for Martin, but extended his hitting streak to nine games, the longest active streak on the team. During that streak, the Lonoke, Arkansas native is 14-for-34 (.412) with five multi-hit games, 13 RBIs, four home runs, and three walks.
The Pitching
Kacey Murphy had a much stronger outing than what he showed against USC two weeks ago. The junior was virtually unhittable for much of the game with the exception of two solo home runs given up in the fourth and fifth innings. Over the first three innings, Texas only managed two base runners, neither reaching third base.
Sophomore Jacob Kostyshock came in to pitch the seventh inning and finished out the game, locking up his first save of the year. Kostyshock allowed two earned runs of his own in the seventh inning, but was solid the rest of the way, scattering four hits and throwing 41 pitches.
Razorback Quotables
"His attitude has been good. We told him at the beginning of the year he would pitch some on Tuesdays, maybe out of the bullpen on the weekend, maybe start some on the weekend. He said 'Hey whatever, I just want to win.' That's what we want. We knew that our midweek schedule was tough, and we would probably mix it up a bit and experiment." – Head coach Dave Van Horn on Kacey Murphy's attitude concerning his role with the team
"I think he's really confident, obviously. He's a guy we've just been waiting for. We've been asking him 'When are you going to take your batting practice to the game?' The last couple of days he has definitely done it. Even that inning when we scored seven runs, he led it off with a walk. That's how things get rolling." – Head coach Dave Van Horn on Jordan McFarland's emergence as an offensive weapon
"Just trying to take it one step at a time. The other day, I said I was looking for the perfect pitch prior to these games before and, lately, I've just been trying to find a pitch I can drive into the outfield and do my best." – Jordan McFarland on his second-straight good game at the plate
"I just take it as pitching's pitching. We have a really tough midweek schedule this year, I've accepted that. I accept any role they give me. The season has started and it's my turn to pitch, so that's how I take it." – Kacey Murphy on how he has handled his role on the team
Up Next
Arkansas finishes up the two-game series with Texas on Wednesday at Baum Stadium. First pitch is set for 4 p.m. on SEC Network+.
For more information on Razorback Baseball, follow @RazorbackBSB on Twitter.