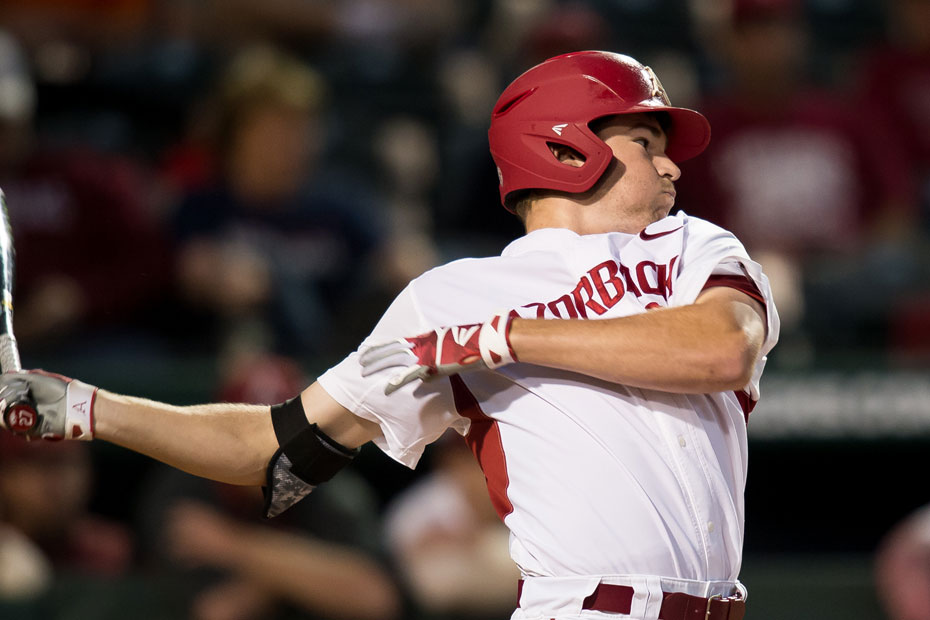 Arkansas Walks Off With Classic Winner
KANSAS CITY, Mo. – A wild pitch in the bottom of the 10th inning scoring Carson Shaddy gave the 14th-ranked Razorback baseball team the 6-5 win over Kansas State Tuesday night in Kauffman Stadium. The win is Arkansas' 12th-straight midweek win and 33rd win of the year.
Arkansas is now 33-10 this year with the win and Kansas State falls to 21-20.
Both teams were not able to push a run across in the eighth and ninth innings after the Hogs tied the game in the seventh on a Luke Bonfield sacrifice fly. As the game went into extras, heavy rain started to fall and there were questions if the game would be able to complete.
Freshman pitcher Jacob Kostyshock worked through a whirlwind of a 10th inning when he loaded the bases with two outs, but was able to strike out Cameron Thompson and keep the game tied at 5-5. Kansas State left 13 runners on base in the game as opposed to Arkansas' nine.
In the bottom of the 10th, with the rain continuing to fall, Shaddy led off the inning with a single and then was advanced over on a groundout. Two batters later, Jax Biggers grounded out to moved Shaddy to third. With Evan Lee at the plate, Kansas State pitcher Tyler Eckberg threw a wild pitch, allowing Shaddy to score the winning run.
Shaddy finished the game 2-for-4 at the plate with two runs scored and a walk. Dominic Fletcher also had a two-hit game with two runs scored and a walk.
Kostyshock earned his first collegiate victory after the scoreless 10th inning. Arkansas used nine pitchers in the game, its most this year.
Moments That Mattered
The Razorbacks had trouble getting the bats going early on as Jake Arledge was the only man to reach base in the first four innings via a lead-off walk and a single in the third inning.
Kansas State had the early lead after a second inning solo home run by Jake Scudder gave it a 1-0 lead. However, when freshman Matt Cronin came in to pitch for the Hogs in the third, he held the Wildcats scoreless for the next three innings, giving the Hog offense time to mount a big inning.
Cronin only allowed three baserunners in his three innings of work, giving up two singles and a walk. It's his longest outing of the season and his fifth-straight scoreless appearance dating back to his only appearance against Alabama (April 1). Cronin finished with a season-high five strikeouts, the most for any pitcher in the game.
Arkansas' bats finally woke up in the bottom of the fifth and it happened after a couple of pinch hitters came to the plate. Fletcher was subbed in for Jordan McFarland with one out and a runner on. He singled to put a runner in scoring position. Then, Lee was brought in to pinch hit for Jake Arledge. He singled home both runners to put Arkansas ahead and later scored on a Chad Spanberger double to make it 3-1.
Lee has been one of the Razorbacks' best pinch-hitting options off the bench as of late. In his four pinch-hit appearances this season, Lee has reached base all four times with three walks and Tuesday night's single. He finished the Kansas State game 1-for-2 with a run scored and a season-high three RBIs.
The lead changed hands twice in the seventh after Kansas State went up 5-3 on the two-run home run by Quintin Crandall and then the response by Arkansas with two runs strung together in the bottom half. Unfortunately, neither team could punch in the go-ahead run in the eighth or ninth innings.
Razorback Quotables
"We'll take them any way we can get them. We were trying to rest some arms and not throw guys too much and I think K-State was in the same boat. We were left begging for a hit in the ninth and had to go back out in the tenth. We went with a true freshman there, he got himself in a jam, but he got out of it. Not a lot of offense tonight, but we'll take it." – Head coach Dave Van Horn on the win over Kansas State
"It's great for us. It's probably tough on him because there have been many a time I've thought about hitting him, but we were thinking we may need him later in the game to get out a left-handed hitter. He works hard, offensively. He's a good hitter and he's a tough out. I think next year, as a sophomore, he'll be an everyday player for us. This year, he's handled his role well, but it's nice to be able to have a two-way guy." – Head coach Dave Van Horn on Evan Lee
"In my head, I was telling myself before the play, 'If I see the ball in the dirt, I need to see if it kicks off.' I saw it hit off the brick backstop and I wanted to make sure it wasn't going to come back. Luckily, it kicked towards our dugout and it was smooth sailing." – Carson Shaddy on scoring the winning run
"They're crucial, but I like it. I embrace that. They (coaches) have confidence in me and I have confidence in myself. If the game is going to be on the line, I think 'Why not me?' That's my mentality. Whatever I have to do to help this team win ballgames, I'll do it." – Evan Lee on being used in crucial situations
Up Next
Arkansas returns home to face Ole Miss for a three-game set starting on Thursday at Baum Stadium. First pitch for game one is set for 6 p.m. and will be televised on the SEC Network. Game two will also be on the SEC Network on Friday at 6 p.m. Game three will be at 4 p.m. on Saturday and will be televised online only on SEC Network+.
For more information on Razorback Baseball, follow @RazorbackBSB on Twitter.