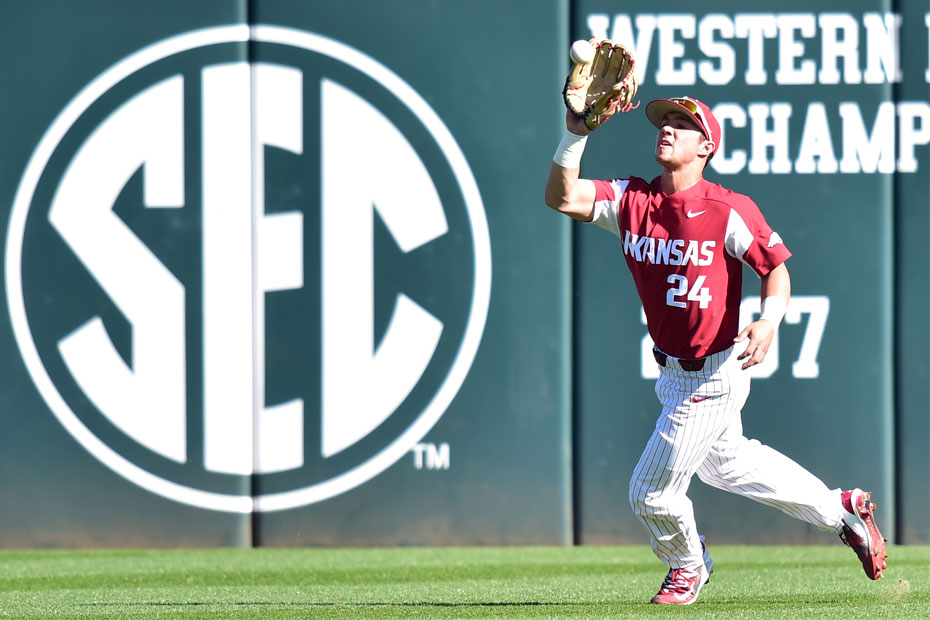 Arkansas Welcomes Kent State To Continue Homestand
FAYETTEVILLE, Ark. – The 13-game homestand continues for the fifth-ranked Razorback baseball team as it welcomes in the Kent State Golden Flashes for a three-game set starting with a doubleheader on Friday at Baum Stadium. First pitch of the doubleheader is set for 3 p.m. with the second game set to begin approximately 30 minutes after the conclusion of the first game.
Due to the threat of rain and thunderstorms in the Northwest Arkansas area on Saturday, the Hogs and Golden Flashes agreed to play two nine-inning games on Friday and then conclude the series on Sunday with a day off in between.
Arkansas (9-3) is coming off a four-win weekend, sweeping a two-game series from Dayton and winning two-out-of-three against USC. The Hogs won the series over the Trojans in style getting a walk-off pinch-hit single from sophomore Dominic Fletcher on Sunday, their first walk-off win of the year.
As a team, Arkansas hit a combined .339 over the last five games with 41 runs scored and 59 hits. Freshman Casey Martin led all of those hitters after going 8-for-18 (.444) with two home runs and seven RBIs en route to earning his first SEC Freshman of the Week honor.
On the pitching side, the rotation continues to be led by junior Blaine Knight and redshirt sophomore Isaiah Campbell, who each will get a start this weekend. Knight has been nearly unhittable as he has generated a 0.53 ERA, tied for the lowest in the SEC, two victories and 15 strikeouts. Campbell isn't far behind as 1.88 ERA is just outside the top 10 in the league and he's one of 15 pitchers with three earned runs or less this year.
Follow Live
All three games will be available on SEC Network+ and the WatchESPN app with Benjamin Kelly (PXP) and Troy Eklund (Analyst) calling the action on Friday. Brett Dolan will return for Sunday's game. Phil Elson (PXP) and former Razorback Bubba Carpenter (Analyst) will have the radio call on the IMG Sports Network all weekend.
Important Links
Fri, March 9 – Arkansas vs. Kent State (Game 1) – 3 p.m. – LIVE STATS | WATCH
Fri, March 9 – Arkansas vs. Kent State (Game 2) – 30 minutes after Game 1 – LIVE STATS | WATCH
Sun, March 11 – Arkansas vs. Kent State (Game 3) – 1 p.m. – LIVE STATS | WATCH
Probable Starters
Game 1: ARK RHP Blaine Knight (0.53 ERA, 2-0, 15 K, 4 BB) vs. KSU LHP Eli Kraus (8.53 ERA, 1-1, 8 K, 4 BB)
Game 2: ARK RHP Isaiah Campbell (1.88 ERA, 1-1, 16 K, 6 BB) vs. KSU RHP Joey Murray (2.20 ERA, 1-1, 19 K, 4 BB)
Game 3: ARK RHP Bryce Bonnin (0.00 ERA, 1-0, 8 K, 1 BB) vs. KSU LHP Jared Skolnicki (6.92 ERA, 1-0, 14 K, 2 BB)
No Place Like Home – The Razorbacks have been stellar at home so far this season, building up a 7-1 record in series wins over Bucknell, Dayton, and USC. As a team, Arkansas is hitting .362, while the pitching staff has garnered a 1.52 ERA in games played at Baum Stadium. The starting pitchers have picked up four of the seven victories, while the staff as a whole is holding batters to a .202 average. At the plate, the Hogs have smashed 14 of its season's 17 homers at Baum Stadium and are slugging a combined .589.
The Return Of The Soooieville Sluggers – In 2017, Arkansas crushed an SEC-best 83 home runs. It was the most home runs by a Razorback team since 2010. The Hogs have picked up where they left off with 17 home runs after 12 games this year, equaling last year's total after 12 games. Junior Eric Cole and freshman Casey Martin are currently tied for the most on the team with three home runs and seven different Razorbacks have two or more.
Martin's Offense Earns Him SEC Freshman Of The Week Honor – Freshman infielder Casey Martin was named the SEC Freshman of the Week on Monday after his huge weekend at the plate against Dayton and USC. The Lonoke, Arkansas native led all Razorback hitters with a .444 average over the five-game span and slugged .474. For the year, his .414 average is currently ninth best in the Southeastern Conference and his .793 slugging percentage is sixth best. Among freshmen in the league, his average is the third highest and his slugging is the best.
Bonfield And Shaddy Near 150 Starts As Razorbacks – 12 games into their senior seasons, Luke Bonfield and Carson Shaddy are both nearing 150 starts for their Razorback careers. Bonfield currently sits at 140 starts, while Shaddy is at 139 starts. Once they reach 150, they will become the first Razorbacks to reach that mark since Michael Bernal finished his career with 167 starts. Danny Hamblin still holds the record for 245 starts in his career.
As Dark As Knight – There's been no daylight for opposing hitters that step into the box against junior right-hander Blaine Knight. The Bryant, Arkansas native has racked up two wins in three starts this season with a team-leading 0.53 ERA, which is also good for second in the SEC and top-50 in the nation. Knight has thrown five or more innings in all three of his starts and given up just one earned run over 17.0 innings.
Pitchers Shine In Early Weeks – Arkansas has shown its depth on the mound through the first three weeks of the season. Of the 12 games played, Arkansas starters have gone five or more innings seven times and have given up a combined seven earned runs and struck out 53 batters. As a staff, the 1.78 ERA is the best in the league and best 12-game start by a Razorback pitching staff under Dave Van Horn.
NCAA ERA Leaders (Team)

| Rank | Team | ERA |
| --- | --- | --- |
| 1. | Hofstra | 1.55 |
| 2. | St. John's (NY) | 1.67 |
| 3. | Pittsburgh | 1.68 |
| 4. | Hawaii | 1.74 |
| 5. | Arkansas | 1.78 |
For more information on Razorback Baseball, follow @RazorbackBSB on Twitter.