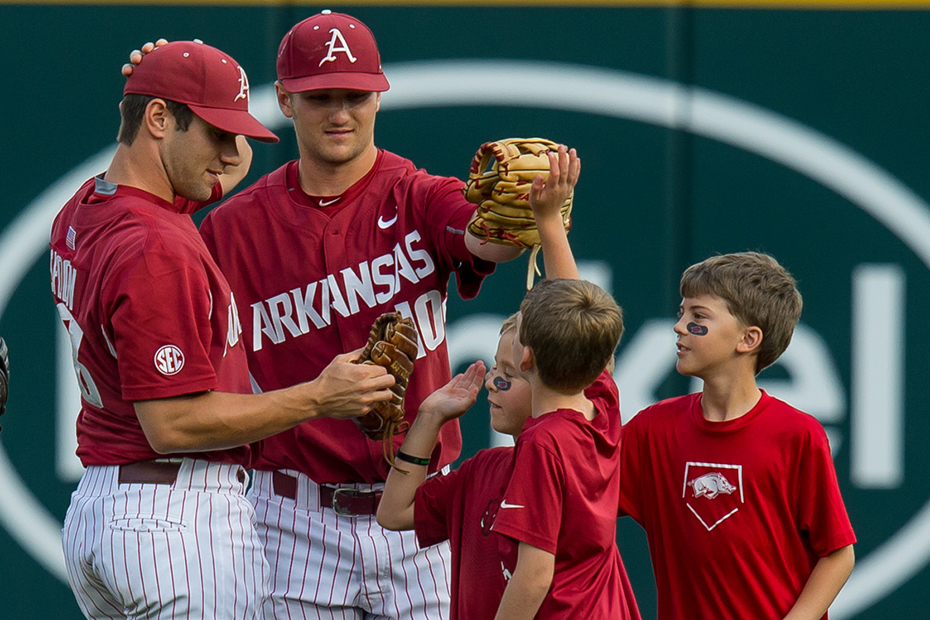 Baseball Caps Regular Season at Georgia
Athens, Ga. – The 20th-ranked Arkansas baseball team (31-19, 15-11) is set to cap the regular season this weekend, traveling to Georgia (25-26, 9-17) for a three-game series at Foley Field.
Follow Live
All three games will be shown live on SEC Network Plus and the WatchESPN App, while Phil Elson will have the call of all three games on the IMG Razorback Sports Network.
Probable Starters
Thu. | 6:05p | SECN+ | (ARK) RHP Trey Killian vs. (UGA) RHP David Sosebee
Fri. | 6:05p | SECN+ | (ARK) RHP Keaton McKinney vs. (UGA) LHP Ryan Lawlor
Sat. | 12:05 | SECN+ | (ARK) TBA vs (UGA) TBA
Thursday Probable Starter – RHP Trey Killian
Trey Killian turned in his fifth quality start of the year last week against Tennessee, throwing 6.0 innings and allowing six hits and one earned run, while striking out three. He has worked at least 6.0 innings in six of his 10 starts and allowed one earned run or less five times this season. Killian has made 20 career starts in SEC play and allowed two earned runs or less in 12 of those 20 starts, including four times this season against No. 5 Vanderbilt, Kentucky, Alabama and Tennessee.
Friday Probable Starter – RHP Keaton McKinney
Keaton McKinney is emerging as one of the top freshman pitchers in the country after tossing a complete-game two-hit shutout two weeks at Alabama and earning SEC Pitcher of the Week honors. He has a pair of complete games this season and has only allowed two earned runs over his last three SEC starts. He 3.12 ERA ranks 11th in the league and is the second best mark among freshmen in the SEC.
Leading Off
• The Razorbacks have not dropped an SEC series over the last seven weekends, posting a record of 14-6 during the stretch with one conference series remaining in the regular season.
• The Razorbacks have appeared in all six major polls each of the last two weeks, peaking at No. 20 in Baseball America and checking in at No. 21 in D1Baseball.
• Arkansas is the only team in the SEC to go unbeaten in its last seven SEC series, taking down Ole Miss, Auburn, Kentucky, No. 1 Texas A&M, Mississippi State and Alabama, while splitting a rain-shortened two-game set with Tennessee.
• The Arkansas pitching staff has held opponents to two runs or less in seven of the last 10 games and has a 1.80 ERA in the last eight contests, allowing 14 earned runs in 70.0 innings of work.
• Arkansas has come from behind in seven of its 15 conference wins this year, with four of those coming in the seventh inning or later.
• Andrew Benintendi continues his National Player of the Year quest, going 11-for-14 over his last four games with three home runs, two doubles and six RBI. Over the four-game stretch, his on base percentage is .750 and slugging percentage is 1.571.
• Benintendi is one of two power-five conference players to rank in the top 10 in the country in batting average and home runs, joining Wake Forest's Will Craig.
#BennyBaseball
• Is the first player in school history with at least 15 home runs and 20 stolen bases in a season.
• Is one of only two players in the country with 10+ home runs and 20+ stolen bases.
• He is on the brink of becoming the third player in SEC history to lead the league in home runs and batting average.
Power
• Is second in the country with 17 home runs on the year.
• Leads the country with a .780 slugging percentage.
• Ranks fourth in the SEC with 49 RBI on the year (7 behind leader).
• Had a span of four home runs in six plate appearances against Mississippi Valley State and Kentucky.
Consistency
• Leads the SEC with a .507 on base percentage.
• Leads the SEC with a .412 batting average.
• Has reached base in 33 of his last 46 plate appearances and in 23 consecutive games.
• Has not struck out over his last eight games and 32 at bats.
• His .412 batting average would be the highest since 2011 when Zack Cox set the school record at .429.
• Has nine multi-hit games over the last 11 contests, including five three-hit games.
Speed
• Ranks fifth in the SEC with 20 stolen bases on the year.
• Has eight stolen bases over the last 13 games.
• Leads the SEC with 138 total bases.
• Ranks third in the SEC with 52 runs scored. (Led team with 45 runs scored all of last year)
Series History
Arkansas is 28-20 all-time against Georgia, including four straight wins against the Bulldogs. The Razorbacks swept a rain-shortened two-game series in Athens in 2013 and won 2-of-3 in Fayetteville in 2012. Arkansas has outscored Georgia 20-4 in the last four games with a pair of shutouts.
Series Wins Piling Up
Arkansas is the only team in the SEC to go unbeaten in its last seven SEC series. The rain-shortened Tennessee series kept the Razorbacks from attempting to win seven straight conference series for just the third time in program history after accomplishing the feat in the Southwest conference in 1979 and 1990.
A Golden Award
#BennyBaseball has been named one of 30 finalist for the Golden Spikes Award as the top amateur baseball player in the country. He was one of nine new players added to the list on May 7 and is one of seven candidates from the SEC up for the prestigious award.
Freshman Focus
Over his last five starts, freshman Keaton McKinney is 4-0 with a 1.89 ERA, two complete games, one shutout and a .193 batting average against. He has only allowed seven earned runs over his last 33.1 innings and is one week removed from being named SEC POW.
Well Done, Guys
Five current Arkansas players graduated last weekend, as Joe Serrano, Tyler Spoon, Krisjon Wilkerson, Jackson Lowery and Lance Phillips all received their diploma from the University of Arkansas. Current student assistants Jake Wise and Tim Carver also graduated, while former players Cade Lynch and Geoffrey Davenport completed their degrees.
Benny Bumpers
While Andrew Benintendi goes for National Player of the Year honors, the sophomore is well protected in the batting order, as Joe Serrano has reached base safely in 19 straight games in front of the slugger, while Tyler Spoon has backed up the star with a .339 batting average, including 16 doubles and five home runs.
Road Warriors
Arkansas has gone to work on the road over the last three works, winning six straight games away from Baum Stadium, included back-to-back wins over the then-No. 1 team in the land, a series sweep at the Hoover Met and a victory at TD Ameritrade Park.
Cruising as of Late
After posting a 13-4 record in the month of April, Arkansas has backed that up with a 4-1 mark to start the month of May to reach 30 or more wins in a season for the 38th time in the last 40 years.
Postseason Consistency
The Razorbacks are one of just seven teams in the country to advance to each of the last 13 NCAA Tournaments as they are on the brink of making it 14 straight in the coming weeks. Arkansas has appeared in six consecutive Regional Finals and has won 40 or more games five times in the last six years.
Coming Up
Arkansas travels to the 2015 SEC Tournament in Hoover, Alabama looking to capture its first SEC Tournament title in program history.
For more information on Arkansas baseball, follow @RazorbackBSB on Twitter.