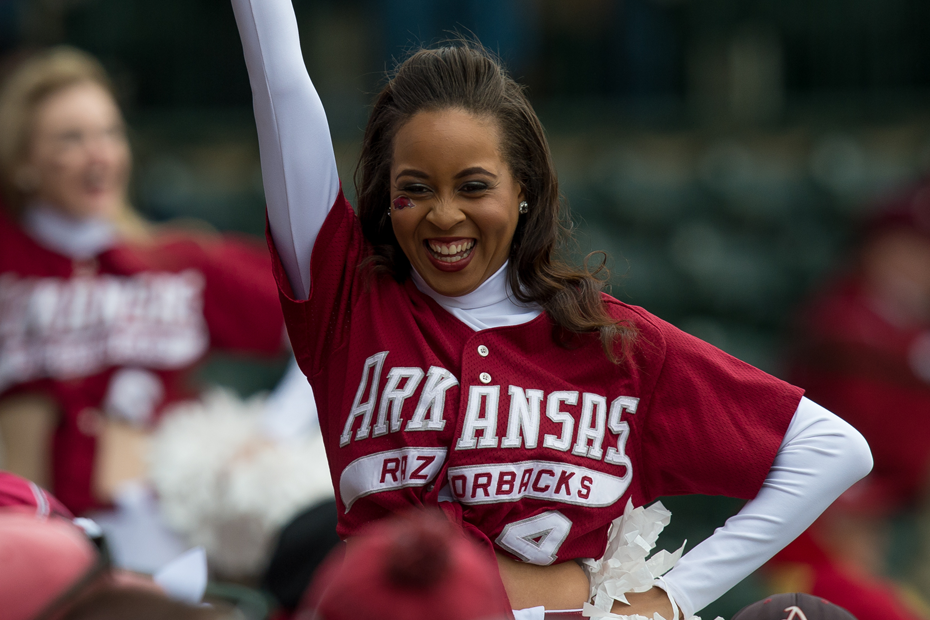 Baseball Set to Host SEMO in Midweek Action
FAYETTEVILLE, Ark. – The University of Arkansas baseball team opens a stretch of five games in five days Tuesday evening, welcoming Southeast Missouri State to town for a two-game midweek series at Baum Stadium.
Tickets
Single game tickets to the series can be purchased by clicking here.
Promotions
The first 1,000 fans will receive a St. Patrick's Day green Arkansas baseball souvenir cup.
Follow Live
Both games will broadcasted live on SEC Network Plus and the WatchESPN App with Alex Perlman (PXP) and Troy Eklund (Analyst), while Phil Elson (PXP) and Rick Schaeffer (Analyst) will have the call on the IMG Razorback Sports Network.
Probable Starters
Tue. | 6:35p | (ARK) RHP Keaton McKinney vs. (SEMO) RHP Garrett Stockton
Wed. | 3:05p | (ARK) TBA vs. (SEMO) TBA
Tuesday Probable Starter – RHP Keaton McKinney
Freshman right-hander Keaton McKinney is set to make his fifth straight start of the season Tuesday against Southeast Missouri State. McKinney is 1-1 on the season with his longest start of the year coming against No. 13 Maryland, tossing 5.0 innings and giving up three hits and one run, while striking out five. He has recorded 13 strikeouts in 17.2 innings of work and opponents are hitting .262 against him.
Leading Off
• Arkansas begins a stretch of five games in five days this week, welcoming Southeast Missouri State to town for a two-game midweek series at Baum Stadium.
• The Razorbacks have recorded double-digit hits in a game nine times this season, while scoring 10 or more runs in four different games.
• The Arkansas pitching staff has tallied double-digit strikeouts in a game eight times this season, including a season-high 15 punch outs against Vanderbilt on March 14.
• Arkansas has allowed two runs or less in eight games this season, posting a 7-1 record during those contests.
• Bobby Wernes paces the offense with a .375 batting average, including 21 hits, four triples, one double and two home runs.
• Andrew Benintendi leads the Razorbacks with five home runs, 17 runs batted in and nine walks. His five home runs rank tied for third in the SEC.
• Zach Jackson has only allowed two earned runs in 18.1 innings of work for a 0.98 ERA on the year. He has 24 strikeouts and has not allowed an extra base hit this season.
• Dominic Taccolini leads the pitching staff with three wins in five appearances, including a team-best 29 strikeouts.
• Arkansas hitters have the second fewest strikeouts in the league with 108.
Series History
Arkansas is 5-4 all-time against Missouri State with all nine games being played in Fayetteville. The two teams last met during a two-game midweek series in 2011 with the Razorbacks taking the opener 10-0, followed by a 6-5 loss in game two.
National Recognition
After throwing 7.0 perfect innings against the No. 5 team in the country, Trey Killian earned Louisville Slugger National Pitcher of the Week honors. Killian sat down all 21 batters he faced, tallying six strikeouts, 11 fly outs and four groundouts as he recorded one of the best pitching performances in Arkansas baseball history. In his last seven starts against SEC teams dating back to last year, he has allowed just six earned runs, while striking out 42.
Powerful Numbers
Arkansas has 17 home runs in as many games and is tied for the SEC lead with Texas A&M and Georgia at 1.0 home runs per game. The Razorbacks' 17 home runs through 17 games is the most since hitting 26 home runs through the first 17 games of the 2010 season, before finishing with a program record 92 homers in 64 games.
DVH Milestone Watch
Head coach Dave Van Horn is closing in on 500 wins at Arkansas, currently sitting at 493-278 (.639) in his 13th season at the helm of the Razorbacks. Van Horn is 1-1 all-time against Southeast Missouri State, with the meetings coming during the 2011 season.
Coming Up
Arkansas will continue a stretch of five games in five days this week, welcoming LSU to town for a three-game series Thursday-Saturday at Baum Stadium. Friday and Saturday's games will be televised nationally on SEC Network.