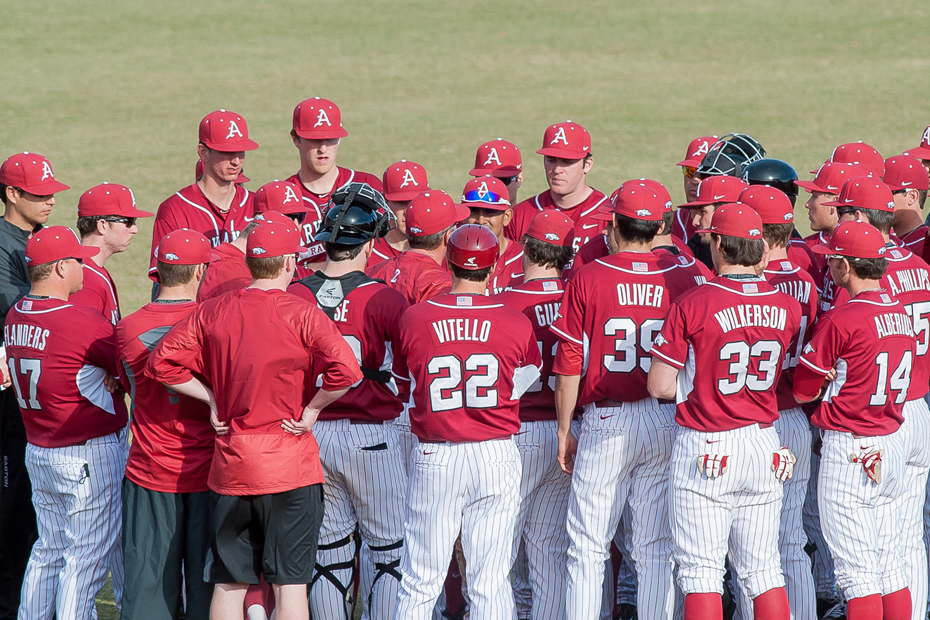 Baseball Travels to South Alabama For Weekend Tourney
FAYETTEVILLE, Ark. – The No. 15 Arkansas baseball team travels to Mobile, Alabama for its first road trip of the season this weekend, taking on No. 22 UCF Friday, South Alabama Saturday and No. 11 Maryland Sunday at Stanky Field.
Probable Starters
Fri. | 2:00p | (ARK) RHP Dominic Taccolini vs. (UCF) RHP Zach Rodgers
Sat. | 6:35p | (ARK) RHP Zach Jackson vs. (USA) RHP Ryne Long
Sun. | 10:00a | (ARK) TBA vs. (UM) RHP Brian Shaffer
Friday Starter
Dominic Taccolini will make his second start in as many weeks on Friday when he goes up against UCF. The sophomore is coming off a quality start on opening weekend where he lasted 6.0 innings and gave up four hits and two earned runs, while striking out eight to earn the victory. Dating back to the NCAA Regional last year against Virginia, Taccolini has allowed six hits and two earned runs over his last 10.2 innings of work, while adding 12 strikeouts. He is unbeaten in his career as a starter at 3-0 and three of his last five appearances have been in the starting role.

Saturday Starter
Sophomore Zach Jackson is set to make his second start of the year Saturday against South Alabama after picking up a win in his debut on opening weekend. He went 4.0 innings against North Dakota and allowed one run on five hits, while walking two and striking out a career-high eight batters. He opened the game striking out the side in the first inning, before recording two strikeouts each of the next two innings. Jackson is 3-3 all-time as a starter and is making his fourth consecutive appearance as a starter this weekend.
Follow Live
All three games will be televised on Cox Sports Television with Alex Perlman (PXP) and Troy Eklund (Analyst) on the call.
Leading Off
• Arkansas is coming off a three-game sweep of North Dakota, its sixth season-opening sweep in the last eight years. The Razorbacks scored 36 runs on opening weekend, the most since scoring 41 runs during the first three games of the 2012 season against Villanova.
• Following opening weekend, Arkansas led the SEC in batting average, hits, batters struck out and was one of three teams in the league to record a perfect fielding percentage. The Razorbacks also rank No. 10 in the country at 12.0 runs per game and No. 7 nationally in scoring margin at +9.7.
• The Razorbacks are currently ranked in two national polls, checking in at No. 15 according to Perfect Game and No. 28 in the NCBWA Top 30 Poll.
• Arkansas' 23 remaining opponents have a combined record of 52-20-1, including an 11-0 record against its three opponents this weekend.
• Arkansas is 255-73-1 (.775) all-time in the month of February, including a 7-0 record last season. The Razorbacks have won 10 straight games in February and are 36-4 in their last 40 games in the opening month of the season.
New Baseball, New Numbers
The new baseballs are out and have made an immediate impact on the college game. During the 2014 opening weekend, division I baseball teams averaged 6.6 runs per game with 21 home runs and during 2015 they averaged 9.16 runs per game and recorded 34 home runs. Arkansas was no different, scoring 9.0 runs per game with three home runs in 2014 and 12.0 runs per game with four home runs in 2015.
What a Relief
Arkansas' bullpen was stifling during the opening weekend of the year, posting a 0.61 earned run average in 14.2 innings of work. The relievers surrendered just one earned run, while adding 20 strikeouts. Nine different Razorbacks saw action out of the pen, including five newcomers.
Take Three
After recording just nine triples all of last season, Arkansas legged out five triples on opening weekend, tying Georgia for the most in the SEC. Bobby Wernes, who had never recorded a triple, added two in one game against North Dakota to become the first Arkansas player since Ryan Fox in 2003 to record two triples in one game.
Series History
Arkansas will play UCF and Maryland for the first time in program history this weekend, while taking on South Alabama for the fifth time. The Razorbacks are 2-2 all-time against South Alabama, including dropping two of three to the Jaguars last season at Baum Stadium.
DVH Milestone Watch
Head coach Dave Van Horn is closing in on 500 wins at Arkansas, currently sitting at 487-270 (.643) in his 13th season at the helm of the Razorbacks. He is averaging over 40 wins per season and a 16-game winning streak to open the year would give the skipper 500 wins at Arkansas on March 11 against Gonzaga.
Postseason Consistency
The Razorbacks are one of just seven teams in the country to advance to each of the last 13 NCAA Tournaments as they look to make it 14 straight during the 2015 season. Arkansas has appeared in six consecutive Regional Finals and has won 40 or more games five times in the last six years.
Looking Ahead
Arkansas returns home Thursday, Feb. 26 for a four-game series with California at Baum Stadium. The Razorbacks and Golden Bears will play Thursday, Friday and Sunday on SEC Network Plus, while Saturday's 11 a.m. contest will be televised nationally on SEC Network.