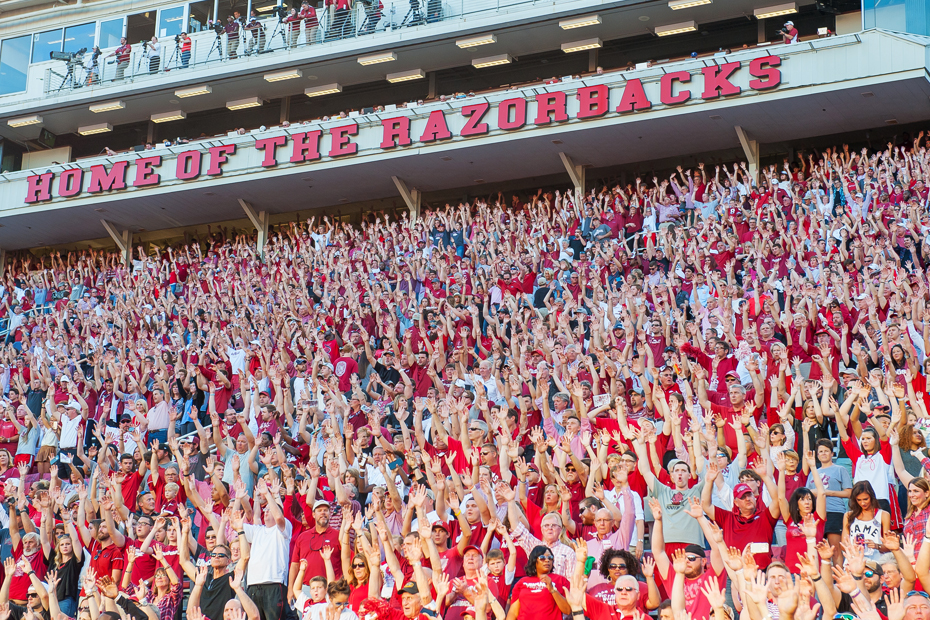 Battle For The Boot Becomes Third Sellout Of Season
FAYETTEVILLE, Ark. – The annual Battle for the Boot pitting Arkansas vs. LSU at Donald W. Reynolds Razorback Stadium on Nov. 12 is officially sold out on the primary market. The LSU game becomes the third on-campus sellout of the year joining Texas State (Sept. 17) and an upcoming game with Alabama (Oct. 8). Arkansas sold out four on-campus home games in 2015, Texas Tech, Auburn, Mississippi State and Missouri.
Fans still looking for tickets for the Alabama and LSU games may access the recently launched Razorback Ticket Exchange. The Razorback Ticket Exchange powered by Lyte offers a reservation system for single game ticket buyers with pricing based on real-time data gathered from across the Web. Arkansas is committed to offering a price that is noticeably below unsanctioned resale websites, and the Lyte platform ensures that is the case. Visit the Razorback Ticket Exchange by clicking here.
Season ticket holders that may have an extra ticket for LSU or any other SEC game can sell back their tickets through the Razorback Ticket Exchange. After verifying you ticket account, you will receive a cash offer for your tickets. To take advantage of the buy-back program, simply gather your season ticket account information and click here.
For more information on single-game tickets for remaining home games click here or call 1-800-982-HOGS (4647). Less than 2,000 tickets remain for the Ole Miss game (Oct. 15) while less than 300 tickets are still available for the Florida game (Nov. 5). Tickets also remain for Arkansas' game this weekend's against Alcorn State (Oct. 1) at War Memorial Stadium in Little Rock.