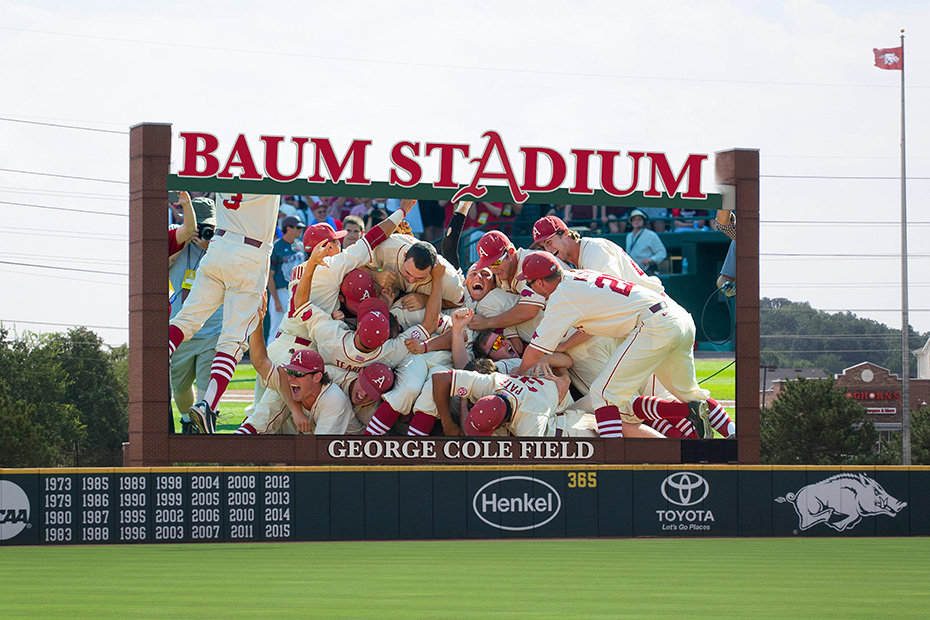 Baum Stadium's MLB-Caliber Upgrade
FAYETTEVILLE, Ark. – Baum Stadium, the home of Razorback baseball, will have a new feature greeting Hogs fans in the outfield this spring: The largest video board in college baseball.
The massive 25 foot by 71 foot LED video board will enhance an already memorable experience at the top-ranked ballpark by providing 1,775 square feet of digital space for live high-definition video, instant replays, up-to-the-minute statistics, and game information, graphics and animations.
"Baum Stadium is already the nation's top collegiate baseball stadium and now it is home to the largest video board in all of college baseball," Vice Chancellor and Director of Athletics Jeff Long said. "Under the leadership of Coach Dave Van Horn, Razorback Baseball has established itself among the elite programs in the nation. As evidenced by our annual attendance ranking, our fans are among the most loyal and supportive in the country. With the addition of this beautiful new video board, the best stadium in college baseball became even better."
The new video board — designed and installed by South Dakota-based Daktronics — is a game changer compared to its standard definition predecessor. It's 1,430 percent larger, uses less energy, and displays a rich, crystal clear and intense picture in an outdoor environment across a wide viewing angle.
The technology utilized by the new video board is similar to recently installed displays at several Major League Baseball ballparks, including Citi Field and Wrigley Field. This professional-level amenity will add to the allure and elite environment fostered by the Arkansas baseball program.
"This will be huge for fans," Arkansas head baseball coach Dave Van Horn said. "The new video boards definitely adds to Baum Stadium's great gameday atmosphere and it will make night games electric. It's great to have the biggest, best and latest technology on hand, especially when you see the impact new scoreboards have had across the league. It's good to see that ours will be the best in the SEC and the country."
The infographic below illustrates how the new video board at Baum Stadium scales against other college baseball programs with giant digital video displays at on-campus baseball facilities – from last year's record holder, the University of Houston's Cougar Field, to Oregon State's upcoming display at Goss Stadium, set to be the largest in the Pac-12.