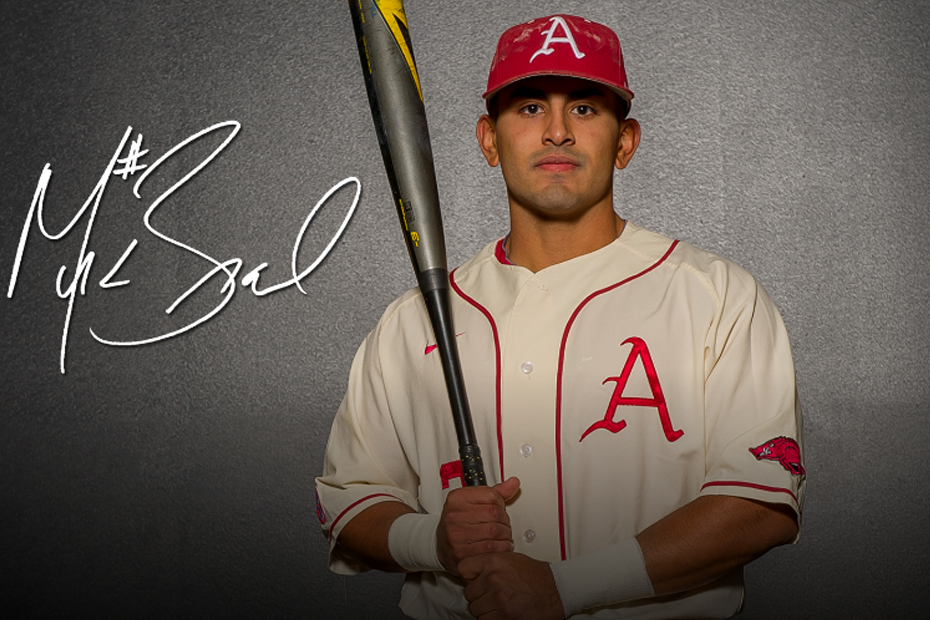 Bernal Gearing Up For 2015 Season
Getting to Know Michael Bernal
Middle infielder Michael Bernal is gearing up for his second season as a Razorback after starting 58 games a year ago and recording 164 assists at shortstop. The redshirt junior hit .250 with two home runs, 18 runs batted in and 30 runs scored as Arkansas made its 13th consecutive NCAA Tournament appearance.
Why did you choose Arkansas?
"It wasn't really planned.  The year before I got here I was planning on going back to junior college and playing there.  About a month before school started I got a call from Coach Vitello saying that they needed infielders.  At first when they called I couldn't believe it.  I had to ask which Arkansas school because there's so many schools in Arkansas.  I took the phone away from myself for a little bit and was in disbelief."
How has being a student athlete changed you?
"It's changed me in more ways than I can describe.  It's definitely helped me get a lot more organized.  I'm not one to set schedules.  I have to write things down now in order to do them, so that's definitely one thing that's helped.  I've had to plan everything or I'll forget stuff.  I've definitely become a lot more organized and a lot more responsible."
What do you see your legacy at Arkansas looking like?
"I just want to be known as someone who has worked hard, comes out every day and just gives it my all.  That's really all I can ask for or say that I leave behind.  I want to go out there and give it everything I've got because it's just the type of baseball player I am."
What's your inspiration?
"Everybody that plays with me knows that I play with my grandpa's initials on my glove.  I'll write it on my wristband and stuff.  My grandpa passed away when I was little and he was a real big influence on the family's life.  He kept our family together.  He's a real big family man.  Everything he did, he did for the people around him and that's something I really appreciate and try to be like."
What are you looking forward to this season?
"Definitely playing well.  I want to go out there and win just like the plan is every year.  Go out there and compete, especially in this really hard conference.  It's a grind, the entire season is the biggest game of the year because it doesn't get any easier.  Definitely try to go out there and play solid defense and help the team offensively as much as I can."
What's your favorite Arkansas tradition?
"I can't be cliché and say 'Call the Hogs,' but I think I have to.  That's just something that sets our university apart.  When you're out on the field and everyone in the stadium stands up, it's amazing.  Even when we're at a football or basketball game, just to see that many people around you doing the same thing for you when you're on the field or for the other guys who are playing, it's pretty awesome."
Where do you see yourself in five years?
"I would really like to see myself still playing this game somewhere, somehow.  I want to live out the dream that I've had at a young age and continue playing."
Bernal and the Razorbacks open the 2015 campaign on Feb. 13, playing host to North Dakota in a three-game series at Baum Stadium.
For more information on Arkansas baseball, follow @RazorbackBSB on Twitter, Instagram and Facebook.