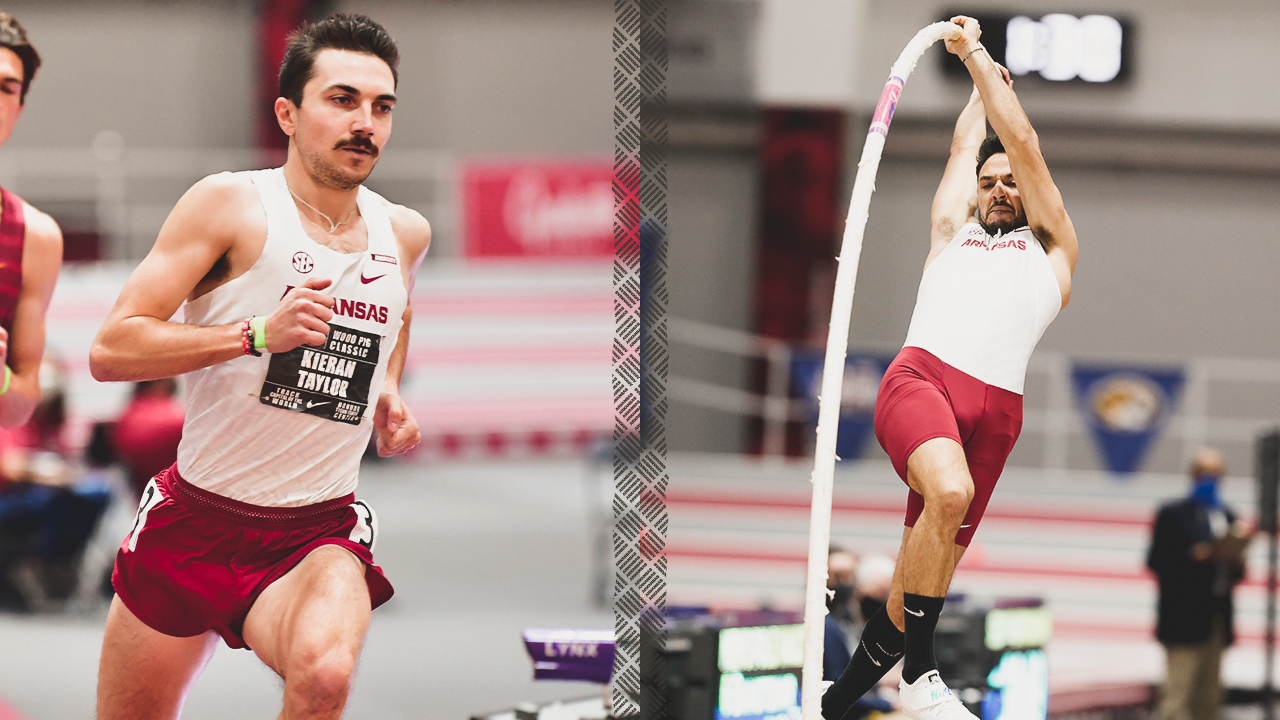 Bhastekar pole vault win, Taylor's fast 600m highlight Wooo Pig Classic
FAYETTEVILLE – Razorback Etamar Bhastekar won the pole vault with a clearance of 17 feet, 0.75 inches and Kieran Taylor posted a runner-up time of 1 minute, 16.86 seconds in the 600m to highlight performances by Arkansas during the Wooo Pig Classic held in the Randal Tyson Track Center.
"We've never had an early meet like this, but I think we had some good performances," said Razorback associate head coach Doug Case. "For this time of the season Etamar's vault was very good. Ayden Owens had a solid meet, running 1:19 in the 600 and vaulted 15-5.
"The standout today was Kieran Taylor in the 600 with a 1:16.86, which is a very good time. It's the fastest time in school history and ranks as one of the top times ever run collegiately."
Taylor's effort is the fastest by a Razorback in the event at the Tyson Center, bettering the 1:18.34 set by Hunter Woodhall in 2019. On the all-time collegiate list Taylor would rank as the 21st performer with the 27th fastest performance all-time. In comparison, Arkansas alum Roddie Hayley ran 1:08.26 over 600 yards as a collegian in 1987.
"Honestly, it was great," stated Taylor. "The guys up front went out hard. I kind of felt that. I wanted to go out in 24 seconds, which is what I did (24.81). I had no complaints really. We raced even earlier than when we normally have a time trial. So, that's even a bigger factor.
"The goal every year is to get 1:17 or 1:16 at a time trial, so it's kind of crazy that I did it. I've watched all these great guys come through 1:16. It's a great time, so no complaints."
The top four finishers in the race bettered the facility record of 1:18.03 set in 2016 by Texas Tech's Charles Jones. The winning effort of 1:15.49 by Texas A&M's Brandon Miller, the NCAA Outdoor 800m silver medalist as a freshman last spring, broke the World U20 (1:15.60) and US U20 (1:16.92) records.
In third place at 1:16.92 was Texas A&M's Moitel Mpoke while Iowa State's Cebastian Gentil finished fourth in 1:17.93.
Mpoke led the field at 200m in 24.03 with Miller a stride back in 24.11. At 400m, Miller held the advantage with a 49.06 split while Mpoke crossed in 49.60 and Taylor was at 50.12 with a 25.31 second lap. Miller then finished with a 26.74 final lap behind a 26.43 by Miller and head of the 27.32 by Mpoke.
Other Razorbacks in the race included Brandon Battle, placing fifth in the fast heat, with an 1:18.48. Jadon Bartholomew won another section in 1:18:64 to place sixth overall. Arkansas multi-eventer Ayden Owens won his section in 1:19.18 to place eighth overall.
Only one other vaulter remained in the competition when Bhasketar entered at 16-0 3/4 (4.90). He cleared 17-0 3/4 (5.20) on his second attempt for the victory, winning by a full foot over Texas A&M's Caleb Murdock. Bhastekar missed at 17-4 1/2 (5.30).
Rhett Nelson vaulted 15-9 (4.80) to place fourth while Owens stopped at 15-5 (4.70) in placing fifth prior to racing in the 600m.
Gilbert Boit finished as runner-up in the 5,000m, running 13:43.24, behind the winning time of 13:40.42 by Scott Beattie of Tulsa. Three Razorbacks in the race included Andrew Kibet placing sixth with a debut time of 13:51.31 ahead of Emmanuel Cheboson's 13:53.14 in seventh place. Myles Richter was 11th with a 14:42.41.
In the weight throw, Arkansas alum Erich Sullins broke the meet record with a career best toss of 74-7 3/4 (22.75) to claim the win. Razorback Ruben Banks placed third with a mark of 62-0 1/4 (18.90) while Ben Ryer finished fourth at 52-6 3/4 (15.34).
John Baker reached a distance of 48-1 1/4 (14.66) as runner-up in the triple jump as Link Lindsey placed fifth at 46-0 1/2 (14.03).
Jeremy Farr posted a 33.57 for third in the 300m. In the 60m hurdles, the tandem of Brevin Sims (8.19) and Shaka Bogan (8.28) placed third and fourth. Roman Turner ran 6.82 in the 60m to place fifth in the final heat and finished eighth overall.
Racing at 3,000m, Josh Shearer finished third in 8:26.87 while Sam Hall was fourth with an 8:32.44. Ellias Schreml clocked 2:25.22 as runner-up in his section of the 1,000m and placed eighth overall.