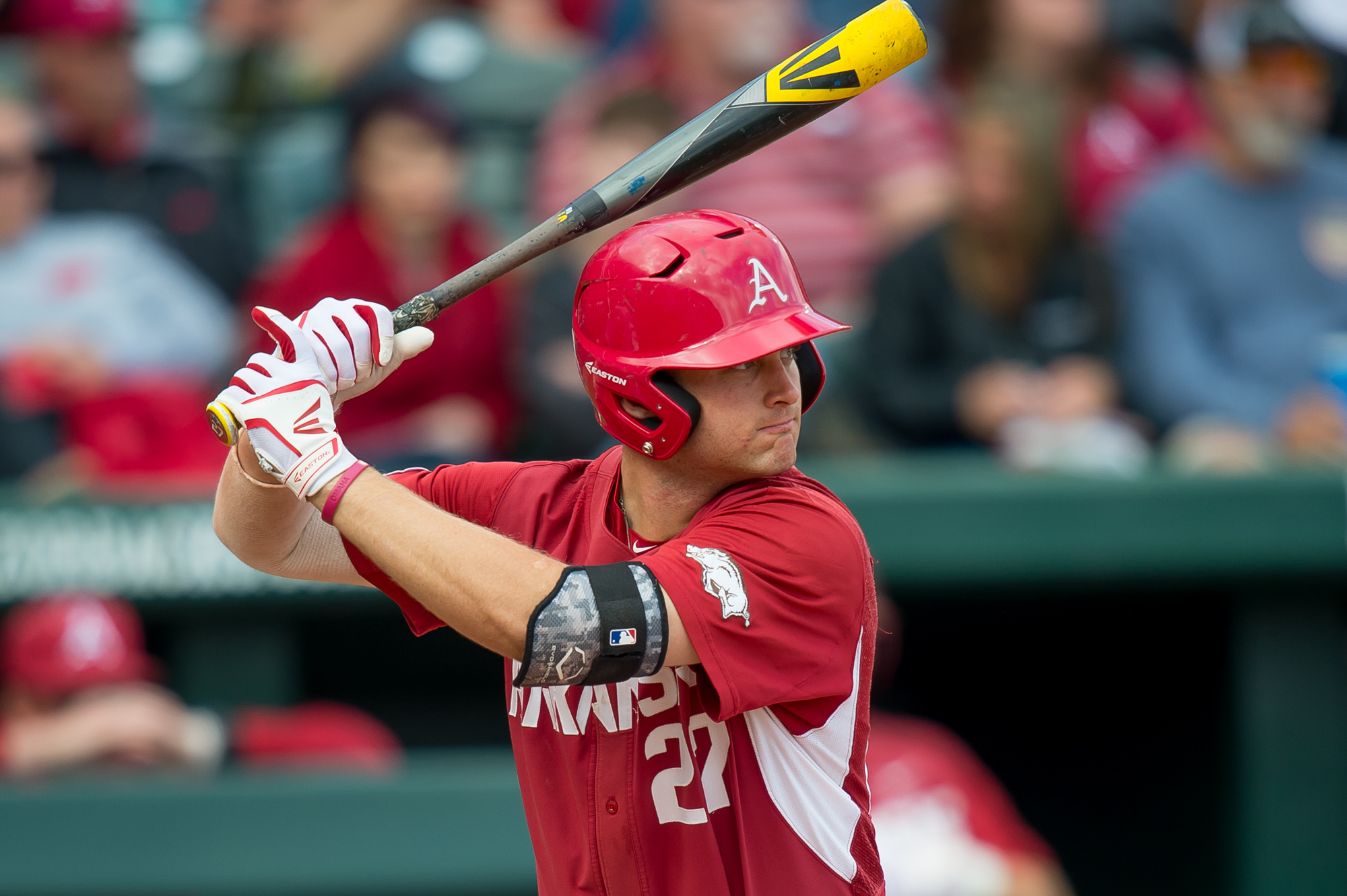 Big East Leader Creighton Visits Hogs Tuesday
Arkansas Notes vs. Creighton (PDF) | Follow @RazorbackBSB on Twitter
FAYETTEVILLE, Ark. – The Razorback baseball team completes a four-game home stand at Baum Stadium Tuesday night when it hosts Big East conference leader Creighton for a single game starting at 6 p.m. CDT.
Arkansas is set to start freshman right-hander Isaiah Campbell, opposite Creighton right-hander Austin Stroschein. Campbell will be making his fourth start of the year and second in as many weeks. Last week, Campbell started in Arkansas' midweek contest at Memphis, going 2 2/3 shutout innings and giving up only 2 hits, while striking out 2.
Tuesday will be Campbell's third midweek start of the year where he has a 4.15 ERA with just four earned runs given up and seven strikeouts.
The Razorbacks hold a 9-5 all-time record against the Blue Jays. The two teams last met in 2015 with the Hogs coming out on top 6-2 in Omaha, Nebraska. Arkansas has only lost to Creighton once in the last five games at Fayetteville since 1974.
Things to know
Sophomore Luke Bonfield is coming off a recent career-high eight-game hitting streak, before having it snapped Saturday against No. 2 Florida. Bonfield hit .394 during the eight-game run with 4 multi-hit games, 5 extra-base hits and 5 runs scored. The New Jersey native is currently second on the team with six home runs and tops in slugging (.585).
Defensively, Arkansas continues to boast one of the best catchers in the league as senior Tucker Pennell threw out four more would-be base stealers against Florida, giving him 22 for the season, which still leads the SEC. Three of those four caught stolen bases came in Saturday's loss to the Gators, which was his most caught stolen bases in a game this year and tied his career-high.
Arkansas hit three more home runs last week, giving it 36 for the year. Freshman Grant Koch, sophomore Chad Spanberger and senior Michael Bernal both hit home runs, keeping the Hogs ranked second in the league just behind Texas A&M (37).
Hitting .295 going into this week, Bernal is second in the conference in home runs (8) and leads the Razorback club with 34 RBIs. In his last three SEC series, Bernal is hitting .353 with 11 runs scored, six RBIs, two doubles and two home runs. Three of those nine games were multi-hit outings, including career-high three-hit games against Missouri (April 1) and No. 2 Florida (April 16).
Follow Live
The SEC Network will broadcast Tuesday's game between Arkansas and Creighton with Alex Perlman (PXP) and former Notre Dame head coach Mike Rooney (analyst) calling the game.
Phil Elson (PXP) and Rick Schaeffer (analyst) can heard on the radio via the Razorback Sports Network from IMG. Fans in the Fayetteville area can listen to the game on the flagship station 92.1 FM The Ticket or online at ArkansasRazorbacks.com.
Probable Starters
Tue | 6:00 p.m. CDT | (ARK) RHP Isaiah Campbell (2-0, 4.15 ERA, 12/2 K/BB) vs. (CU) RHP Austin Stroschein (0-0, 2.89 ERA, 3/2 K/BB)
HOGS AND BLUE JAYS LAST 10 RESULTS
| Date | Location | Result | Score |
| --- | --- | --- | --- |
| May 12, 2015 | Omaha, Neb. | W | 6-2 |
| June 3, 2007 | Fayetteville, Ark.+ | W | 6-0 |
| Feb. 11, 2003 | Fayetteville, Ark. | W | 9-5 |
| March 13, 1977 | Fayetteville, Ark. | W | 8-0 |
| March 6, 1974 | Fayetteville, Ark. | W | 12-4 |
| March 6, 1974 | Fayetteville, Ark. | L | 12-1 |
| April 28, 1973 | Omaha, Neb. | L | 6-2 |
| April 28, 1973 | Omaha, Neb. | W | 3-1 |
| April 27, 1973 | Omaha, Neb. | W | 11-2 |
| April 27, 1973 | Omaha, Neb. | W | 5-1 |