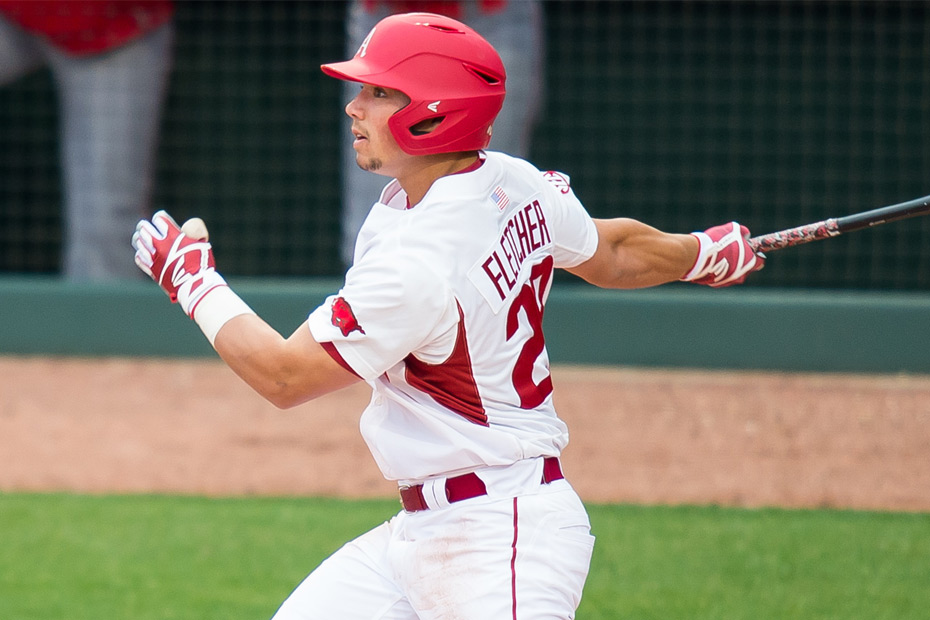 Big First Inning Leads To Opening Day Win
Box Score (PDF) | Photo Gallery
FAYETTEVILLE, Ark. – With 9,443 in attendance for Opening Day at Baum Stadium, the Razorbacks put on a big hitting display in the first inning and got a late long ball from freshman Dominic Fletcher to shutout Miami of Ohio, 7-0, Friday afternoon.
Arkansas scored six runs off five hits in the opening frame and took advantage of some wild pitching from Miami starter Cole Gnetz, who was forced out of the game after just two-thirds of an inning. Arkansas ended up batting around the lineup before chasing Gnetz, but had built a sizable lead as five different players tallied hits in the first inning alone.
Sophomore Eric Cole and freshman Dominic Fletcher both turned in strong days at the plate, with each going 2-for-4 with two RBIs. Fletcher launched his first home run of his Razorback career in the seventh inning, a solo home run, as he provided the only other run in the game after the big first inning. Fletcher's homer was the first by a true freshman on Opening Day since Andy Wilkins in 2008 against Wright State.
Sophomore starting pitcher Blaine Knight picked up his first victory on the mound, going a strong four innings and giving up only three hits, while striking out five.
Moments That Mattered
Arkansas got its first two batters on base to start the bottom half of the first via walks, which led to a Luke Bonfield single scoring the first run of the game. From there, the Razorbacks plated five more runs, including two off the bat of Cole, who singled to right in his second at-bat of the inning.
Bonfield joined Fletcher and Cole with a multi-hit game, as he went 2-for-4 with an RBI and a run scored. Carson Shaddy and Chad Spanberger also added hits that contributed to the six-run first.
On the mound, Knight was nearly unhittable, giving up just one hit in the first and two in the fourth before giving way to the bullpen in the fifth inning. Jake Reindl and Cannon Chadwick followed Knight to near perfection, giving up a combined three hits and striking out seven batter over the final five innings.
Razorback Quotables
"I thought (Blaine) Knight had good stuff today. He spotted up his fastball, down and away, threw some good breaking balls and mixed in a few changeups." – Head coach Dave Van Horn on Blaine Knight's performance
"He's been swinging the bat well for about the last 10 days and better than some of the guys that were behind him. I would say (Dominic) Fletcher and (Eric) Cole are our two hottest hitters coming into this game." – Head coach Dave Van Horn on Dominic Fletcher season-opening performance
"Momentum is a big thing in baseball and once you get going, everyone just kind of starts to follow, and things start to happen." – Dominic Fletcher on the Razorbacks' big first inning
"I thought it went pretty good today. I had good command of all my pitches today, filled up the zone and kept them from hitting." – Blaine Knight on how he thought his performance went
"We had been waiting about eight months to look across the field and see another team. That's all of our hard work going in and wanting to snap that losing streak from last year." – Eric Cole on the Hogs' big first inning
Game Notes
-Arkansas' 7-0 shutout of Miami (Ohio) was the first opening day shutout since 2011 and third under Dave Van Horn.
-Head coach Dave Van horn is now 15-0 on opening day at Arkansas.
-Arkansas is now 47-11 in Opening Day games since 1960 and the 23rd straight victory on the first day of the season.
-Starting pitcher Blaine Knight recorded his first win of the season Friday afternoon and third of his career.
-Today's game was the fifth game of Blaine Knight's career in which he threw five or more strikeouts.
-Arkansas recorded 12 strikeouts as a team, its most since May 7, 2016 against LSU, and most over a non-conference opponent since March 11, 2016 against Western Illinois.
-Today's attendance of 9,440 at Baum Stadium was the second straight opening day with over 9,000 in attendance.   
Up Next
The Razorbacks will meet Miami of Ohio again on Saturday for game two of the three game series. First pitch is slated for 12:02 p.m. and will be televised on SEC Network+.
Season tickets, mini-plans and single-game tickets are available at ArkansasRazorbacks.com or by calling the Razorback Ticket Office at 1-800-982-HOGS.
For more information on Razorback Baseball, follow @RazorbackBSB on Twitter.