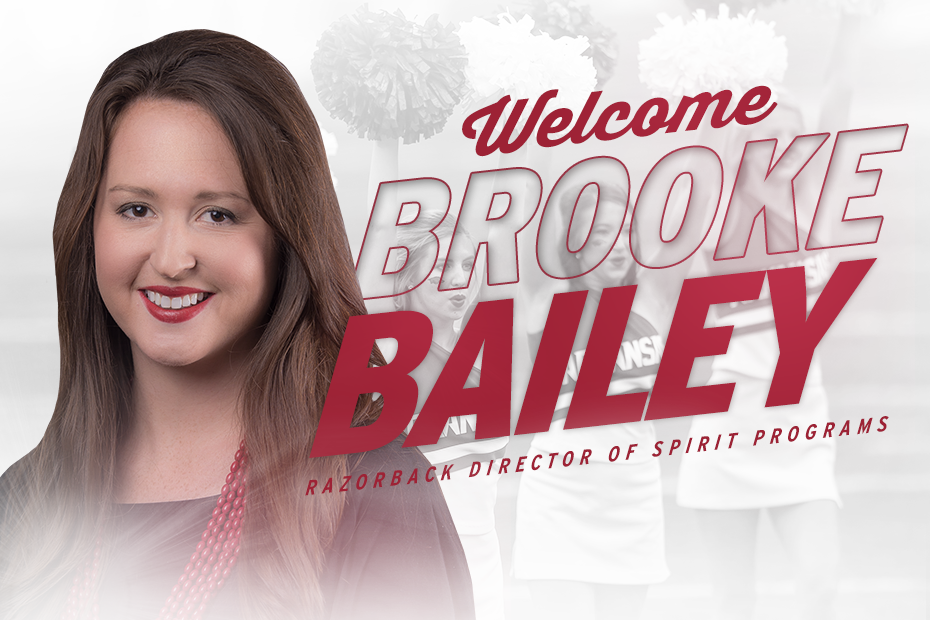 Brooke Bailey Named Director Of Spirit Programs
FAYETTEVILLE, Ark. – Former University of Arkansas spirit squad member and current Razorback Pom Coach Brooke Bailey has been named the new Director of Spirit Programs with Razorback Athletics. Bailey has served the past eight years as the Razorback Pom Squad coach under the direction of retiring director Jean Nail. Bailey will lead the entire spirit squads program including the cheer, pom and mascot programs.
"Brooke has been a valued part of our spirit squads program for more than a decade as first a pom squad member and then as a coach," Vice Chancellor and Director of Athletics Jeff Long said. "She is a two-time graduate of the University of Arkansas and has a first-hand understanding of the passion of Razorback fans and the tradition of our program. As our new Director of Spirit Squads, I am confident that we will not only benefit from Brooke's 12 years of previous experience, but she will also provide us with the progressive leadership to advance the Razorback Spirit Squads program into a new era."
Bailey spent four years (2004-08) as a member of the Razorback pom squad. In May 2008, Bailey received her Bachelor of Arts in Early Childhood Education from the University of Arkansas. She then began working as the coach of the Razorback Pom squad. In 2009, Bailey earned her Masters of Arts in teaching from the University of Arkansas. Bailey served as a teacher at Apple Glen Elementary School in Bentonville, Ark., from 2009-15.
"I'm honored, humbled and excited to lead the Razorback cheerleaders, pom squad members and mascots," said Bailey. "When I made the team in 2004, a lifelong dream was fulfilled. Little did I know at the time, how much I would gain from being a part of the prestigious Razorback Spirit Program and its director Jean Nail.
"The traditions of the University of Arkansas and Razorback fans are the best in the nation. We will ensure our students continue to mirror the success of the department by excelling on the court/field and in the classroom. As a proud Arkansan, University of Arkansas Alum, and Razorback Spirit Squad Alum, I would like to thank Jeff Long, Chris Freet, and members of the search committee for this tremendous opportunity."
Bailey has been nationally recognized for her coaching and spirit squads instruction. She served as a head instructor for the Universal Dance Association (UDA) in numerous camps from 2004-07.
"Brooke is the perfect person to take over leadership of the Razorback Spirit Squad program. Her first priority will always be the students' academic progress and she will provide a positive and nurturing environment for every squad member," said Nail, who is retiring after more than 34 years as Arkansas' Director of Spirit Squads. "Brooke loves and respects the Razorbacks, our passionate fans and amazing traditions. Simply put, the spirit squad program is in great hands."