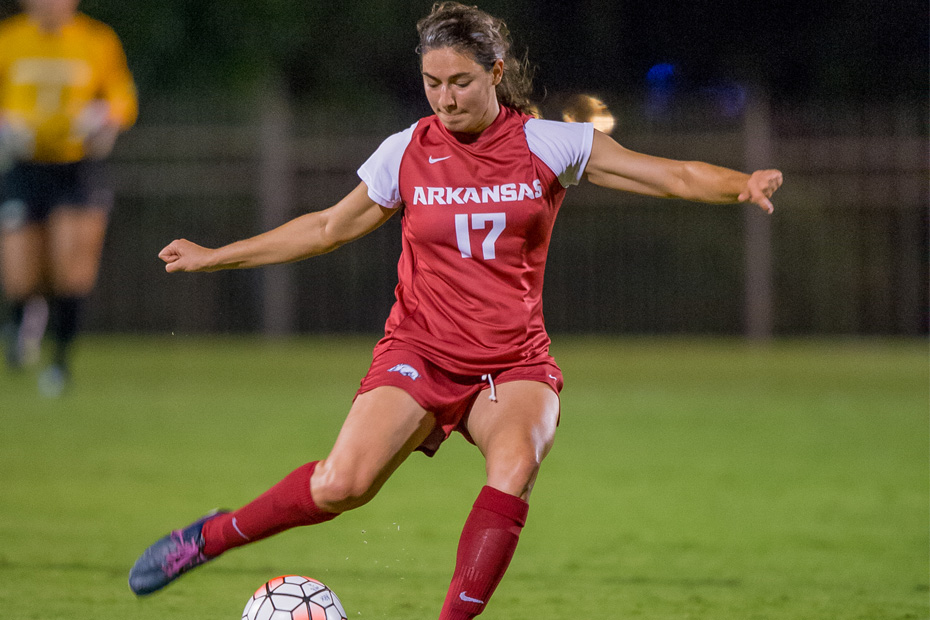 Butler's Service Efforts Recognized By SEC
BIRMINGHAM, Ala. — Arkansas soccer defender Teni Butler was named to the 2015 SEC Soccer Community Service Team on Thursday.
The Community Service Team highlights athletes from schools throughout the conference who give back to their communities in superior service efforts.
Butler, a chemical engineering senior, has been an active member of the entire University of Arkansas community during her tenure as a student-athlete.
She has been a part of multiple volunteer opportunities through the Student Athlete Advisory Committee (SAAC) where she is currently the team representative. In addition, Butler has worked with Chords For A Cause by organizing and performing in three separate benefit concerts: Two in Fayetteville, Ark., and one in her hometown of Chattanooga, Tenn.
During the past nine months, she's raised more than $1,700 for charities through music.
Along with service through music, Butler has participated in Razorback Soccer clinics as an opportunity to introduce local youth to college soccer.
Excelling in the classroom as well as on the field, Butler maintains a 3.94 GPA and was elected Freshman Engineer of the Year in 2013. She also made the SEC Academic Honor Roll every semester along with the Chancellor's and Dean's lists every semester she's been able to.
Her reach doesn't end locally. Butler was awarded an Honors College Study Abroad Grant to study renewable and sustainable forms of energy in Pamplona, Spain over the summer of 2013 as well as participating in a 10-day intensive renewable energy study with The GREEN Program Iceland Edition.