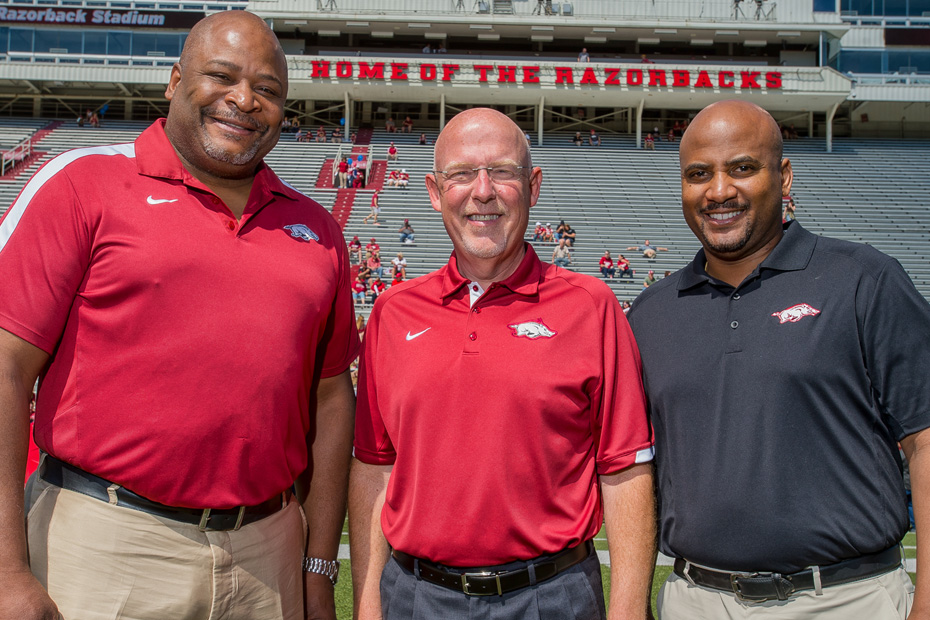 Change In Broadcast Booth
FAYETTEVILLE, Ark. – Little Rock native Keith Jackson, Sr., will be stepping away from his role as a football analyst on the Razorback Sports Network from IMG College following the 2016 football season to enable him to travel to watch his two youngest sons play college football.
Kenyon Jackson is currently a freshman defensive tackle at the University of Illinois. Kolian Jackson is a senior at Joe T. Robinson High School in Little Rock, Ark. Jackson's oldest son, Keith Jr., played for the Razorbacks from 2003-06.
Jackson is entering his 17th season with the Razorback Sports Network after joining as a color analyst 2000.
"I love being a part of the Razorback Sports Network and broadcasting Razorback football," Jackson said. "It is something that I thoroughly enjoy. But as a father, I want to make sure that I take every opportunity to support my kids in what they do. It is a decision that I wanted to make now so that I could enjoy this season while laying out a plan that will allow me to watch both Koilan and Kenyon as they progress through their college careers. I am grateful to the University of Arkansas for allowing me to broadcast football games through the years with many great individuals including names like Paul Eells and Bob Carver. I'm also appreciative to IMG College for the opportunity to be a part of their team and work alongside Chuck Barrett and Quinn Grovey for what I know will be an exciting season of Razorback Football."
Former Razorback quarterback Quinn Grovey will replace Jackson as the color analyst beginning in the 2017 season. Grovey is entering his 19th season with the Razorback Sports Network and serves as a pre-game co-host and the in-game sideline reporter.
"For more than 16 seasons, Keith Jackson has been a recognizable voice on our network and throughout the state," Vice Chancellor and Director of Athletics Jeff Long said. "His enthusiastic and engaging on-air descriptions have helped provide a soundtrack to some of the most memorable football moments in Razorback history. But anyone who knows Keith, is also aware of his deep commitment to his family. We are supportive of his decision and look forward to having him as a part of our broadcasts for one final season.
"We are extremely fortunate to have someone like Quinn Grovey who will be able to step into that role in 2017. He is not only a beloved Razorback and an excellent broadcaster, Quinn continues to be a tremendous ambassador for our program and state."
"It is a privilege to work alongside Chuck, Keith and our entire Razorback Sports Network team each week to bring our fans Arkansas Football," Grovey said. "I know how much the Razorbacks mean to this state and I am honored to be a part of that special connection. While I will certainly miss working with Keith after this season, I look forward to this professional opportunity as well as taking advantage of the seat inside a climate controlled press box that comes with the color analyst position."