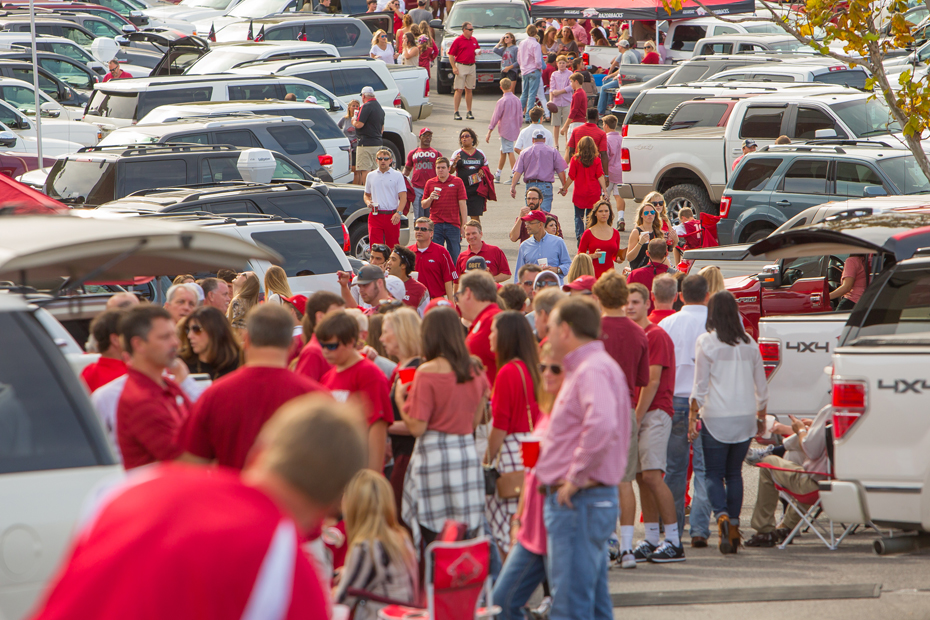 Changes to Razorback Football Post-Game Traffic Flow
FAYETTEVILLE, Ark. – In a continuing effort to help expedite post-game vehicular traffic while protecting the safety of pedestrians, Razorback Athletics has partnered with the Fayetteville Police Department and the University of Arkansas Police Department (UAPD) to implement several new changes for football game post-game traffic. The changes are designed to help clear traffic from around the stadium in a more efficient manner while providing a more efficient direct route to I-49. The changes will be in effect for this weekend's game against Auburn.
The primary adjustments in post-game traffic flow will impact fans traveling southbound on Razorback Road as it intersects with Martin Luther King Jr. Boulevard and 15th Street. Beginning on Saturday, all post-game traffic on Razorback Road (South of Markham) will be routed south to the AR-112/265 Cato Springs/Razorback Rd. (Exit #60) to access I-49. The Cato Springs Exit is located 2.5 miles from Donald W. Reynolds Razorback Stadium, past Baum Stadium. Entries to both I-49 North and I-49 South are available on the east side of Razorback Road at the Cato Springs Exit. The entry for I-49 North is prior to the I-49 overpass while the I-49 South entry is on the west side of the I-49 overpass. In addition, there is also an exit via Razorback Road that provides access to US-71 South. 
Fans should note vehicles will NO LONGER BE PERMITTED to access Martin Luther King Jr. Blvd. or 15th Street traveling south on Razorback Road. All traffic traveling south on Razorback Road will be directed to the Cato Springs Exit and the north or southbound entries to I-49.
In addition, fans parked in Baum Stadium west parking will be required to exit those lots via DeBriyn Drive to 15th street or to the west on Beechwood Drive. Vehicles from Baum West parking lots will routed to Martin Luther King Jr. Blvd and will not be permitted to merge onto Razorback Road. 
Pre-game and post-game traffic flows will continue to be monitored and adjustments will be made for future games if needed. Fans should consult the traffic flow maps to become familiar with the pre-game and post-game routes to their designated parking or public parking lots.