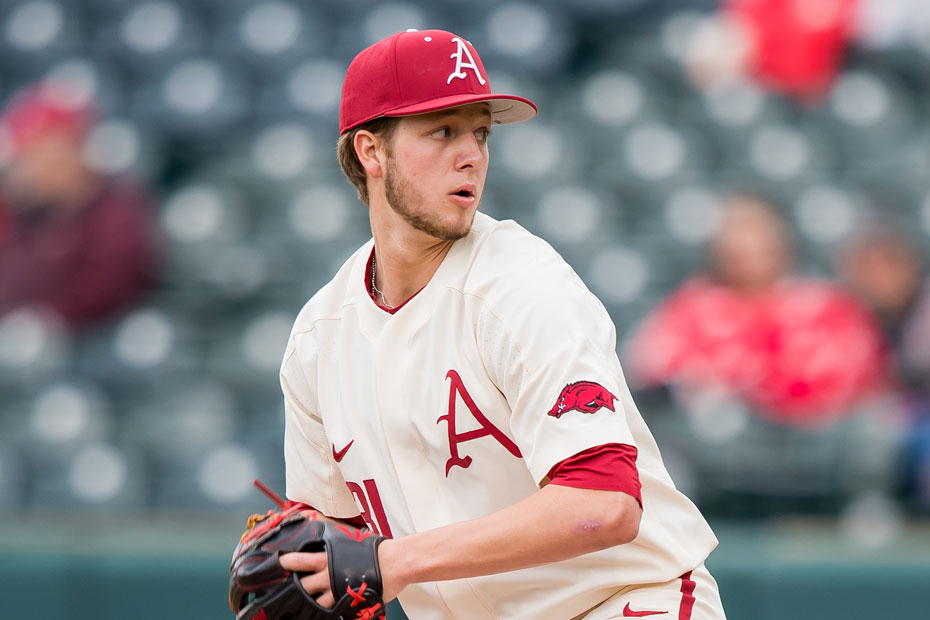 Clean Victory for Razorbacks Over Warhawks
FAYETTEVILLE, Ark. – The No. 5 Arkansas Razorbacks cruised past ULM, 4-0, Wednesday afternoon at Baum Stadium, behind a strong start from freshman Caleb Bolden and another blast from fellow freshman Heston Kjerstad.
Bolden, making his second start of the season, didn't disappoint, scattering seven hits over a career-high seven scoreless innings with no walks allowed and five strikeouts. He also got a clean game from the defense behind him as it turned key double plays in the sixth and seventh innings to keep the shutout intact.
As for Kjerstad, the freshman continued on his tear, extending his hit streak to 14 games with his second inning home run to right-centerfield. The homer was estimated at 430 feet as it cleared Arkansas' 25-foot tall scoreboard in right field and was dispatched into the pond beyond the outfield wall. The Amarillo, Texas native finished the game 2-for-4, his team-leading 12th multi-hit game of the year.
Since the streak started on March 14 against Texas, Kjerstad has hit .439 with 25 hits, 15 RBIs, five doubles, six home runs, and only 11 strikeouts. His homer Wednesday against ULM also gives him sole possession of the team lead for home runs and puts him third in the league.
Arkansas' (21-9, 5-4 SEC) 4-0 win on Wednesday was its fourth shutout of the season and first since blanking USC, 4-0, on March 2.
The Hitting
Joining Kjerstad with two hits in the game were outfielder Eric Cole and designated hitter Evan Lee. Cole delivered a single in the fifth and a double in the seventh, while Lee singled in the second and the sixth. Lee finished with a strong series, going 4-for-10 (.400) with four RBIs, including a home run on Tuesday. He was also tabbed as the winning pitcher in game one, pitching a near spotless two-thirds of an inning after the game went to extras.
The Pitching
With Wednesday's performance, Bolden may have locked up a spot as Arkansas' midweek starter for the remainder of the season. In both of his starts this year, the other coming against Dayton on Feb. 28, Bolden has pitched six or more innings without giving up a run or a walk, and has struck out five or more batters.
Redshirt sophomore Cody Scroggins finished up the eighth and ninth innings out of the bullpen, going a career-long two innings with no hits allowed and two strikeouts against seven batters faced.
Razorback Quotables
"Really good job by Caleb Bolden today. We were hoping to get four or five innings out of him, but he got rolling. He got a couple big double play balls and kept his pitch count down. He won't be on the roster this weekend. He'll just get ready for next Tuesday. We've been wanting a guy to do that. He can gain some experience that way for us." – Head coach Dave Van Horn on Caleb Bolden's performance against ULM
"As soon as he hit it I said 'that one's gone'. It was one of the best I've ever seen. It was just so obvious being on the field with the sound it made and he got extension. He's a good hitter. If you leave it in the zone, he usually hits it. There's a lot of skill involved." – Head coach Dave Van Horn on Heston Kjerstad's second-inning home run
"I knew I squared it up and hit it pretty good. I surprised myself when I saw it going over the scoreboard. I think it was the farthest I've ever hit one." – Heston Kjerstad on his home run
"My fastball and curveball were really working for me today. It felt good getting out there after Florida. It's a big confidence boost for me." – Caleb Bolden on his seven-inning outing Tuesday against ULM
Up Next
Arkansas will take on another highly ranked opponent in the 11th-ranked Auburn Tigers starting on Friday at Baum Stadium. First pitch for game one with the Tigers and Razorbacks will be at 6:30 p.m. on SECN+. Game two on Saturday will be at 6 p.m., also on SECN+. Sunday's series finale will be broadcast on the SEC Network with first pitch slated for 4 p.m.
For more information on Razorback Baseball, follow @RazorbackBSB on Twitter.