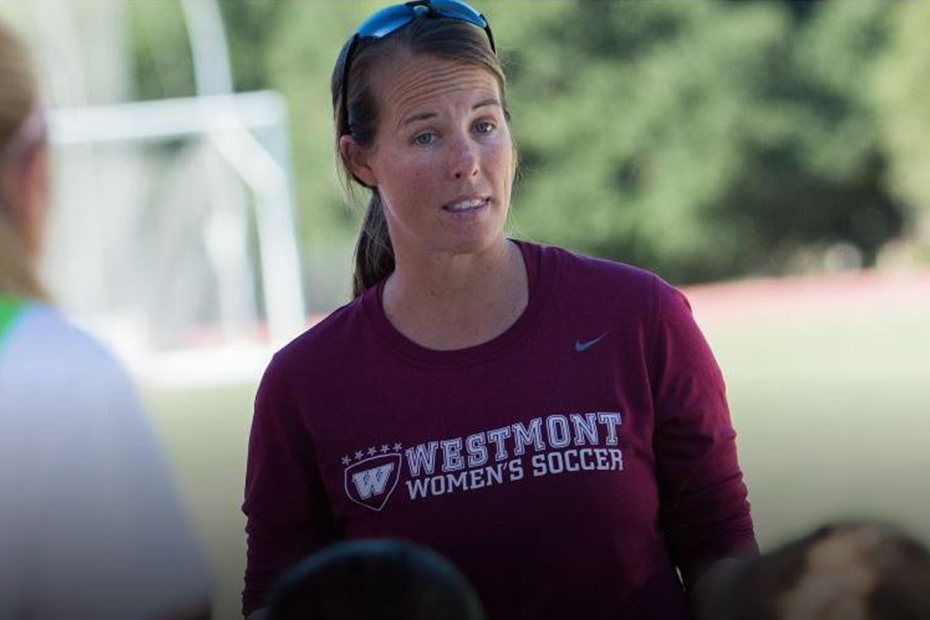 Colby Hale Adds Kristi Kiely To @RazorbackSoccer Coaching Staff
FAYETTEVILLE, Ark. – University of Arkansas head women's soccer coach Colby Hale has announced the addition of Kristi Kiely to his coaching staff.
"I couldn't be more excited about Kristi and what she brings," said Hale. "In our pursuit of SEC championships and our goal of getting to a College Cup, we knew exactly what we were looking for and she was the ideal fit. Her ability to connect with players and recruits, her coaching personality, her ties to an untapped recruiting hotbed, her set of values and what she believes to be important all matched perfectly. Whenever I spoke to people about her they always mentioned a combination of character, drive and talent. I know our players are excited for her to get here. She is a great coach and a fantastic role model."
Kiely joins the Razorbacks after five years at the helm of Westmont College's women's soccer program. She posted a record of 65-26-10 (.693) at Westmont and took the program to the NAIA National Tournament in each of the last four years. In 2014, the Warriors finished as NAIA national runner-up under Kiely's guidance.
"First I want to say thank you to Jeff Long, his staff and Colby Hale for this amazing opportunity," said Kiely. "While I am sad to be leaving the Westmont family and tight knit community, from the moment I walked on the campus at the University of Arkansas I was drawn to the people, the commitment to excellence and all of the traditions and passion around the athletics department. I'm looking forward to getting to work with and help carry out the vision of both the greater athletic department and Coach Hale. Coach Hale has built tremendous momentum and it's a great privilege to get to step into a thriving program and see where I can add value. What I love most about collegiate athletics are the athletes and I am greatly looking forward to getting to know these young women who have worked hard to be successful on the field while building a community they can be proud of."
Kiely arrived at Westmont in the fall of 2001 as a freshman and started all 19 games. During her four years as a player, Kiely was a part of three National Championship teams (2001, 2002, 2003). She currently ranks third all-time at Westmont in career assists (30).
Following graduation, Kiely played professionally in Stockholm, Sweden for nearly a year. In the summer of 2008, she returned to Westmont to begin serving on the Warrior staff as an assistant. The following summer, she joined the coaching staff of Glendora FC of the W-League, before landing the head coaching position at her alma mater in 2010. In the summer of 2010.
As a coach, Kiely was named the 2014 Golden State Athletic Conference (GSAC) Coach of the Year after the Warriors claimed a share of the GSAC regular season championship and won the GSAC Tournament. Under her watch, 12 Warriors were named NAIA All-Americans and 20 earned All-GSAC honors. Academically, Kiely's players have been recognized as NAIA and GSAC Scholar-Athletes on 15 occasions and have been honored as CoSIDA Academic All-Americans four times.
The Razorbacks, who added nine players during the early signing period, finished the 2014 season with a 9-7-6 mark, giving the program its first back-to-back winning season since the 2008, 2009 seasons. Head Coach Colby Hale and his Arkansas squad were also the No. 9 seed in the conference tournament and earned the program's second consecutive bid to the NCAA Tournament (second in school history). After picking up a 3-2 overtime victory at Oklahoma in the opening round of the NCAA Tournament, the Razorbacks fell at No. 3 Stanford, 1-0, in the Round of 32 to end the season.
Kiely's Westmont Record – Head Coach
2010    7-8-3
2011    13-6-1 (NAIA National Tournament – 2nd Rd)
2012    12-6-1 (NAIA National Tournament – 1st Rd)
2013    17-2-5 (NAIA National Tournament – National Runner-Up)
2014    16-4-0 (NAIA National Tournament – 2nd Rd)
Total    65-26-10
WHAT PEOPLE ARE SAYING ABOUT KIELY 
"I am a huge fan of Kristy Kiely. She is both an amazing coach, and perhaps more importantly, a woman of immense character. I've known her for many years now and have always been incredibly impressed with how she runs her program, the quality with which her teams play and how her players respond to her mentorship. It is no accident that she has been so successful. I think it is a fantastic hire for the University of Arkansas soccer program and I have no doubt the Razorback players will quickly see and feel what I've long known. Congratulations on such a wonderful addition to your staff."
Tim Ward- Head Coach Pepperdine Soccer
"I believe Arkansas made a fantastic addition to their women's soccer program and athletic department. Coach Kiely is extremely knowledgeable and passionate about the game of soccer and even more passionate about the personal development of student-athletes. Kristi is a winner. Not only has Arkansas found a great coach for their program, they have found an even better person. I'm a huge believer that the addition of Coach Kiely to Arkansas will not only prove to be a great move for the program in the short-term, but also in the long-term future as well."
Allen Hopkins – Soccer analyst for Fox Soccer, NBC Sports and ESPNFC and former pro soccer player