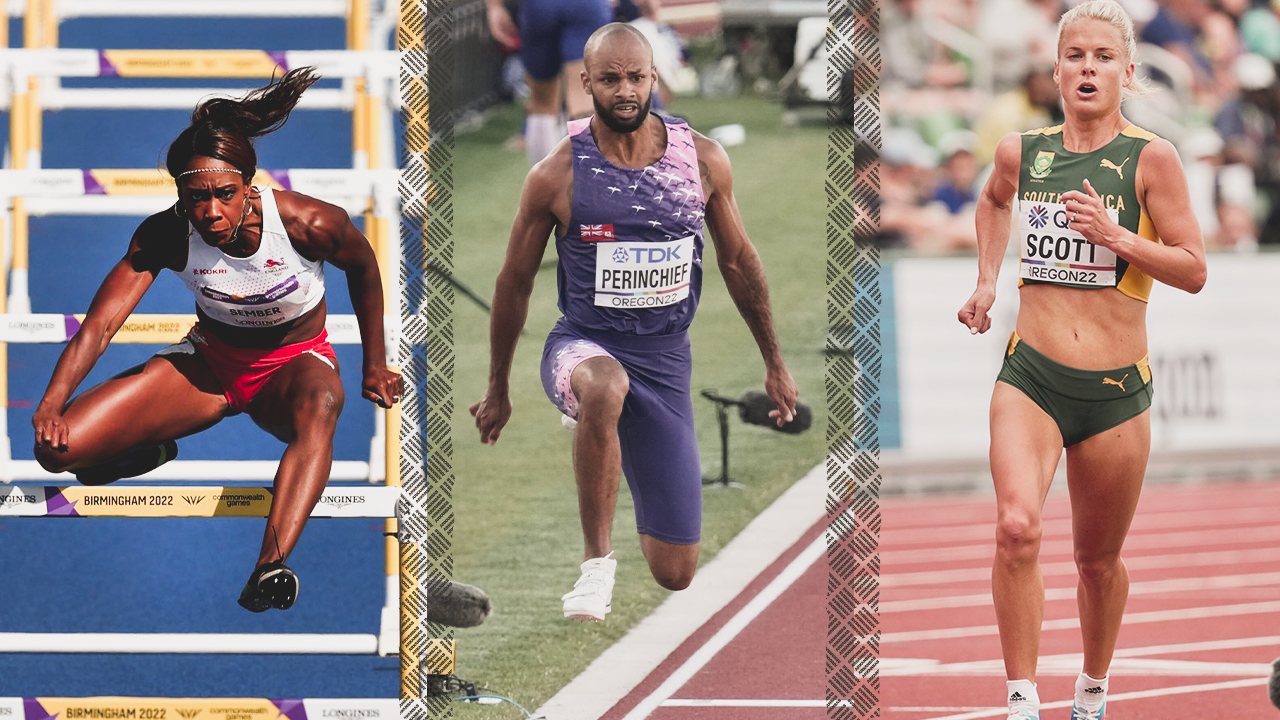 Commonwealth Games bronze for Sember & Perinchief, Scott fifth
BIRMINGHAM, England – A pair of Commonwealth Games bronze medals were achieved on Sunday during the final track and field morning session at Alexander Stadium by Cindy Sember and Jah-Nhai Perinchief, a pair of athletes who train in Fayetteville with Razorback assistant coaches.
English hurdler Sember posted a time of 12.59 in the 100m hurdles while Perinchief of Bermuda produced a leap of 55-6.25 (16.92) in the opening round of the triple jump. Sember trains with Arkansas women's associate head coach Chris Johnson while Perinchief trains with Razorback men's associate head coach Travis Geopfert.
Perinchief equaled the previous best effort for a jumper from Bermuda as he matched the bronze medal performance by Arkansas alum Brian Wellman, who earned Commonwealth bronze in 1994. Wellman was in Birmingham this week assisting Perinchief.
Arkansas alum Dominique Scott, racing in the evening session, placed fifth in the 5,000m final with a season best time of 15:07.50, marking the best finish and time for a South African runner in the history of the Commonwealth 5k. Last Wednesday, Scott finished seventh in the 10,000m final.
In Cali, Colombia, Razorback Heidi Nielson finished 13th in the 5,000m with a time of 17:13.97 on Saturday, the final day of the World U20 Championships. Nielson was one of just four athletes who raced in the 3,000m last Monday on the first day of the competition and the 5,000m final during the last session of the six-day meet.
The United States men's 4 x 400 relay claimed gold in a time of 3:04.47 over Jamaica (3:05.72) and Canada (3:06.50). By virtue of competing in the prelims for Team USA, incoming Arkansas freshman Grant Williams also earns a gold medal from the final performance.
Perinchief led the Commonwealth triple jump after the opening round with his first attempt and was in second place after three rounds when the field of 14 jumpers was trimmed to eight for the next three rounds.
India placed three athletes among the top four places in first, second and fourth. Leading the trio was Eldhose Paul, who rode a 3.1 assisting wind in round three to reach a winning distance of 55-10.5w (17.03w). Paul's next best effort was 54-6.75 (16.63).
Abdulla Narangolintevid moved into silver medal position in round five with a mark of 55-10.25 (17.02) with his next best jump measuring 55-4.75 (16.88). Praveen Chithravel finished fourth with a 55-5 (16.89), just 1.25 inches (3 cm) behind Perinchief.
This competition marked the first gold medal for India in the triple jump as well as the second silver medal to go along with three previous bronze medals.
The one-centimeter difference between gold and silver is the narrowest margin in the history of the Commonwealth Games triple jump. On three previous occasions – 1990, 2010, and 2018 –the narrowest margin was two centimeters.
The series for Perinchief followed with marks of 54-3.75 (16.55), 54-8.25 (16.67), 51-9.25 (15.78), 54-11.5 (16.75), and 53-10.5 (16.42).
Perinchief's bronze medal mark of 55-6.25 ranks 18th on the Commonwealth Games all-time performance list with wind-legal marks. Wellman ranks equal 13th on the list with his 55-9.25 (17.00) from 1994.
Sember's 12.59 for bronze in the 100m hurdles ranks as the best-mark-for-place at the Commonwealth Games, bettering the previous time of 12.97 from 2018.
Nigeria's Tobi Amusan, who broke the world record this summer with a 12.12 clocking in the World Championships semifinals in Eugene, defended her Commonwealth title with a Games record of 12.30 (-0.2 wind). Devynne Charlton of Bahamas ran 12.58 for silver.
The times by the three medalists were the fastest ever in Commonwealth Games history, bettering the previous best times of 12.65 by Brigette Foster-Hylton of Jamaica (2006), 12.67 by Sally Pearson of Australia (2010 & 2014), and 12.68 by Amusan (2018).
Scott was among the lead pack in the first half of the race as her splits included 2:58.5 and 2:57.1 (5:55.8) through 2,000m. Over the next pair of 1k splits, Scott slipped back to sixth at 3,000m with a 3:01.1 (8:56.7) split and was seventh at 4,000m with a 3:06.3 (12:03.0) split.
Over the final 1,000m, Scott moved up to fifth place with a 3:04.4, covering the last 400m lap in 71.6, which included 34 seconds in the final 200m.
Scotland's Eilish McColgan, who won the 10,000m earlier in the meet, led the field through 4,000m (11:50.20). She finished second in 14:42.14 behind a 14:38.21 for Kenya's Beatrice Chebet. Placing third in 14:48.24 was Selah Busienei of Kenya.