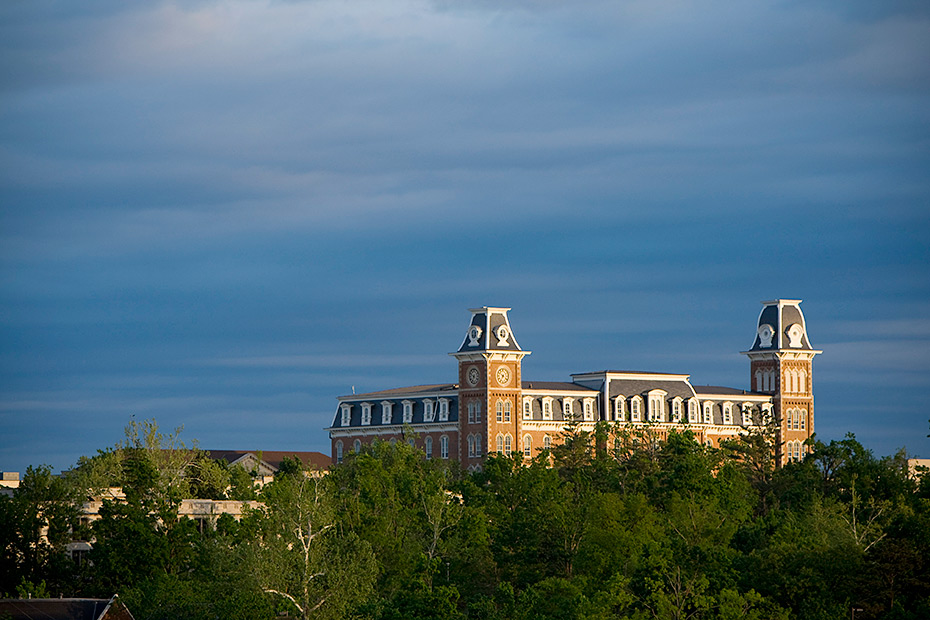 Congratulations 2020 Graduates!
Graduation is a special time on every campus but there's no better place than The Hill. That special time has been altered for the Class of 2020 at the University of Arkansas and campuses all around the world. In Fayetteville, 83 current and former Razorback student-athletes were set to receive their diplomas this weekend at graduations starting today. While we might not be able to honor these Hogs by celebrating in person with them this weekend, we will light Donald W. Reynolds Razorback Stadium red in their honor on both Friday and Saturday nights. Prior to the videoboards going red on Friday night, pictures of each of the graduates will cycle through from 6-8 p.m. Fans can also join us in honoring all of our graduates by wearing today and sharing their photos on social media by using #GoRedforGrads2020.
The student-athlete graduates represent 16 different sports and came to Fayetteville from 14 states/territories and nine countries. Nearly half of the class (45%) plans on furthering their education after graduation.
Congratulations Class of 2020! We can't wait to see your names etched in Senior Walk.
Name – Sport – Major/Minor
Caleb Bolden – Baseball – Kinesiology: Exercise Science
Marshall Denton – Baseball – Recreation and Sport Management
Harrison Heffley – Baseball – Journalism: News/Editorial
Kevin Kopps – Baseball – Biomedical Engineering
Kacey Murphy – Baseball – Psychology
Matthew Berry – Football – Agricultural Business
Shane Clenin – Football – Communication
Elias Hale – Football – Recreation and Sport Management
Chase Hayden – Football – Marketing
Hayden Henry – Football – Finance: Financial Management / Minor: Management
Hunter Henry – Football – General Business
Colton Jackson – Football – Master of Education in Recreation and Sport Management
Hayden Johnson – Football – Major: Biology (B.A.) / Minor: Psychology
Jordan Jones – Football – Communication
Blake Kern – Football – Recreation and Sport Management
Connor Limpert – Football – Recreation and Sport Management
Jack Lindsey – Football – Recreation and Sport Management
Jalen Merrick – Football – Master of Education in Recreation and Sport Management
Tyson Morris – Football – Recreation and Sport Management
Jimmie Stoudemire – Football – Sociology
Dalton Wagner – Football – Major: Criminal Justice / Major: Sociology / Minor: Child Advocacy
De'Vion Warren – Football – Recreation and Sport Management
Brenden Young – Football – Recreation and Sport Management
Hailey Garner – Gymnastics – Criminal Justice
Kailey Gillings – Gymnastics – Accounting / Minor: Communication / Minor: Finance
Kirby Rathjen – Gymnastics – Marketing / Minor: Psychology / Minor: Management
Sarah Shaffer – Gymnastics – Major: Marketing / Major: Supply Chain Management: Transportation and Logistics
Adrio Bailey – Men's Basketball – Recreation and Sport Management
Jalen Harris – Men's Basketball – Communication
Luis Garza – Men's Golf – Recreation and Sport Management
Mason Overstreet – Men's Golf – Finance: Financial Management
Tyson Reeder – Men's Golf – Management
Oscar Mesquida – Men's Tennis – European Studies / Minor: History / Minor: Political Science
Gilbert Boit – Men's Track & Field – Political Science
Graham Brown – Men's Track & Field – Information Systems: Business Analytics / Minor: Management
Jalen Brown – Men's Track & Field – Information Systems: Business Analytics
Cameron Case – Men's Track & Field – Marketing / Minor: Management
Preston Cates – Men's Track & Field – Marketing / Minor: Nonprofit Studies
Shakiel Chattoo – Men's Track & Field – Recreation Sport Management
Kevin Harris – Men's Track & Field – Criminal Justice
Ryan Murphy – Men's Track & Field – Kinesiology: Exercise Science
Laquan Nairn – Men's Track & Field – Communication
Chase Pareti – Men's Track & Field – Computer Science
Victoria Cannata – Soccer – Kinesiology: Exercise Science
Stefani Doyle – Soccer – Marketing / Minor: Business Analytics / Minor: Supply Chain Management
Marissa Kinsey – Soccer – Master of Science in Operations Management
Madison Louk – Soccer – Kinesiology: Exercise Science
Katie Lund – Soccer – Master of Science in Operations Management
Kayla McKeon – Soccer – Industrial Engineering
Lauren Graves – Softball – Communication / Minor: Marketing and Logistics
Ryan Jackson – Softball – Psychology
Sydney Parr – Softball – Journalism: News/Editorial
Autumn Storms – Softball – Communication
Catherine Warrick – Softball – Teaching K-12 Physical Education and Health
Sarah Dalton Chambliss – Swimming & Diving – Communication Disorders / Minor: Human Development and Family Sciences
Carly Holland – Swimming & Diving – Educational Studies
Anna Hopkin – Swimming & Diving – Master of Science in Kinesiology: Exercise Science
Chelsea Dungee – Women's Basketball – Communication
Amber Ramirez – Women's Basketball – Criminal Justice
Yasmeen Ratliff – Women's Basketball – Apparel Merchandising and Product Development
Alexis Tolefree – Women's Basketball – Communication
Kiara Williams – Women's Basketball – Communication
Grace St. Germain – Women's Golf – English: Creative Writing
Jacqueline Carr – Women's Tennis – Accounting
Jada Baylark – Women's Track & Field – Kinesiology: Excercise Science
Elleyt Belote – Women's Track & Field – Major: Finance: Financial Management / Major: Management: Human Resources Management / Major: Retail Marketing
Payton Brown – Women's Track & Field – Childhood Education
Alex Byrnes – Women's Track & Field – Recreation and Sport Management / Minor: General Business
Devin Clark – Women's Track & Field – Master of Education in Recreation and Sport Management
Sydney Davis – Women's Track & Field – Journalism: Broadcast
Abby Gray – Women's Track & Field – Journalism: Advertising/PR
Olivia Groeber – Women's Track & Field – Environmental, Soil, and Water Science / Minor: Sustainability
Riley Hoogerwerf – Women's Track & Field – Major: Psychology / Major: Sociology / Minor: Journalism
Rachel Jantzi – Women's Track & Field – Biology (B.S.)
Jessamine Kitto – Women's Track & Field – Biology (B.A.)
Tamara Kuykendall – Women's Track & Field – Educational Studies
Shafiqua Maloney – Women's Track & Field – Geography: Cartography/Remote Sensing GIS
Genna Potter – Women's Track & Field – Biology (B.S.)
Madeleine Reed – Women's Track & Field – Architechtual Studies
Joy Riplslinger – Women's Track & Field – Communication
Alex Ritchey – Women's Track & Field – Accounting
Greta Taylor – Women's Track & Field – Childhood Education
Carina Viljoen – Women's Track & Field – Accounting