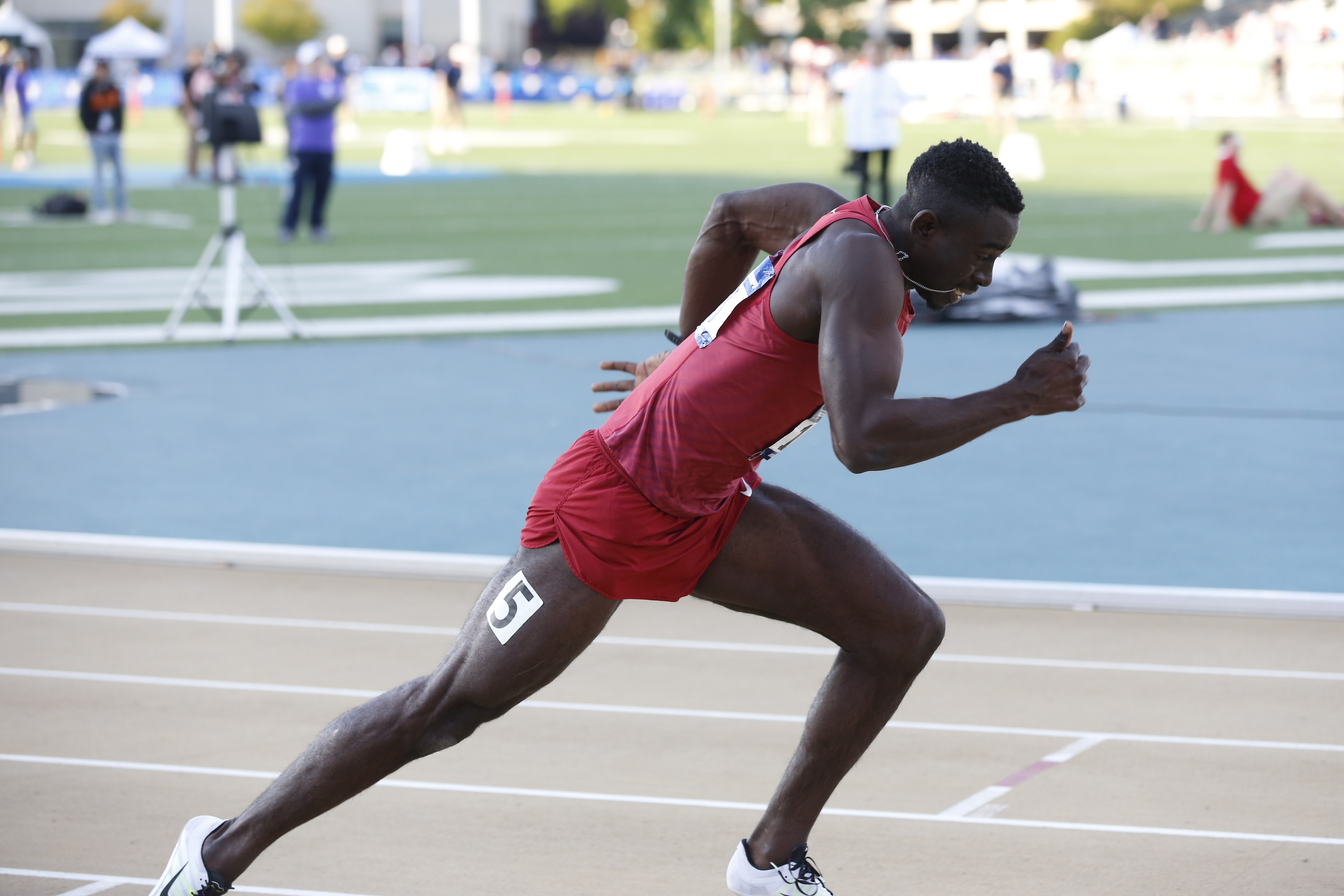 Cotton, Mowatt, Igbokwe Advance To NCAA's
SACRAMENTO, Calif. – Three Razorbacks punched their tickets to Eugene Friday afternoon at Hornet Stadium as the Arkansas track & field team continues to compete at the NCAA West Prelims.
"There were no big surprises for us today," said head coach Chris Bucknam.
"I think our expectations of the kids we thought could get to the final rounds in Eugene did it. Kemar [Mowatt] looked great in the 400-meter hurdles, Larry Donald advanced to the quarterfinals in the 110-meter hurdles, Kenzo [Cotton] qualified for Oregon in the 100-meters, and then Kenzo and Roy [Ejiakuekwu] made it through to the quarterfinals in the 200-meters. I think Kyle Hosting was gonna give it a good run in the 3K steeple. Right there at the end with 500-meters to go he was right in the lead group with five of the best steeplers in that heat and just took a hard fall with a lap and a half to go which knocked him out of contention. I feel bad for him because he really had an outstanding season. There's still one day of work, so we need to continue to keep our foot on the accelerator, we can't let up. Nothing is easy, nothing is given so we need to be dialed in tomorrow and find a way to continue to have success," Bucknam finished.
Arkansas had three NCAA qualifiers on the day in three events. The first to punch their ticket to Eugene of the three was Obi Igbokwe in the 400-meters.
Igbokwe booked his return trip to Eugene in the event running a time of 45.61Q to win his heat and finish with the fourth-fastest time of the day in the event.
The very next event on the track, the 100-meters, featured the second national qualifier on day two as Kenzo Cotton punched his ticket in auto-Q fashion finishing third in his heat running 10.25Q.
Kemar Mowatt rounded out the NCAA qualifiers on Friday for the Razorbacks as the senior easily advanced in the 400-meter hurdles. Mowatt coasted to a heat-winning time of 49.33Q in the event to make a return trip to Eugene where he finished as the national runner-up last season en route to his fourth-place finish at the end of the summer over in England at the World Championships in London.
Larry Donald grabbed the final spot in the quarterfinals of the 110-meter hurdles running 14.25q, while teammates Cotton and Ejiakuekwu passed through to the quarterfinal of the 200-meters running times of 20.54Q and 21.07Q, respectively.
Arkansas will wrap up action at the NCAA West Preliminary tomorrow afternoon where the Razorbacks will be represented in every event except the men's shot put.
For more information on Arkansas track and field including in-meet updates, follow @RazorbackTF on Twitter.
NCAA West Preliminary
Friday Results
Men's 110-Meter Hurdles
24. Larry Donald – 14.25q
Men's 400-Meters
4. Obi Igbokwe – 45.61Q – Qualified for NCAA's
Men's 100-Meters
5. Kenzo Cotton – 10.25Q – Qualified for NCAA's
Men's 400-Meter Hurdles
2. Kemar Mowatt – 49.33Q – Qualified for NCAA's
20. Larry Donald – 51.84
Men's 200-Meters
3. Kenzo Cotton – 20.54Q
16.. Roy Ejiakuekwu – 21.07Q
Men's 3,000-Meter Steeplechase
30. Kyle Hosting – 8:57.51
Men's Discus
30. Erich Sullins – 51.14m (167′-9″)