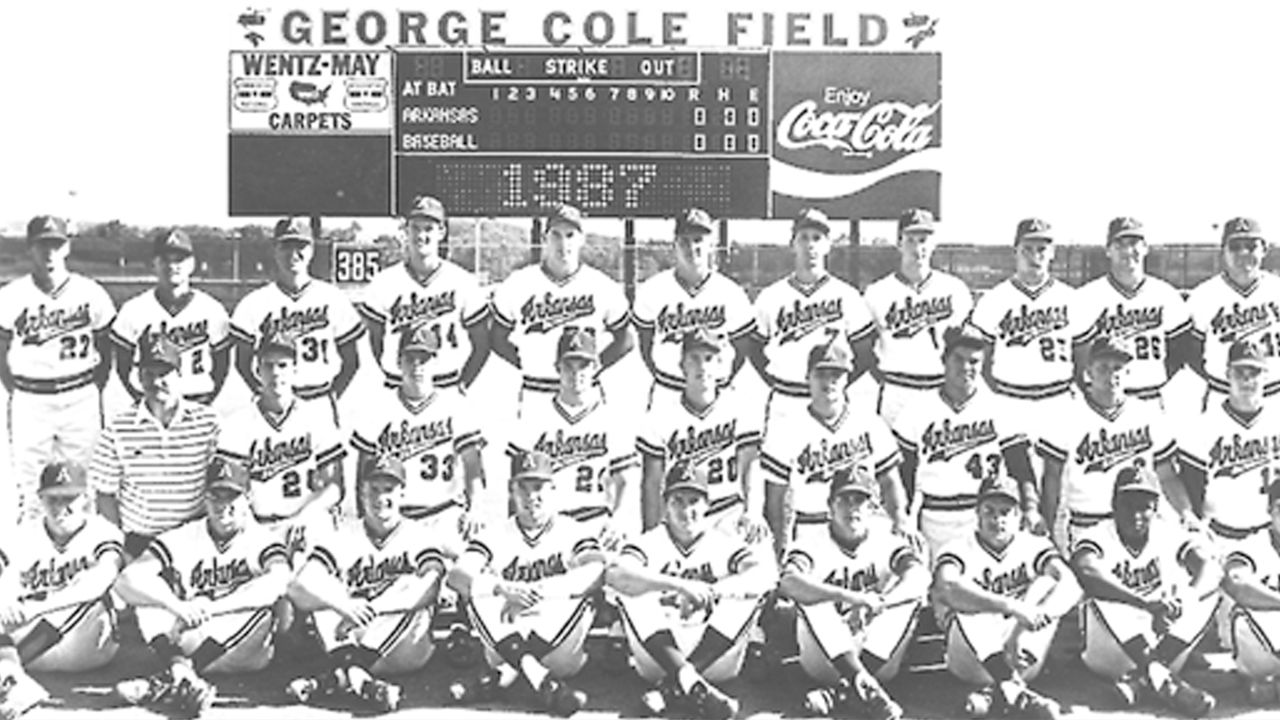 CWS Rewind: 1987
In 1987, the Arkansas baseball team clinched its second berth at the College World Series in three years and third in school history.
Another season with Norm DeBriyn leading the group, with future head coach Dave Van Horn as a graduate assistant, resulted in a second-place finish in both the Southwest Conference regular season and in the conference tournament, putting together a 17-4 record in league play.
After a 5-0-1 start to the year, the Hogs went for a nice run through non-conference play to roll into SWC play at 17-5-1. Arkansas rolled through conference action, winning each of its first six series against Texas A&M (sweep), Houston, Texas Tech (sweep), TCU, Baylor (sweep) and Rice (sweep), before dropping the set against Texas to finish second in the SWC in 1987. The Razorbacks lost just one game from March 28 to April 29, going 21-1 during that stretch.
The Hogs would finish second in the regular season in the conference with a 17-4 record, then posting a runner-up ending to the SWC Tournament, dropping a 3-2 finale to Texas after wins over Texas A&M (4-3) and Houston (14-9) earlier in the tourney. Catcher Andy Skeels picked up All-Tournament status to go with his All-SWC selection, as he was joined by pitchers Bobby Edwards and Tim Peters on the all-conference squad. Skeels would also go on to earn All-America honors at the end of the year.
At the NCAA South I Regional, Arkansas made a trip down to Huntsville, Alabama, to make quick work of the regional to earn its third overall trip to the College World Series. The Razorbacks opened with a 10-7 victory over Middle Tennessee, followed by a 7-2 win over West Virginia, setting up a pair of games against Clemson. In the first matchup, the Hogs won a 10-inning thriller over the Tigers, 6-5, then returned the next day with a 4-2 win to punch their ticket to Omaha.
In Omaha, Arkansas was matched up with SWC foe Texas, with the Longhorns getting the best of them in the opener. Future conference opponents would make up the next two games for the Hogs, taking on Georgia, posting a 5-4 victory over the Bulldogs, followed by a 5-2 loss to LSU to end their time at the College World Series. Arkansas wrapped the 1987 campaign with a 51-16 record.
It would only take two years before the Hogs were right back in the promised land of college baseball.