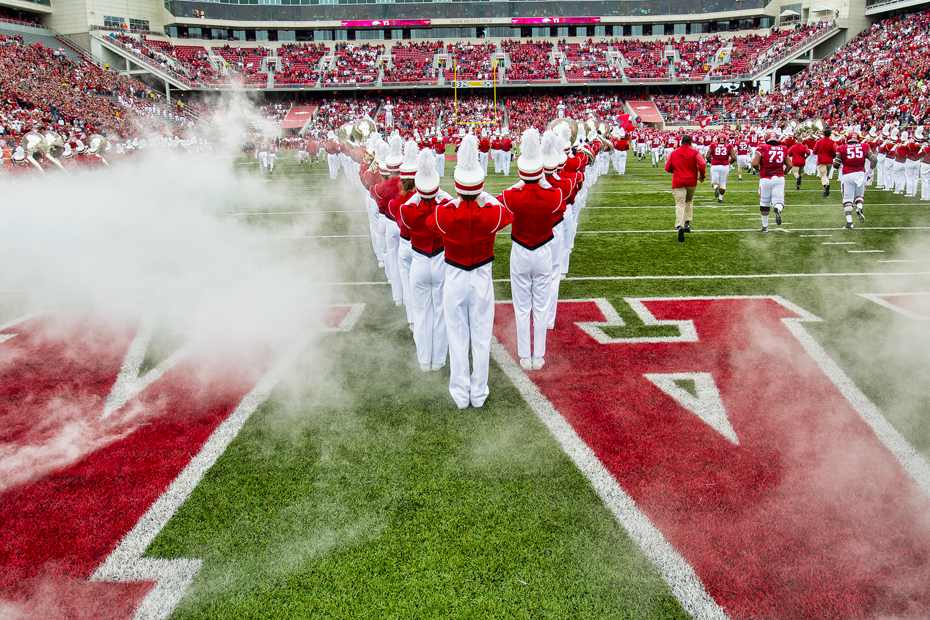 Dave and Jane Gearhart to Participate in "A" Walk of Honor
FAYETTEVILLE, Ark. – Former University of Arkansas chancellor Dave Gearhart and his wife Jane will participate in the "A" Walk of Honor on Saturday prior to Arkansas' football game against Mississippi State at Donald W. Reynolds Razorback Stadium.
Throughout their tenure, the Gearharts have been loyal supporters of all 19 intercollegiate athletics programs and the more than 460 Razorback student-athletes. In 2009, the Gearharts started a tradition of inviting Razorback teams what won Southeastern Conference or NCAA championships to Fowler House, the Chancellor's residence, for a reception to celebrate the accomplishment. More than 15 Fowler House receptions have been held since the tradition's inception.
"It is difficult to accurately measure the impact that Dave and Jane Gearhart have had on the University of Arkansas and Razorback Athletics," Vice Chancellor and Director of Athletics Jeff Long said. "Through his extraordinary leadership, Chancellor Gearhart led our institution to unprecedented growth in both enrollment and national reputation. Jane made an indelible mark on the university through her tireless commitment to service. Their loyal support of intercollegiate athletics and our more than 460 student-athletes was instrumental in our success, but most importantly made a difference in the lives of thousands of young men and women competing for the University of Arkansas."
Gearhart served the University of Arkansas for more than 20 years, during which time he helped guide the institution through an unprecedented period of growth. He served as vice chancellor for advancement from 1998 to 2008 and as chancellor from 2008 to 2015. Gearhart stepped down as chancellor on July 31, 2015. He will return to campus in fall 2016 as a faculty member of the College of Education and Health Professions.
Jane Gearhart, the university's "first lady" for seven years, is also being honored for her time, dedication and leadership in volunteer public service. In fall 2010, she learned that U of A students were working to establish a campus food pantry to address food insecurity among their fellow students and other members of the university community. Jane Gearhart stepped in to help and became a prominent and effective advocate supporting the establishment and continued operation of the pantry. In recognition of her contribution, the pantry was dedicated as the Jane B. Gearhart Full Circle Campus Food Pantry in October.
In spring 2015, the Gearharts announced a $1 million gift commitment to the university, and a scholarship was created in their honor by family, friends and fans of the couple. On Friday, Ozark Hall will be renamed G. David Gearhart Hall in honor of the University of Arkansas' fifth chancellor. Gearhart Hall is home to the Honors College, the Graduate School and International Education and the Department of Geosciences.
"Running through the A" is one of the Razorbacks' most storied football traditions. While "Running through the A" is a tradition reserved only for members of the Razorback football team, Razorback Athletics created a program in 2010 to honor those individuals or groups who have played a significant role in the support of Razorback Athletics.
Honorees are invited to participate in this unique pre-game experience and are recognized on the video board and over the public address system as they walk through the "A" formed by the Razorback Marching Band. After completing the walk, honorees help complete the "A" before welcoming the Arkansas Razorback football team on the field just prior to kickoff.
Previous honorees have included members of the Donald W. Reynolds Foundation, former Arkansas coach and athletic director Frank Broyles, the Willard and Pat Walker family, Bob and Marilyn Bogle, Tommy May, Boyce Billingsley and Rick Massey.
Tickets for Saturday's game at Donald W. Reynolds Razorback Stadium are still available online at ArkansasRazorbacks.com or by contacting the Razorback Ticket Office at 1-800-982-HOGS (4647). Tickets begin at $55. Kickoff for the game is set for 6 p.m. and will be televised by ESPN.